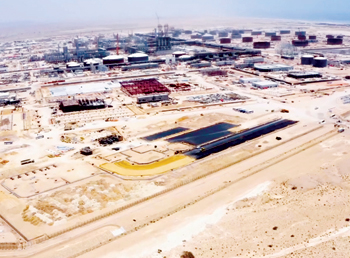 Name of Client : OQ8
Estimated Budget : $4,000,000,000
Facility Type : Petroleum Oil Refinery
Sector : Oil, Refining
Status : Construction
Location : Duqm
FEED : Amec Foster Wheeler
PMC : Wood
Main Contractor : Daewoo Engineering & Construction; Tecnicas Reunidas
Award Date : Q3-2017

Background
The 230,000 bpd capacity refinery is part of the government's plans to develop the Duqm area. About 65 per cent of crude feedstock for the refinery will be from Kuwait, and the remaining from by Oman. Natural gas to operate the plant will be supplied via a pipeline Oman Gas Company (OGC) is laying from Saih Nihayda to the Duqm SEZ.

Project Status
As of June 2021, the Duqm refinery project has achieved over 83.4 per cent completion. The main process unit package progress has at 75 per cent. The commissioning phase is expected to begin during Q3 2022 and completed by mid-2023.

Project Scope
Once complete, the refinery will produce 800,000 tpa styrene; 300,000 bpd of crude oil; 1,500,000 million tpa polypropylene; and 2,800,000 million tpa aromatics. The main process units will comprise a crude distillation unit (230,000 bpd); vacuum distillation (114,000 bpd); hydrocracking (74,000 bpd); delayed coking (52,000 bpd); kerosine treatment (40,500 bpd); diesel hydrodesulfurisation (83,500 bpd); LPG treatment two units (each 12,500 bpd); hydrogen production two units (each 126,500 cu m per day); saturated gas (6,500 tpd); sour water stripping two units (each 44 tpd): and sulfur recovery three units (each 355 tpd).

Project Finance
Duqm Refinery and Petrochemical Industries Company (DRPIC) are the clients.

Project Schedules
Project Start: Q3-2006
FEED: 1Q-2014
EPC ITB: 1Q-2015
EP: 3Q-2017
Construction: 1Q-2019
Completion: 2Q-2023