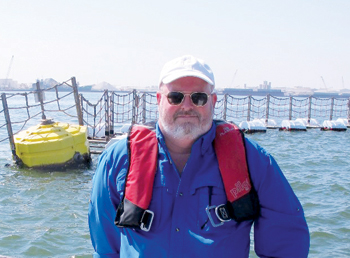 Ritter ... key considerations for barrier purchase
When making barrier decisions, it is important to consider the specific security CONOPS that each barrier will be employed to support, and then working backward to help ensure success, Luke Ritter, an internationally recognised maritime security expert, tells OGN

A barrier is defined as a structure that prevents or hinders movement of action. Barriers can be fixed or mobile, permanent or temporary, as well as configurable or standard.
With so many choices and options for waterside security barriers available to professionals in the oil and gas industry, it seems that there should be more examples of places where barriers are being used effectively for perimeter security.
It is also curious to note that walls and fences are routinely and commonly built around the land-based perimeters of oil and gas industry facilities. However, if the same facilities have a waterside perimeter, it may be left completely exposed to a waterborne attack. So why aren't waterside security barriers more common?
When making barrier decisions, it is important for oil and gas industry executives to consider the specific security concept of operations (CONOPS) that each barrier will be employed to support. Planning how barriers will actually be employed, and then working backward into the specific barrier product that is most appropriate for the project, can help ensure success.
Waterside security barrier purchasing decisions should include, at least, three key considerations in order to optimise the purchase:
• Operational flexibility.
• Implementation requirements.
• Lifecycle cost and maintenance.
Two case studies for recent oil and gas industry barrier implementations are provided below, in order to provide a closer examination of these decision points, and to illustrate how effective a waterside security can be as a component part of a comprehensive risk management package.

CASE STUDY 1
The facility in mention is a bulk plant located in Western Saudi Arabia. HALO's solution supplied is the Maritime Defense ORCA Series Barrier.
Some 750 m of security barrier was designed, fabricated, and installed at the facility. This barrier was installed to provide a consistent minimum standoff distance from the bulk plant's outer security fence.
A barrier from HALO's ORCA series in Bahrain
The purpose of this installation was to: stop fast inshore attack craft; stop boat-borne explosive attacks; create an explosion standoff distance; and create physical and psychological deterrents.
Once installed, this barrier established a near-shore exclusion zone to protect critical infrastructure. There have been no reported incidents of unauthorised access or hostile intent and potential criminal activity from on the waterside perimeter of this facility since the barrier was installed.

CASE STUDY 2
The HALO Maritime Defense ORCA Series Barrier was specified for a refinery in Eastern Saudi Arabia.
About 600 m of the HALO ORCA type barrier is currently being installed at one of the oldest refinery facilities on the Arabian Gulf coast, located near the industrial port city of Jubail.
This barrier provides adequate security standoff distance from critical structures located near the shoreline.
The ORCA product from HALO consists of a continuous, configurable line of demarcation in the water designed to control access to a facility, and deter or prevent attacks from small boats. Once installed, this barrier will establish a near-shore exclusion zone to protect critical infrastructure.
Additionally, this barrier will discourage unauthorised access to a sensitive location as well as help identify hostile intent and potential criminal activity.

KEY CONSIDERATIONS FOR BARRIER PURCHASE
• Operational flexibility: There are many instances in security where greater flexibility provides an advantage, and barriers are no exception. In other words, it is easy to argue that a more flexible and agile barrier system is a more effective one. For example, barriers that are not modular can be hard to repair and cannot be used anywhere other than where they are installed. Mobile and portable barriers offer protection with the added benefit of portability.
Additionally, barriers that offer dual use (or multiple employment options) can be particularly valuable. For instance, a flexible barrier solution may be able to serve as a primary barrier to prevent access completely, as well as be configured as a vessel traffic management tool.
Portable barrier solutions can also be employed in emergencies to close access to waterways that are normally open. As an alternative to posting guards and adding patrol boats to the concept of operations, barriers can be used as a temporary stop-gap measure to control access to a waterway.
• Implementation requirements: Various implementation considerations such as laydown yards, specialised equipment, and impact on current operations matter when it comes to making a barrier selection.
There is a wide variety of strategies that are employed when installing barriers. Ask your prospective barrier suppliers to provide detailed input regarding what is required to install at your facility.
Will the solution be turn-key once installed, or is there follow-on training and other commissioning activity required. If specialised equipment is needed to install, such as a crane barge or other unique machines, are these items readily available at your location, or will special arrangement have to be made to have this equipment available?
Finally, it's important to evaluate the impact that a barrier installation may have on your existing operations. This can range from a total shut-down, to minimal impact. In order to hedge for success, security managers should work with vendors to establish a detailed implementation plan that accounts for all existing operational considerations.
Total lifecycle cost and maintenance: Total lifecycle cost, or the cost of the barrier system including all of the associated operations and maintenance expense required throughout the life of the product, can be an informative metric.
The variety of choices that exist in the barrier market come bundled with an equally complex set of operational and maintenance considerations. Available manpower, budgetary limitations, and access to expertise all have a role to play in the decision-making process.
At the end of the day, security managers should be looking for value, or barrier solutions that offer an attractive return on investment equation.
When pursuing value-based solutions, it may not make sense to save money upfront on the hardware and installation, if all of the savings will be given back over the life of the system through maintenance expenditures. A careful calculation of total lifecycle cost, which anticipates all projected operational and maintenance expenses over the entire life of the system, can be a valuable decision support tool.
The concept of operations and related operational conditions, such as threat profile, environmental conditions, and access control procedures must be carefully considered as part of a barrier purchasing decision.
It can be helpful to also factor in some additional fundamentals when planning a barrier purchase. These may include: proof that the barrier has been tested by an independent and reliable authority; references to other installations where the solution is currently being used by a reputable source; and finally, performance specifications and related warranty terms that are adequate to account for the expected operational and environmental conditions at the designated site.
Also, consider any restrictions that may exist with the barrier system you are purchasing. Finally, check references. Has the barrier you are evaluating ever had to be removed from a location for poor performance, or been banned from procurement? Ask the difficult questions up-front, to ensure you are buying the 'best-fit' technology.
For security professionals in the oil and gas industry who are seeking to implement a waterside security barrier solution for the first time, or to upgrade an existing solution, it is critically important to select a barrier with the specific security mission in mind.
Ask your barrier supplier to work with you on your concept of operations. Require your consultant to explain how and why each component of the barrier system was selected. And build a tailored solution that is a custom fit for your environmental conditions, budget, and operations.
• Luke Ritter has over 25 years of experience in the maritime security field. His recent experience with oil and gas industry security solutions includes projects in Saudi Arabia, Bahrain, and Qatar. He is the co-author of Securing Global Transportation Networks (McGrawHill), and has been published and quoted in Security Management, Maritime Executive, Journal of Commerce, and Cargo Security International. He is a US Naval Academy graduate, former Surface Warfare Officer in the US Navy, and a veteran of the First Gulf War.