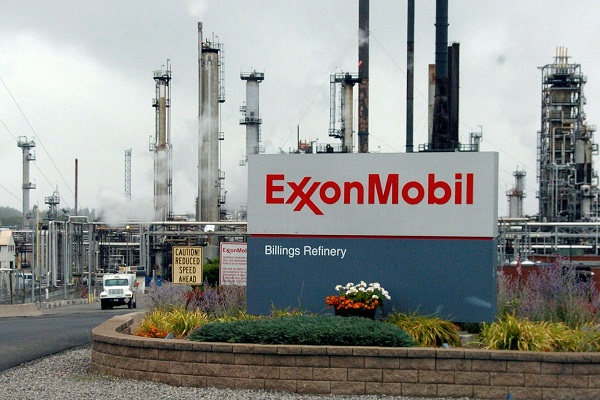 Exxon Mobil Corporation has announced estimated earnings of $2.7 billion for the first quarter compared with a loss of $610 million last year. Oil-equivalent production was 3.8 million barrels per day, up 3 per cent from the fourth quarter of 2020.
Results included unfavorable identified items of $31 million, or $0.01 per share assuming dilution. First quarter capital and exploration expenditures were $3.1 billion, $4 billion lower than the first quarter of 2020.
Oil-equivalent production was 3.8 million barrels per day, up 3 percent from the fourth quarter of 2020. Excluding entitlement effects, government mandates and divestments, oil-equivalent production was up 2 percent.
"The strong first quarter results reflect the benefits of higher commodity prices and our focus on structural cost reductions, while prioritizing investments in assets with a low cost of supply," said its Chairman and CEO Darren Woods.
"Cash flow from operating activities during the quarter fully covered the dividend and capital investments, and we strengthened the balance sheet by reducing debt. We also made progress on our energy transition strategy by launching our new ExxonMobil Low Carbon Solutions business, which is initially working to develop innovative, large-scale carbon capture and storage (CCS) concepts, including the evaluation and advancement of more than 20 new opportunities, such as a multi-industry hub to reduce emissions from hard-to-decarbonize industries near the Houston Ship Channel," he noted.
"As the global leader in carbon capture, we are seeing growing public and private sector support for CCS as a critical enabling technology to reduce emissions and help meet society's net-zero ambitions," he added.
During severe winter weather in Texas in February, ExxonMobil cogeneration facilities generated 400 megawatts of electricity, helping to power about 200,000 homes.
The severe weather event reduced first quarter earnings by nearly $600 million across all businesses from decreased production and lower sales volumes, repair costs, and the net impact of energy purchases and sales. All affected facilities have resumed normal operations.
Acording to Exxon-Mobil, the total production volumes increased 98,000 oil-equivalent barrels per day from the fourth quarter.
Excluding entitlement effects, government mandates and divestments, liquids volumes were down 3 percent including impacts from higher maintenance and the winter storm. Natural gas volumes increased 12 percent driven by higher seasonal demand in Europe.
During the quarter, production volumes in the Permian averaged 394,000 oil-equivalent barrels per day, an increase of 12 percent from the prior year. The focus remains on continuing to grow positive free cash flow by lowering overall development costs and increasing recovery through efficiency gains and technology applications.
Industry fuels margins improved from the fourth quarter, but remained below 10-year-lows driven by market oversupply and high product inventory levels. Lubricants delivered strong performance, underpinned by lower costs and improved margins.
Despite winter storm disruptions, overall refining throughput was essentially flat with the fourth quarter as the company managed refinery operations in line with fuel demand and integrated chemical manufacturing needs.
Industry margins improved further in the quarter reflecting continued strong demand, global shipping constraints, and ongoing supply disruptions, particularly in North America, where the polyethylene and polypropylene markets were affected by severe winter weather in Texas.
Strong first quarter Chemical earnings performance of $1.4 billion was supported by robust base operations capturing high margins and continued delivery of cost efficiencies.
ExxonMobil announced it is pursuing three new advanced recycling initiatives in the U.S. and Europe that further advance our commitment to sustainability and capture value from plastic waste at scale. The company plans to begin marketing certified circular plastics products later this year.-TradeArabia News Service