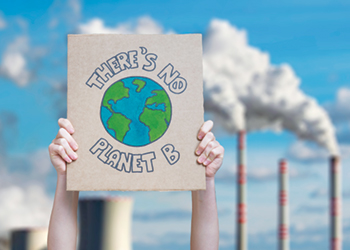 Climate change ... all on board?
It seems like the whole world is one big chorus, singing in unison, the name of the song with all its local variations is climate change, and the stage this time is going to be Glasgow in Scotland.
World leaders were going to converge there for the 26th UN Climate Change conference from October 31 and November 12 to see if something impactful could be done about a warming planet, writes Abdulaziz Khattak.
COP26 will review how countries are tackling climate change. All of those attending are signatories to the Paris Agreement of 2015, the successor agreement to Kyoto Protocol of 1992.
But even before the summit started, the world has falling out of tune. Countries pledging to commit to net-zero goals want to do so after having secured their own interests.
Take for, example, China, the biggest carbon polluter which generates 30 per cent of all global emissions.
Chinese President Xi Jinping's is expected to be absent from the COP26 climate summit in person raising doubts if his country will extend further support after previously having committed with to major pledges. The country has stressed it will not pursue climate policies at the expense of national security and public welfare.
The world's contention with China is its coal consumption, which it said it would start cutting down by 2026 and Xi Jinping's vowing to stop building coal plants abroad immediately.
Second on the polluters' list is the US, whose own history of not binding to global treaties is poor. First it failed to ratify the Kyoto Protocol and then stepped out of the Paris Agreement under the Trump administration, although Biden has reapplied for readmission.
This time Biden has pledged to reduce greenhouse emissions 50 to 52 per cent by 2030 and a net-zero emissions economy-wide by 2050.
Meanwhile India, the third largest emissions producer, has rejected calls to announce a net zero carbon emissions target and said it was more important for the world to lay out a pathway to reduce such emissions.
Environment secretary RP Gupta said net zero was not the solution to the climate crisis. "It is how much carbon you are going to put in the atmosphere before reaching net zero that is more important."
India has committed to cutting emission intensity of its GDP by 33-35 per cent by 2030 from 2005 levels.
Similarly Australia, one of the largest carbon emitters per capita has rejected any pledge to cut on methane emissions because of concerns it the impact its farming sector.
But there are others like Saudi Arabia, which is unlikely to reduce production and export of crude oil, and is smartly pushing its own agenda, that of the carbon circular economy (CCE).
TheKingdom has pledged $10 billion in funds over 10 years for CCE, in addition to contributing to cutting global methane emissions by 30 per cent by 2030.
It also has plans to invest heavily in alternative energy. Energy Minister Prince Abdulaziz bin Salman Al Saud said Saudi Arabia wanted to be the biggest supplier of hydrogen.
To secure global net zero by mid-century and keep 1.5 degrees within reach, countries are being asked to come forward with ambitious 2030 emissions reductions targets that align with reaching net zero by the middle of the century, the COP26 website said.
To deliver on these stretching targets, countries will need to: accelerate the phase-out of coal; curtail deforestation; speed up the switch to electric vehicles; encourage investment in renewables, it said.
At this point, the world needs to spend $5 trillion a year by 2030 if it earnestly intends to fight climate change, researchers said.
To help poorer countries adapt their economies, richer countries had in 2009 agreed to contribute US$100 billion together each year by 2020. But they are yet to make good on their promise.
It's frustrating to see nations bicker over something that could be a collective gain, only if things are taken to action.
In a private conversation, Queen Elizabeth voiced similar concerns. She said: "It's really irritating when they talk, but they don't do."
So overall the world will wait and see the outcomes from the COP26.