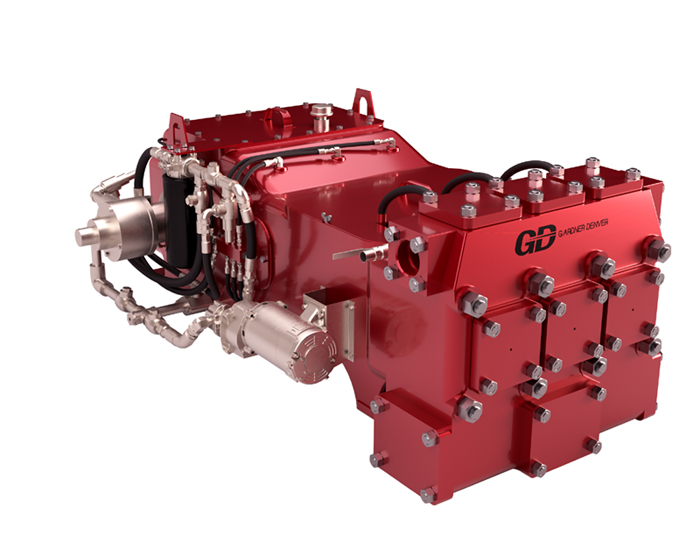 Gardner Denver's new GD 250HDD pump
Gardner Denver High Pressure Solutions (HPS), a global provider of high pressure pumps, parts and services, has launched its new GD 250HDD pump to serve as a durable, reliable, American-made pump for a range of horizontal directional drilling (HDD) applications.
HDD pumps — also known as drill pumps, mud pumps, and high flow pumps — serve as an integral component to operations and provide an essential service to the HDD industry. The GD 250HDD pump expands Gardner Denver's pump offerings into the wider HDD space for the first time, built with quality and efficiency in mind. The pump can be used to tunnel under rivers and roads and help to lay sewerage systems, water pipes, fiber optic lines and pipelines.
The pump features a very high rod load rating of 50,000 lbs, making it extremely tough and long lasting. It is designed to run at much slower speeds while matching or exceeding the performance of existing pumps. For example, the GD 250HDD can produce 300 gpm at 1400 psi while operating under 200 rpm. At this slow run speed, the pump can deliver the same output, flow, and pressure with less violent actions, wear and friction. By delivering fewer strokes, consumable life is extended.
Ryan Huseman, lead engineer on the project, said, "The weight to horsepower ratio of the GD 250HDD surpasses all other industry competitors. The GD 250 HDD packs a huge amount of power in a very small dimensional envelope, which makes it ideal for the HDD market. The pump runs incredibly smoothly due to the rigidity of the high strength ductile iron frame. Additionally, all the of the bearings on the GD 250HDD feature a pressurized lubrication system, so the pump can tackle the biggest projects in the industry."
Brandon Janda, product manager, Gardner Denver HPS, said, "For more than 160 years, Gardner Denver has been building a legacy of product innovation in pumping technology. With the GD 250HDD pump, our expertise is now being used to improve operations in the HDD market. The components of the new pump have been designed using Gardner Denver's decades of experience in the industrial and petroleum industries. We have now taken this very robust field-proven technology and applied it to HDD pumps, introducing a 100% American-made, rugged, longer-lasting industrial pump —helping customers reduce downtime, extend consumable life and ultimately tackle bigger, tougher projects in less time."
Weighing less than 4,000 lbs, the GD 250HDD has a maximum flowrate of 460 gpm and the ability to reach pressures up to 3,000 psi. This triplex pump offers a 5 in. stroke, 50,000 lbs rod load rating and 250 breaking horsepower (BHP). --Tradearabia News Service