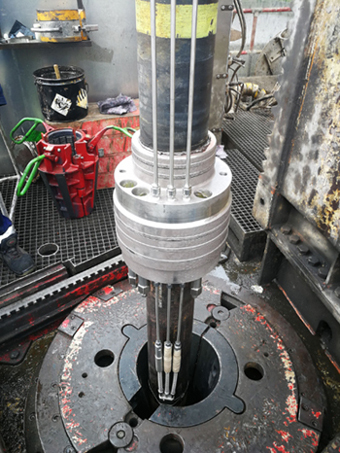 The Orange ESP the Dutch geothermal project
German artificial lift expert Oil Dynamics has delivered a customised pump for a new geothermal project in the Netherlands.
The Orange pumping system has been engineered, assembled and tested in Heidelberg, Germany. The equipment consists of downhole and surface components.
The electric submersible pump (ESP) has been especially designed to fit into a tight liner and deliver some 300 cu per hour of almost 90 deg C hot geothermal water from an installation depth of 800 m. The multi-stage centrifugal pump is driven by a nearly 1,000 HP strong electric motor.
The motor is sealed by a specially designed hydro-protector. During operation, the ESP's sensor permanently transmits seven downhole parameters up to the surface, thus enabling pump protection and process optimization.
A large ElektroMotion Variable Frequency Drive (VFD) with over 900 kVA reliably generates any volts, amps and hertz required to operate the pump within a broad production range. This is particularly important for geothermal heating projects, where heat demand typically fluctuates seasonally.
The state-of-the-art smartDRIVE VFD was also engineered and built by Oil Dynamics. It includes a large input choke, a sine wave filter, innovative controls, data interfaces and an integrated touch screen. To complete the package the matching step-up transformer and ESP power cable were also supplied by Oil Dynamics.
During the pumping tests carried out, the Orange ESP has proven its high performance and robustness. Both, the installation of the pumping system and the well tests were assisted by Oil Dynamics Field Service staff. For the well testing period the VFD has been delivered inside an especially modified sea container. –Tradearabia News Service