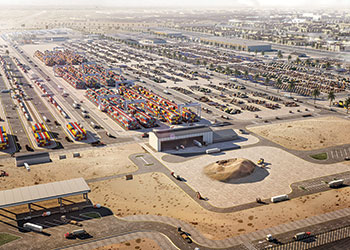 The dry port at Spark is the region's largest of its kind
Saudi Arabia offers a lot of untapped opportunities and vast business potential. In the past years, the Kingdom has made rapid economic and social progress under Vision 2030, which is overseen by Crown Prince Mohammed bin Salman.
In its drive to reduce economic dependence on hydrocarbons, the Kingdom is opening up to the world in untraditional sectors like mining and the steadily expanding manufacturing sector.
When it comes to mining, Saudi Arabia may not necessarily be the first to come to mind. But that is set to change.
The Kingdom in general is under-explored. The Arabian-Nubian Shield (ANS) within Saudi Arabia, which spans over 600,000 sq km, is a major source of precious and base minerals. To date over 48 minerals have been identified in the Kingdom with, at least, 15 minerals that are commercially viable.
A report published by Watts, Griffis, and McOuat (WGM) showed Saudi Arabia had promising deposits of gold, copper, zinc, lead and silver.
With the energy transition debate raging, reaching a net-zero world is almost completely dependent upon materials that are mined, rather than fossil fuels.
And as Khalid Al-Mudaifer, Vice-Minister for Mining Affairs, Ministry of Industry and Mineral Resources, says: ''Decarbonisation – the net-zero transition – cannot happen without minerals and metals; a lot of minerals and metals.'
And that's why discoveries and production are needed to be scaled up.
According to estimates, Saudi Arabia holds gold reserves of 56,263,984 ounces, worth $69 billion; 2,243,000 tonnes ($17 billion) of copper; 4,383,900 tonnes ($9 billion) of zinc; 448,900 tonnes ($0.8 billion) of lead; 95,938,000 ounces ($2 billion) of silver; and 108,000 tonnes $1.6 billion of nickel.
A key sector with major implications on the diversification process and Vision 2030 is manufacturing, considering it has both has forward and backward linkages with other sectors.
Known for its behemoth industrial cities, Saud Arabia in 2018 initiated a different concept when it laid the foundations for a fully-integrated industrial city called the King Salman Energy Park, or Spark.
Located in the Eastern Province, the city offers global investors in oil and gas, petrochemical, water and power, and even new energy world class infrastructure. Phase 1 of the three-phased city is nearing completion.
And like other projects, sustainability remains at the heart of Spark, which has maintained its its commitment to environmental, social and corporate governance standards in all its operations.
By Abdulaziz Khattak