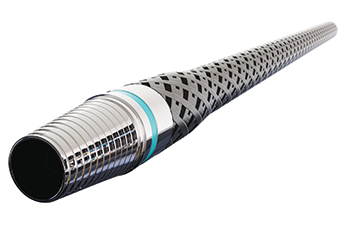 CFST is a new generation of tubulars built for HPHT wells
CRA-Tubulars has announced the successful testing of its carbon fibre spoolable tubing (CFST), a new generation of very strong, lightweight corrosion free tubulars built for high-temperature, high-pressure (HPHT) wells.
CFST is built for downhole application. Its operating envelope allows for HPHT application. CFST is non-metallic, naturally inert to corrosion and stronger than steel competition. It is intended for H2S and CO2 and water-injection environments, designed to last the life of the well.
According to Emile Burnaby Lautier, CRA-Tubulars Founder and CEO: "We set out to solve the corrosion issue from its core; eliminate the iron and eliminate the degradation. For decades, billions of dollars have been spent on coating metallics and chemically treating metallic. We thought of following other industries like aerospace and replace metallics with a stronger lighter material. Carbon fibre was the obvious choice for such rugged applications."
Also commenting, Rein Maatjes, CRA-Tubulars CTO, says: "Once our prototypes were built, we sent it to a third-party testing facility for burst and tensile testing. To our amazement, the samples outperformed our steel counterparts by a wide margin with plenty of design options to push even higher results. Higher performance, inert to corrosion at a 1/3 the weight, engineers can't wait to design with these tubulars."
The features and benefits of CRA-Tubulars' CFST include:
• A range of sizes (currently available): 2-3/8, 2-7/8, 3-½, and 4 ½ inches.
• Single piece construction minimising leak paths (top and bottom conventional connections).
• Spoolable deployment with hydraulic workover unit, no rig required. Rig deployment is possible, however.
• Temperature ratings to 350 deg F.
• Burst ratings to 18,000 PSI.
• Axiale tensile rating to 250,000 lbs pull.
• Designed for over 20-year field performance.
CFST is currently seeking trial partners for first field installations, at comparable pricing to Chrome 13 tubing, but surpassing its corrosive properties. CRA-Tubulars is also in discussion with investors interested in manufacturing facilities.
CRA-Tubulars is a newly established company backed by many years of excellence and innovation. The company operates in the oil and gas space and seeks to help energy companies to solve the issue of well-integrity, associated cost and subsequent loss of production due to corrosion failures. The company is in the final stage of producing a CFST that aims to disrupt the deployment of metallic tubulars in upstream oil and gas.
The CRA-Tubulars team has more than 80 man-years experience in the E&P industry.