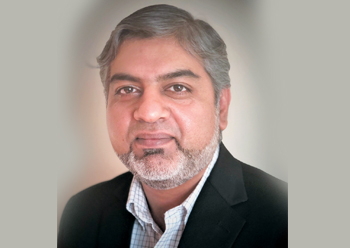 Mumtaz ... reiterating the benefits of digital tools
Amongst the many advantages of embracing digital tools to enhance operations and revenues is that these can help the power industry, its customers, and society as a whole by delivering measurable benefits today, Asim Mumtaz of Emerson tells OGN

Over the past four decades, the power industry has transformed beyond our imagination, and now it finds itself on the precipice of the next big wave of change.
'With the visible changes in the power industry landscape and the shadow of the pandemic still hanging over the market, power and utility companies find themselves suddenly navigating through familiar changes such as an aging workforce and a large influx of intermittent power generation, produced by wind and solar power plants,' Asim Mumtaz, MEA Lifecycle ServicesLeader, Emerson Automation Solutions, tells OGN.
But, he says, these are not the only challenges the power industry will be faced with in the coming years. Bloomberg New Energy Finance (BNEF) projects that price reductions, technology improvements, and increased demand for electric vehicles (EV) will lead the global market for energy storage to double six times by 2030.
For power companies, the significant increases in renewable energy and energy storage, pose an increased complexity that will be handled by a relatively new and inexperienced workforce.

STATE OF POWER INDUSTRY
Major players in the power industry have been looking to tapping the power of new digital tools to help them enhance their operations and the skills of their workforce.
Deloitte conducted a global Industry 4.0 survey in 2019 to gather insights from utility executives to identify forces with the most impact on their business, and changes in fuel process and availability were at the top of the list, with the influx of solar not far behind.
Gathering feedback from executives on top digital priorities for utilities over the next 3-5 years, Deloitte has stated that more than half had ambitious priorities for the implementation of holistic digital initiatives from generation to energy management distribution.
Other top priorities included tapping data and analytics for better business efficiency and enhancing operations reliability through machine learning (ML) and artificial intelligence (AI).
Bob Yeager, President of Emerson's Power & Water Solutions business, described three reasons why electrical power producers undertake digital transformation initiatives. These include the next level reliability through the elimination of human error, the effective transfer of knowledge to help attract and retain top talent, and the capability to innovate without fear.
Regardless of widespread plans on digital priorities, progress was slow on achieving such goals among companies. Bain & Company's recent report on utility digital transformations noted how tough digital initiatives were to accomplish, even with significant investments and support of data scientists. Bain discovered only 5 per cent of utilities reported achieving or exceeding expectations around digital transformation, and 75 per cent in contrast stated that they settled for 'dilution of value and mediocre performance'.
Another report by McKinsey Global Institute revealed that US utilities lagged behind companies in other industries in achieving their digital ambitions.
With a mixed perspective on this topic, power and utility companies face the topic of digital transformation with the promise of enhancement and frustration over their ambitions.

UTILISING DIGITAL TWIN
Despite the challenges, power companies are ready to respond to such all-encompassing change by becoming proactive, and preparing for upcoming retirements across its operations workforce and proactively taking on new technologies to support their operations.
One of these new technologies often utilised by users is digital twin, a high-fidelity simulator that runs in parallel with the real control system, making advanced testing possible to ensure any changes won't impact the supply of electricity.
The right digital twin can achieve all of these objectives today. Emerson's digital twin is an example of an ongoing breakthrough that erases the wall between a power plant's control system, the automation system, and the digital twin.
The benefits of a digital twin include the capability to mirror a plant's control system to perform two vital things simultaneously: Delivering immediate and tangible results for plant operators and utilities, and those results helping to build momentum for a more holistic digital transformation.
What a sophisticated digital twin can deliver in terms of improved efficiency, cost containment, and avoidance is more than enough to underscore the value of smartly implementing digital technologies in the utility industry.

EMERSON USE CASE: PRPA
As it is expected that panelists and vendors would continuously showcase the benefits of AI, machine learning, industrial internet of things (IIoT), and analytics, a few would disagree that progress is slow and difficult.
According to Yeager: 'When you talk to utilities about digital transformation, you better back it up with a business case. That's when you see success because otherwise, it's just technology for technology's sake.'
One use case explores Platte River Power Authority's (PRPA) challenges managing a new generation of operators with lesser experience.
With its Rawhide Energy Station Unit 1 located in Wellington, Colorado, US, PRPA's plant operators had little opportunity to gain much-needed experience in efficiently executing startups and shutdowns, as well as confidently managing upset conditions. This was complicated by the fact that half of the Rawhide operators had less than a few years of experience and a notable portion of experienced operators would be retiring in the coming years. Relying on Emerson's Ovation control system to monitor and control critical processes, its installation required the plant to commit to formal training and certification to attain true operational experience.
PRPA had to purchase a maintainable high-fidelity simulator that could be used by operations to train its personnel for control logic testing, patch verification, and continuous improvement of plant operating procedures.
As a solution, PRPA and Emerson replaced a combination of DCS and PLC systems at Rawhide with a single Ovation platform to monitor and control critical plant processes, which include, but are not limited to, air quality (scrubbed-FGD), balance-of-plant, boiler, among others.
Ovation-embedded simulation utilises plant models built with the same familiar engineering tools as the Ovation control system, enabling the Rawhide staff to maintain the simulator easily, keeping it current with control logic and other plant changes, along with industry standards.
Since installation, Rawhide's engineering department used the simulator to increase its efficiency, testing all major logic changes without risk to the actual plant and watching the outcomes as they play out in real-time in the simulated environment.
PRPA was pleased with the impact made of the new high-fidelity Ovation embedded simulator on its training program, with operations completing over 400-manhours of simulator training with significant benefits such as a 44 per cent reduction in the time operators require to perform plant startup and shutdown scenarios.

CONCLUSION
There are many advantages for utility industries embracing digital tools to enhance their operations and revenues. But digital transformation can help utilities, their customers, and society as a whole by delivering measurable benefits today.