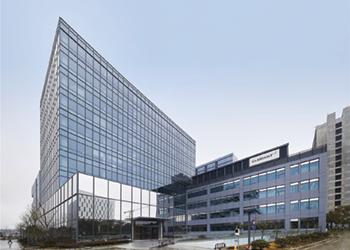 The One Clariant Campus in Shanghai, China
The One Clariant Campus is an integral part of the company's dedicated China strategy, and increases its ability to innovate and to exchange insights on market trends and customer needs, says Conrad Keijzer, CEO of Clariant
Clariant, a leading global developer and producer of catalysts for industrial processes, has strengthened its focus on China, and rightfully so, by opening the 'One Clariant Campus' in Shanghai and increasing investments.
The Campus built for an investment worth $48 million will be home to Clariant's Greater China Operational Headquarters as well as the Innovation Center China. With the new full-fledged R&D centre, Clariant aim to be the leading innovator in catalysis benefiting customers in China and beyond.
According to Conrad Keijzer, CEO of Clariant: 'The One Clariant Campus is an important milestone for our dedicated China strategy. By locating our teams in the China organisation under one roof and providing them with state-of-the-art equipment in the Clariant Innovation Center China, we increase their ability to innovate and to exchange insights on market trends and customer needs. As a result, the One Clariant Campus will be a strong driver to further strengthen our market position in China and beyond.'
Located in Shanghai's XinZhuang Industrial Park, the One Clariant Campus spans a total of approximately 24,000 sq m, consisting of a little over 13,000 sq m lab area and close to 11,000 sq m of office and a conference centre. It serves as the principal office location for some 350 employees.
The state-of-the-art labs at One Clariant Campus
Sustainable building design was an important element in the construction of the Campus. This commitment proved worthwhile as the Campus was awarded a LEED Gold certificate (Leadership in Energy and Environmental Design, the most widely used green building rating system in the world) as well as the Green Building Label (highest Chinese Green Building Certification).
Martin Vollmer, Clariant's Chief Technology Officer, said: 'As an integral part of the One Clariant Campus, the new innovation centre will foster Clariant's research and development capabilities in China. While the new facilities will greatly enhance the abilities of our own teams, we will also step up our cooperation with local key customers and key suppliers by inviting them to co-locate in our center for the joint development of next generation products. Supported by additional cooperation with academic partners and other industrial partners, the center will be the beating heart of our innovation efforts in China.'
The state-of-the-art labs at One Clariant Campus
Clariant Catalysts' China R&D centre will focus on four fields addressing the key challenges of China's chemical megatrend to drive sustainability and efficiency. This will enable it to provide Chinese customers with leading and tailor-made catalytic solutions to meet the local needs in local speed.
The centre will allow Clariant to offer more sustainable coal based chemical value chain, hydrogenation for high value-adding chemicals, environmental protection, and custom catalysts.

INVESTMENTS
China is a key market for Clariant and in 2020 represented 10 per cent of Clariant's sales, totaling $429 million. In order to increase its share in the world's largest chemicals market as well as for specialty chemicals, Clariant is pursuing a dedicated strategy of becoming a true 'China Insider' by fostering five key local elements: insight, competitiveness, empowerment, innovation and partnering. To achieve this, Clariant invests significantly in China.
The company recently announced the construction of a new Catofin catalysts production facility in Jiaxing, Zhejiang Province, while its joint venture facility with Tiangang Auxiliary in Cangzhou, Hebei province, is opening soon.
The Jiaxing plant is Clariant's third catalysts plant in China, and includes a high-tech production site for Catofintm catalysts. It strengthens Clariant's ability to support China's petrochemicals industry, especially the propane dehydrogenation (PDH) market. The plant is expected to achieve full production capacity by 2022.
Furthermore, Clariant is making a milti-million dollars investment in Panjin, Liaoning province. The company accelerated local manufacturing footprints by expanding SynDane maleic anhydride (MA) catalyst production line there in 2019.
Andy Walti, Head of Clariant Region China and Asia-Pacific, said: 'With this investment, Clariant shows its long-term commitment to China and increases its focus on all three top priorities, namely customer experience, innovation drive and footprint enlargement. Under the roof of the One Clariant Campus, we will speed up our processes and increase our abilities to fulfill the specific needs of our Chinese customers with innovative and sustainable Clariant solutions.'

GROWING OUTLOOK
Clariant's catalysts business unit has been part of the Clariant Group since the acquisition of Süd-Chemie in 2011.
Clariant Catalysts is headquartered in Munich, Germany, and has a total of 16 production sites, 7 sales offices, and 10 R&D and technical centres around the world. Approximately 2,044 employees serve customers across all regional markets.
Aimed at delivering sustainable value to customers, Clariant's catalysts and adsorbents are designed to increase production throughput, lower energy consumption, and reduce hazardous emissions from industrial processes. The broad portfolio also includes products that enable the use of alternative feedstock for chemical and fuel production.
• Emission control catalysts for air and gas purification (EnviCat): Clariant catalysts offers a range of products for a variety of applications to effectively and efficiently reduce/remove off gases and production by-products emitted from industrial exhaust and help to meet local requirements including limits on the emission of Volatile Organic Compounds (VOCs), hydrocarbons (HCs), carbon monoxide (CO), nitrous oxides (NOx), nitrogen oxide (N2O).
• On-purpose olefins (CATOFINTM): Catofin technology is a highly reliable and productive method for light paraffin dehydrogenation especially propylene. The process operates at thermodynamically advantaged reactor pressure and temperature to maximize conversion of propane to propylene, while reducing investment and operating costs. Thanks to its excellent high reliability and productivity, Catofin technology has been chosen for numerous dehydrogenation plants worldwide.
• Phthalate-free PolyMax 600 series catalysts for polypropylene: Launched in June 2020, the next-generation phthalate-free olefin polymerization catalysts are an expansion of Clariant's portfolio to include a new offering to meet the most demanding customer toxicity requirements. Formulated for a wide variety of different PP process technologies, the new PolyMax 600 series catalysts answer the market's increasing need for safer polypropylene solutions.
• High-performance methanol synthesis catalyst, MegaMax 800: Clariant has more than 45 years of expertise in the methanol industry. MegaMax 800 offers much higher activity than previous solutions – even at very low reactor temperatures and pressures. It also provides excellent selectivity towards methanol production, as well as exceptional stability and poison tolerance. The catalyst is suitable for large or small production units and can be run with various methanol process technologies. These advantages have already helped many global & Chinese methanol producers to improve their plant performance.
• Digitalization Service (Navigance): Clariant offers a cloud-based solution for providing real-time recommendations for optimal control parameters to help producers optimize chemical processes. Navigance uses artificial intelligence to combine data from customer plants with the expertise of chemical process experts. Rolled out in 2019, the service increases production volume and efficiency of formaldehyde production plants and serves methanol producers.

* Clariant is a focused, sustainable and innovative specialty chemical company based in Muttenz, near Basel, Switzerland. It reports in three business areas: care chemicals, catalysis and natural resources. The company employs a total workforce of 13,235, and recorded sales of CHF3.860 billion in the financial year 2020.

Want to read more?
It is free!
To access OGNnews.com for free sign-up today
X