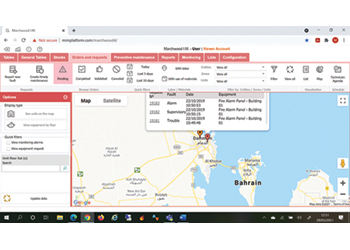 A screenshot of the MIMS ... using the potential of IoT
The system is the first of its kind to transform the connected potential of IoT into a comprehensive solution for industries to have complete visibility on their worksite thereby delivering a higher level of safety, Alastair Snell tells OGN
In the era of Industry 4.0 and the Internet of Things (IoT), safety is one of the greatest areas that can benefit from the increased connectivity that drives the world.
Integrated systems today are capable of using smart technology to remotely monitor worksites, incorporating solutions such as maintenance and incident management to create a holistic approach to governing the safety aspects of practically any industry scenario, from oil and gas to transit and beyond.
"And, should an incident occur, smart monitoring systems enable rapid assessment and response to ensure the fastest possible resolution, with minimum impact," says Alastair Snell, Sales Engineer, Marchwood Integrated.
IoT is a transformative tool for the workplace, with connected devices and smart sensors boosting productivity, safety and security throughout business processes - from people down to factory floors, and everything in between.
The information gathered by these smart devices is transmitted near instantly to computer servers in health and safety departments, or in data centres, where it is sorted and analysed. The servers will then instruct or inform responsible personnel respond to the event. This will enable them to operate with more efficiency, effectiveness, and, of course, more safely, says Snell.
"Imagine the benefits of having a warehouse that can do more than just alert you to a fire situation when the alarms are triggered. With smart technology, the system can monitor the status of fire system valves, both for alarm and tamper, it provides a full breakdown of the lead-up to the incident using the latest data, allows you to monitor the situation as it happens, and provides a response to ensure everything is dealt with accordingly."
A new system designed by Marchwood Integrated, called the Marchwood Integrated Monitoring System (MIMS) can do all of that.
MIMS is the first of its kind to take the connected potential of IoT and transform it into a comprehensive solution for industries to have complete visibility on their worksite, from anywhere, at any time, thereby delivering a higher level of fire safety than ever before, says Snell.
"For anyone who has either operated or been part of a worksite, or who has been involved in the response management of a work site incident, the value of such a system is immediately obvious; it offers both the control and reassurance that are required, should something go wrong."
Designed to be a failsafe system, MIMS gives users the ability to remotely monitor everything from planning, predictive maintenance, planned maintenance, to assessment, to response, by delivering real-time information around the clock.
"This breakthrough solution also provides users with the capacity to connect with remote team members immediately, to ensure everyone involved is kept up to speed as the incident and its resolution progresses. And, as a liability-limiting feature, AIMS creates a virtual paper trail that cannot be tampered with, thereby generating a solid record that can be used post-incident for investigative or insurance purposes," says Snell.
Technology of this kind is easily customisable, too - just one more advantage that so many Industry 4.0 innovations come with.
Because it can be customised, MIMS is easily scalable and can be configured to meet the needs of any industrial work site, in almost any industrial sector.
As an example of scalability, MIMS uses the innovative SNAP operating system, which is a wireless, self-healing mesh network that both collects and transmits information that is critical to any installation or site.
This information is gathered from in the region of up to 5,000 nodes or remote devices, which can be as simple as switch units, or any 4-20 mA input from a pressure, flow, level, gas or any other transducer with a 4-20mA output.
MIMS makes all of this possible with the use of host servers and smart phone based "apps". By installing smart, connected devices that are capable of constantly reporting on any and all interactions, you not only get the benefit of full visibility and management, but increased efficiency as well. Connected devices remove the need for human checks, thereby eliminating the potential for human error and allowing manpower resources to be diverted elsewhere.
To go one step further with the MIMS solution, Marchwood Integrated recently added a Fire Panel Interface, as part of a Factory Mutual approved system (FM 3010) to introduce increased control and communication between user and connected devices.
The Fire Panel Interface serves as a wireless bridge between a fire alarm panel and remote devices such as sprinkler flow switches, tamper switches, pressure switches and any other simple switch input.
The benefit of this is that all mechanical fire protection items can be brother together either on an existing or new fire alarm panel, and all alarms can be managed from one place, thereby saving time and money on installation costs.
It's a flexible piece of tech, too; the Fire Panel Interface connects to the fire alarm panel using the fire alarm manufacturers' standard input modules for two different types of alarm - trouble, and supervisory inputs. Should an event be triggered in the field, the interface then operates the appropriate input module.
With the sort of trailblazing that Marchwood Integrated is known for, and the breakthrough technologies that are driving change throughout the industry as IoT takes an increasingly strong hold on things, it was only a matter of time before a first-of-its-kind system like MIMS was introduced to the market.
MIMS doesn't just provide users with better management of their systems - it redefines fire equipment monitoring, predictive maintenance and incident management.
"Marchwood Integrated is looking for suitable companies to partner with in the Gulf region," says Snell.