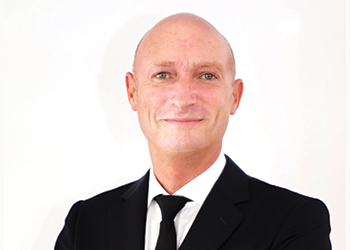 Rochas ... meeting GCC's needs through customised solutions
OQ is well placed to address the ever-growing global demand for polymer solutions and the LPIC is a key component in achieving that objective, Gilles Rochas, Vice-President Performance Chemicals, OQ, tells OGN
In December 20, 2021, the $7-billion Liwa Plastic Industries Complex (LPIC) mega project at Sohar Industrial Port was inaugurated.
LPIC is the flagship project of OQ, Oman's global integrated energy group, and intends to stimulate investments in downstream industries.
The transformational project aims at answering the growing global polymer demand through the creation of value-added products derived from crude oil and natural gas.
LPIC is the flagship project of OQ that will cater to global polymer demand
Providing the Sultanate's first polyethylene (PE) plant, LPIC opens up new opportunities for Luban HDPE and LLDPE products. It also expands the range of Luban polypropylene (PP) products.
In an interview with Abdulaziz Khattak of OGN, Gilles Rochas, Vice-President Performance Chemicals, OQ, speaks about LPIC's ambition to meet the growing demand in the region by ensuring reliability of continued supply, and provide customised solutions that are inspired by the needs of GCC converters, processors and compounders.

Globally the usage of polymers is on the rise? How do you reconcile that with calls for combating climate change?
The global polymer market size is expected to increase from $533.6 billion in 2019 to $838.5 billion by 2030, at a 5.1 per cent CAGR between 2020 and 2030.
We are experiencing a paradigm shift in terms of consumer behaviour and purchasing patterns following global megatrends, such as shift in global economic power, demographic change, rapid urbanisation, rise of technology, and climate change/resource scarcity.
The polymer industry is set to benefit from these trends since packaging is a default requirement for many sectors like FMCG, food, beverages, pharmaceuticals, agriculture, and many more.
Packaging is expected to remain the largest category in the polymer market for the foreseeable future.

What advantages do plastic offer compared to other alternatives?
Compared to other materials that can serve the same purposes of polymers, such as wood, paper, glass, polymer products offer a distinct advantages in regards to sustainability. These include light weight, reusability, long life of polymer products, and resistance to corrosion and oxidisation.
Polymers offer protection, flexibility, abrasion resistance, high shock, and vibration resistance, and are readily substitutable for conventional packaging materials.

What is your vision for specialty chemicals at OQ?
OQ combines a diverse set of expertise and talents. Merging agility, innovation, and technology. We develop game-changing specialty solutions for consumers across the entire energy value chain.
By unlocking the full potential and value of OQ's resources, we are well placed to address the ever-growing demand for polymer solutions in the demanding flexible packaging, rigid packaging, and durables segments as well as for the infrastructure and construction sectors.

What role does OQ (performance chemicals) see for itself in the global scenario, and where does LPIC fit into the equation?
With the LPIC, we pioneered Oman's production of polyethylene thereby diversifying our product portfolio to include HDPE (high-density polyethylene) and LLDPE (linear low-density polyethylene) production.
LPIC has enabled us to expand our production capacity of polyethylene and polypropylene to 1.5 million tonnes.
With Oman's polymer production capacity increasing following the LPIC start-up, our main focus will be in serving the Gulf domestic market with emphasis on supporting direct customers (converters) complemented by strong partners in the region.

What was OQ's total production (performance chemicals) in 2021? Will production capacity be increased in 2022?
LPIC introduces production levels of 880,000 tonnes per annum (TPA) of Luban PE to serve local and international markets. This capacity includes the production of 440,000 TPA of Luban HDPE and 440,000 TPA of Luban LLDPE. In addition, LPIC's 300,000 TPA of Luban PP increases OQ's present PP capacity from 340,000 TPA to 640,000 TPA.

How much Capex do you intend to allocate for 2022, and what will it be used for?
We have just recently invested in a $6.7 billion project in LPIC, which has completed commissioning and will be our main focus in 2022.

What are your plans for your division this year; do you have any big announcements?
We are focused on offering the market innovative new grades such as Luban HP1102LC, high speed raffia and future HDPE solutions, such as Luban HDPE grade DGDZ-2400, which can be used for pipes for water and gas distribution.
OQ's Luban LLDPE solutions (DFDA-7047) can be used in agricultural films like greenhouse covers and mulch films. These films can improve crop yield by as much as 72 per cent in some cases while reducing water consumption, thanks to improved thermal and humidity control.
Our main focus is in serving the Gulf domestic market with emphasis on supporting direct customers (converters) complemented by strong partners in the region.
OQ provides equal emphasis on big, medium and small companies, because we are keen to contribute to the economic prosperity and growth of the markets we are supporting and development of in country values within the region.
What is your policy towards emissions control and the environment? What steps have you take in this regard?
A dedicated sustainability function was formed in 2020 to drive the integration of sustainability agenda across the organisation by embedding sustainable development philosophy in the operations of the various business lines.
The Sustainability Council, consisting of members of the Integrated Leadership Team (ILT) and the Sustainability VP governs the sustainability programme of OQ.
The council sets ambitious targets, provides direction, sets guidelines, and evaluates the effectiveness of sustainability initiatives and their implementation.
Recently, OQ's Sustainability Roadmap was developed where a set of Environmental, Social, and Governance (ESG) KPIs and targets were set in motion. The sustainability team is working with the relevant functions to develop joint plans to achieve these targets.
Although OQ is at the beginning of our sustainability journey, we take pride in our early achievements in the area of waste management.
The pandemic enabled us to re-examine our processes and helped us further streamline our operations.
We saw an opportunity in managing our waste within the country other than exporting it to facilities outside, thus reducing our carbon footprint.
In 2020-end, a contract was signed with be'ah, Oman's environmental services holding company, to maximise in-country value (ICV) as well as to eliminate transboundary waste transportation of hazardous waste.

What is OQ's digitalisation strategy, and which areas do you think digitalisation can help improve functions?
OQ is in a transformative phase, focusing on new business development. This growth and development path ultimately aim to transform OQ into a global energy company that delivers sustainability and business excellence. The scope of our strategy focuses on eight pillars which include digitalisation.
Digitalisation is ushering new and innovative upstream technology.
For example, in our upstream business, digitalisation presents an opportunity for OQ to increase the quality, efficiency and overall yield of our oil and gas exploration and production operations across the value chain.
Market forces are incentivising us to take a step back and use the insights provided by our digital information so that we can optimise our margins.

Can you elaborate on Oman's green initiative?
Alternative energy is a key driver for OQ's long-term growth and a cornerstone of its strategy. It is also in line with the country's ambitious Oman Vision 2040, which aims to diversify the nation's resources and maximise the financial value derived.
OQ plays the role of a catalyst in energy transition and partner of choice in the alternative energy space in Oman, supporting the sultanate's long-term vision of a gradual transition and reducing dependency on fuels.
Our plans for producing hydrogen and renewables are tied together with the aim of reducing carbon emissions. For example, in July 2021, Oman's strategic green hydrogen project, Hyport Duqm - a JV project between OQ & DEME - signed a cooperation agreement with energy giant Uniper.
Under the agreement, Uniper will be joining the project team to provide engineering services and negotiate an exclusive offtake agreement of green ammonia.
Another project is GEO, a new integrated development in Oman that will consist upstream of a combined 25 GW of renewable solar and wind energy, as well as seawater intake and desalination and electrolysis to separate the water and produce millions of tons of zero-carbon green hydrogen per annum, which can be used locally and exported directly.
Downstream the hydrogen can be converted using the Haber Bosch method into millions of tons of green ammonia each year for international export.