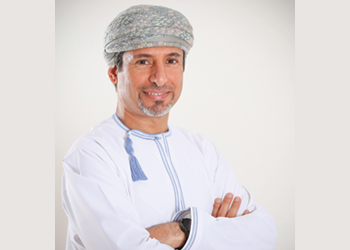 Al Aufi … leading Oman's energy sector
Oman's energy sector has bounced back following a steep rise in global oil prices and new oil discoveries at home
New oil discoveries, rising oil prices and a new ambitious energy minister are promising signs that the Sultanate of Oman may finally turn around its fortunes.
The country last month struck new oil that could potentially add up to 100,000 barrels per day (bpd) over the next three years.
Oman, the Gulf region's largest non-Opec oil producer, currently has 5.2 billion barrels in oil reserves and 24 trillion cubic feet (tcf) of gas reserves, and it is seeking to boost its output with the help of international oil companies
It recorded an average production of 1 million bpd mark during the first four months of 2022, up by more than nine per cent compared to the same period of last year, the Muscat Daily reported.
Oman's oil mostly goes to China, which accounted for around 78 per cent of its total oil exports during the first four months of 2022. This was followed by India (17.2 million barrels) and Japan (4 million barrels).
Rising global oil prices helped Oman record a budgetary surplus of $929.7 million) in Q1 2022, boosted by more than 70 per cent rise in oil revenue as output and prices surged, finance ministry data showed.
This has pushed oil export revenues up to almost $6.5 billion, according to data analytics firm MEES.
It was more than a consolation for the national economy considering Oman saw a whopping $1.95 billion deficit in the same period last year. It also helped the Sultanate reduce its budget deficit by 45.4 per cent and receive a modified future outlook by credit rating agencies to 'stable and positive', as the rate of public debt to the GDP by the end of 2021 decreased by 62.9 per cent.
The sultanate endured economic pain during the global Covid-19 pandemic, with its GDP dropping 6.4 per cent in 2020 and government debt soaring.

EXPLORATION, PRODUCTION & PROCESSING
• Oil: OQ Group, Oman's integrated energy group and one of the country's main oil producers, said production from its assets rose to 218,000 barrels of equivalent per day (boepd), accounting for a 12.6 per cent of Oman's total oil and gas production.
The Port of Duqm is a facet of Oman's diversification strategy
In a statement, Salim Al Aufi, Oman's new Minister of Energy and Minerals, said: 'OQ Group plays an important role in many oil, gas, petrochemical and renewable energy investments, as part of its strategy to diversify its investments, operate to the highest international standards and export its products to more than 60 countries.'
OQ's notable achievements in the upstream include discoveries in Block 60, which currently averages 50,000 boepd barrels per day. The group is also seeking to increase its output to around 60,000 boepd by the end of this year, Talal bin Hamed al Oufi, CEO of OQ Group, said.
He said the group is investing in various oil, gas, petrochemical and energy businesses to maximise its contribution, adding it has reduced the operational cost per barrel of oil, enhanced local value creation, and employed national cadres.
Additionally, the Sultanate expects new production to come particularly from the 20,000 bpd Yibal Khuff in state-owned PDO's Block 6
Other key developments include Shell-awarded Block 10, and exploration work at Block 12 (Total and Thailand-based PTTEP) and Block 77 (BP and ENI). Shell and BP are among the biggest operators in the country.
Discovered in 2018, Block 10 reportedly has recoverable reserves of around 4.7 tcf gas and 112 million barrels of condensate.
Covid has delayed timelines with BP's latest annual report stating that the exploration well is expected to be drilled in 2023.
Meanwhile, on the 10,000 sq km Block 12 the partners are currently tendering for new 3D seismic acquisition.
Oman's energy sector saw a minor setback when US shale firm EOG pulled out of the country just 18 months after its entry.
EOG had a two well commitment in Oman: a 100 per cent operating stake in Block 36 and a 50 per cent stake in Block 49.
Discoveries were reported to have been made at the two blocks, but they weren't sufficiently attractive for the US firm to pursue, EOG CEO Ezra Yacob said
• Gas: For Oman, gas is key in its energy transition roadmap, and has long been touted as a transition fuel.
Several projects are currently underway for exploration and development of gas, including those at the Greater Barik area; Block 10 by Shell, Block 12 by TotalEnergies, and Block 77 by Italian firm ENI.
Oman is debottlenecking its LNG export facilities to boost exports. Its LNG output bounced back to pre-pandemic levels in 2021 and is on track to hit a record high this year.
Oman's LNG is operating near its 10.5 million tonnes per year capacity on the back of BP's Khazzan start up.
• Refining: Oman's 230,000 bpd Duqm refinery is expected to start trial operations in Q1 2023 following Covid-19 construction delays, Talal al-Awfi, CEO of OQ said.
Work on the refinery is almost 90 per cent complete at the Special Economic Zone of Duqm (Sezad), where several energy infrastructure projects are under development, including crude storage facility and a hydrogen project.
The refinery will cost more than $8 billion.
Additionally, Canada Business Holdings (CBH) has announced an investment of $6.2 billion in its planned 'green' refinery in Sezad.
The 300,000 bpd ultra-low sulphur fuel oil refinery will serve the transportation sectors such as aviation and international maritime shipping, and will process residue from OQ and Kuwait Petroleum International's 230,000 bpd Duqm refinery project.
CBH CEO Moses Solemon said: 'The CBH refinery complements the Oman-Kuwait refinery. Therefore, we are in synergy and not in competition.'
The company is targeting the end of 2023 for the refinery to process its first batch of products.
• Iran gas: Oman last month signed a deal with Iran to revive the prospect of developing a pipeline carrying Iranian gas to Oman.
The pipeline will be 400 km long and pump 28 million cum of gas from Iran for a period of 15 years. It was first conceived two decades ago but never materialised.
Talks have also continued on a joint offshore oil field that straddles the maritime borders of both countries.
The Ministry of Energy and Minerals, however, last month dispelled reports in the media that a deal had been reached on the field.
'The Ministry of Energy and Minerals confirms that it has not recently participated in any technical discussions or commercial negotiations related to this joint field, thus it denies that there is any agreement to distribute shares between the partners. It confirms that maximising the benefit of this field will be through joint development if it is agreed upon,' it said in a statement.
The joint offshore field, which holds more than 700 million barrels of oil and about 2 Tcf of gas, is called Hengam on the Iranian side and West Bukha by the Omanis (falling in concession area block 8). Oman has already been producing from the West Bukha field since 1985, the Ministry said.

GREEN AMBITIONS
Oman aims to enhance the value of sustainability coupled with production and its impact on economic growth and attracting investment, especially in the renewable energy sector. Top of the list is hydrogen.
Realising the significant opportunity hydrogen offers, Oman is pushing ahead with a national hydrogen economy strategy to position itself as a global player. Oman's new minister is a strong advocate for blue hydrogen projects in Oman
The former Minister of Energy and Minerals, Mohammed Al Rumhy, stressed that working in the field of green hydrogen might be one of the future solutions and that the Sultanate strives to develop its production capabilities and open new markets in this field.
The country recently established a new state-owned company Hydrogen Development Oman (HDO) to manage the growing number of low-carbon projects planned in the sultanate.
The Ministry of Energy and Minerals is said to soon appoint a think tank to promote Oman as a hub for production and export of green hydrogen, and is seeking foreign investment in the green hydrogen sector.
Locally, OQ is developing the Hyport Duqm project to produce green hydrogen in partnership with the Belgian, DEME Group, in the Special Economic Zone at Duqm (Sezad).
The phased project will eventually have a capacity of 1.3GW and produce 330,000 tonnes of green ammonia annually. It is expected to be operational by 2027.
Separately, US-based H2-Industries has signed a memorandum of understanding (MoU) with Oman's Public Establishment for Industrial Estates (Madayn) to develop a $1.4 billion, 25-GW waste-to-hydrogen plant in Oman
Technical and engineering consultancy firm Worley has been appointed to provide a study for the project.
 Oman's government is planning for renewable energy to contribute 10 per cent of the country's total generating capacity in the main interconnected system by 2025.
The Ministry of Energy and Minerals and bp signed a strategic partnership to progress significant renewable energy and hydrogen development, and includes the potential development of a multiple gigawatt, world-class renewable energy and green hydrogen development in Oman, by 2030.
As part of the agreement, bp will capture and evaluate solar and wind data from 8,000 sq km of land to support the Government of Oman in approving the future developments of renewable energy hubs at suitable locations within this area.
The renewable energy resources could also supply renewable power for the development of green hydrogen, targeting both domestic and global export markets.
Other projects include the planned Manah 1 and 2 photovoltaic (PV) solar independent power producer (IPP) projects, which will each have a capacity of 500-600 MW by Oman Power & Water Procurement Company (OPWP).
Both projects have faced a number of delays in the tendering phase ever since the tenders were first floated in July 2020.
OPWP said that bid submission for the project was likely in the third week of July (this month).