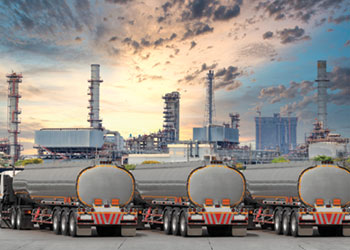 Oil and gas logistics face growth challenges
The demand for green energy, technology and regional conflicts are some of the factors that will negatively impact the growth of the fossil fuels logistics market
The oil and gas logistics market size is estimated to to increase by $4,497 million between 2022 and 2027.
According to a report by market research company Technavio, the growth of the market depends on several factors, including the shifting of freight from over-the-road to intermodal, the surge in offshore oil and gas exploration and production activities, and the demand for contract logistics services.
The report presents forecast and analysis of the period from 2023 to 2027, and adds that the discovery of oil and gas and the upsurge in exploration and production activities are likely to fuel the market growth, as will the rise in demand for petroleum products.
Growth will also be driven by the growing demand for the contract logistic service owing to their advanced technologies and more specialised service.
A new comer is the increasing use of blockchain technology in oil and gas transportation and a key influencer of market growth.
On the other hand, spills and leakages during oil and gas transportation, large equipment and remote drilling locations may hamper market growth at the global level.
Additionally, the replacement of coal-fired power plants by natural gas-based power plants is a key trend influencing the market growth.
The translation of low oil prices into lower gas prices is leading to a shift toward natural gas-powered power generation systems with rapid replacement of inefficient and inflexible coal-fired power plants, especially in developed countries such as the US.

MARKET INSIGHTS
The onshore segment of the logistics market is expected to grow significantly during the forecast period.
Onshore services include transporting and providing crude oil and gases to refineries and industrial users, as well as linking producers to massive interstate pipelines and refineries.
This segment includes the facilities that own a large assortment of onshore crude oil and refined product infrastructure, including pipelines, terminals, trucks, railcars, and rail loading and unloading facilities.
Trucks, trailers, and railcars are used to carry items for consumers and industrial gas activities.
North America is estimated to account for 37 per cent of the growth of the global market for onshore, driven by the availability of large reserves, financial support, energy security concerns, and technological advancements in logistics services.
North America is one of the major markets for global natural gas production in terms of revenue generation, with the US being the major revenue contributor.
The improvement of hydraulic fracturing and horizontal drilling and technologies has led to the exploration of a significant amount of unconventional hydrocarbon reserves in the US.
The availability of large reserves, financial support, energy security concerns, and technological advancements in logistics services pertaining to gas storage and upstream logistics support are propelling the market growth.
It is important to mention the impact of the Covid-19 pandemic. In 2020, the pandemic had spread widely across North America, especially in the US.
As a result, manufacturing units were forced to shut down, which disrupted the supply chains of oil and gas production in the region. However, after the lifting of lockdown restrictions because of large-scale vaccination drives, the operations of refinery projects resumed.
Thus, an increase in oil and gas production and resumption of operations on oilfields and an increase in fuel stations will propel the growth of the regional oil and gas logistics across the region.
In addition, the growth in unconventional hydrocarbon reserves is expected to foster the growth of the oil and gas logistics market in North America during the forecast period.
Some key players in the oil and gas logistics segment are Gulf Agency Company, Agility Project Logistics, Kuehne + Nagel Company, BDP International, DB Schenker, Crown Logistics, Neovia Logistics, A.Hartrodt, SGS Logistics, SDV International Logistics and Bollore Africa Logistics among others.

MAJOR MARKET CHALLENGE
Logistics planning and supply chain issues for fuel are expected to impede the market growth.
Fuel outlet owners are facing various supply chain challenges, such as traffic congestion, emergency situations, routing, and fuel storage planning. Roads used to transport fuel to retail outlets can be blocked due to construction issues, bad weather, and unpredictable traffic patterns.
Fuel storage planning is also a challenge, as a shortage of fuel in the inventory of the fuel transportation companies will prevent them from meeting customer demand.
These issues are expected to hinder the growth of the global oil and gas logistics market during the forecast period.
Climate change is a major risk for logistics companies serving the oil and gas industries. This is especially true for international shipping services provided to offshore and near-port facilities, including those in and along the Gulf Coast.
Logistics companies must use data, predictive analytics, and risk management models to determine and plan the best route and sailing schedule, as well as any additional operations after hand-off.
Politics and green energy solutions are another challenges faced by the logistics market in oil and gas industry. Sustainability is essential for modern supply chain management, and new policies reducing greenhouse gases will drive increased demand for natural gas and clean energy alternatives.
The ongoing Ukraine and Russia conflict has had a major impact on the supply chain, with further reports on possible Covid variants and e-commerce. Experts are pointing to the risk of a recession as a reason to double down on efficiency and scalability in oil and gas logistics.
In addition, resource availability and high inflation rates will drive the adoption of new technologies, but companies may lack funding resources due to changing requirements and investment plans. Other factors may include new regulations for operations in international regions.

FUTURE OF O&G LOGISTICS SOLUTIONS
The oil and gas industry faces increasing pressure to transition to cleaner energy sources and reduce their environmental impact.
Carbon capture and storage technology, including investment in technologies to reduce emissions, will lead to renewed interest in sustainable oil and gas transportation.
However, fossil fuels will remain the primary means of transportation. Companies may consider outsourcing to reduce their in-house reporting and responsibility for managing emissions, but outsourcing inherently means considering the impact of emissions from their value chain and contracting partners in logistics that embrace sustainability and clean energy solutions.
This will include ongoing transportation optimisation, development of new technologies, prioritisation of sustainable transport alternatives, and value-added services.
Additionally, logistics companies will be apt to partner with oil and gas companies that have sustainability within their core values and commit to overarching environmental, social, and corporate governance (ESG) goals within all company roadmaps.
The future of logistics in the oil and gas industry is uncertain due to disruptions and influences. To address this, oil and gas companies need to leverage a comprehensive suite of solutions, from project logistics to last-mile delivery of finished products.
Strategic partnerships will maximise throughput and afford relief by encouraging compliance and sustainable transport. It is important to find the right 3PL that understands the unique needs and realities of the energy sector.