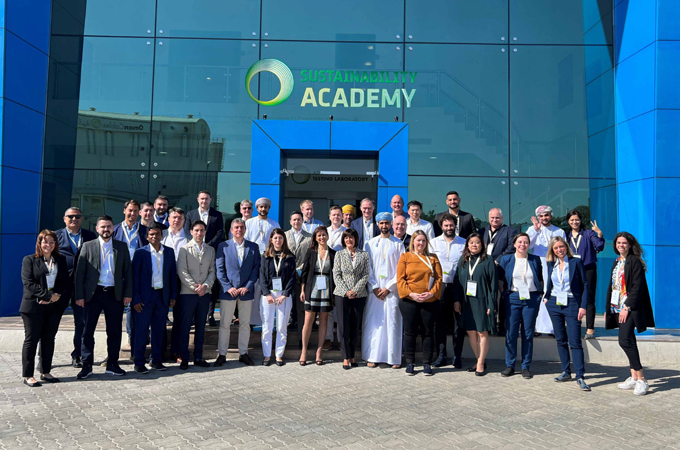 Oman Cables Industry, a leading company in the energy cable systems industry and part of Prysmian Group, has launched the Global Sustainability Academy in Muscat.
The initiative, involving 29,000 employees of the Prysmian Group in over 50 countries, aims to spread the culture of sustainability within the entire corporate population worldwide and further strengthen the group's commitment to the implementation of its climate and social ambitions, with reference to the parameters related to employees' engagement and their up-skilling.
Energy and fibre-optic cable technology is a key aspect in energy, digital and electrification transition processes and the Sustainability Academy will enable the entire group to strengthen the culture and skills of sustainability that represent a strategic driver of business competitiveness.
The Sustainability Academy training programme will also involve the most influential business schools at international level.
The inauguration of the Global Sustainability Academy is planned for today (January 19) in Muscat in Oman, headquarter of Oman Cables Industry and Prysmian Group of MEAT region, in the presence of Federica Favi, the Italian Ambassador in Oman, Cinzia Farisè CEO of Oman Cables and CEO of Prysmian MEAT Region and Maria Cristina Bifulco Prysmian Chief Sustainability Officer and Group IR VP.
The course structure, which will include lessons throughout all the 2023, is divided into five modules - Awareness, Knowledge, Impact, Leadership and KPIs - differentiated according to the target audience.
"With an Academy of Sustainability in Oman we want to contribute to the development of distinctive skills, creating value through positive business models based on the growth and empowerment of our human capital, to promote a diversified and inclusive system open to new perspectives and to promote the capacity to innovate by training the sustainable leaders of the future. This is in-line with Oman vision 2040 and the Sultanate commitment to achieve net-zero emissions by 2050." said Cinzia Farisè, CEO of Oman Cables and CEO of Prysmian MEAT Region.
Maria Cristina Bifulco, Chief Sustainability Officer and Group IR VP, commented: "As a market leader in an industry that is key in the energy transition process, we feel it is our duty to convey this sustainable culture to all our colleagues even more effectively and directly, and we need to invest in training and up-skilling our people." - TradeArabia News Service