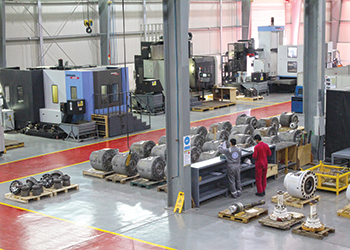 GE's Oil and Gas Pressure Control Advanced Manufacturing Facility at MODON
As a full-stream company, the international major works from exploration and production to downstream, and its long-term contribution to the kingdom is underlined by its capacity building initiatives to drive the digital transformation of the sector
GE, a partner in the transformational growth journey of Saudi Arabia for over 80 years, is committed to supporting the nation in achieving its growth goals, particularly Saudi Vision 2030.
As a long-term partner of Saudi Aramco, GE is committed to the In-Kingdom Total Value Add (IKTVA) programme initiative. It is more than an obligation for GE; it is a part of its organisational DNA, where the international major is focused on supporting the local economy, especially small and medium enterprises, and thus developing a vibrant global supply chain.
Several top executives of GE Oil & Gas, reacting to an OGN questionnaire, are in unison that Saudi Vision 2030 is a definitive roadmap for economic and industrial diversification while the IKTVA is a 'win-win' proposition for companies able to build a deep and lasting relationship with the kingdom.
Hashim Al Manashi, business development manager for GE Oil & Gas Saudi Arabia says: "For us IKTVA is a key element in our growth formula. Higher IKTVA coupled with competitive value proposition will enable significant growth in our businesses."
Al Manashi ... 'IKTVA is a key element in our growth formula'
Saudi Vision 2030 has been a definitive roadmap for economic and industrial diversification, and it serves as an ideal fit for GE in its own evolution as a digital industrial company. Through its support to the IKTVA programme, GE is supporting the creation of a full-fledged manufacturing ecosystem in Saudi Arabia.
Last year, GE hosted the Global Supplier Forum in Riyadh to encourage its international suppliers to either establish or increase their presence in the kingdom. The Forum convened over 500 partners and suppliers from over 20 countries. Over 300 local Saudi manufacturers – qualified GE suppliers and local suppliers invited by MODON, SAGIA and Saudi Aramco – networked with GE's international suppliers for potential new partnerships and to become part of a global supply chain.
Further, GE has announced an exciting new initiative: GE, Saudi Aramco and Cividale SpA are jointly working to build the first-of-its-kind, world-class Forging and Casting Manufacturing Facility, which will supply the kingdom and global markets with forged and cast materials for the Marine and Energy industries. With a total investment of $400 million, the facility will be operational by 2020 and create over 2,000 new local jobs.
Four of the firm's long-term initiatives that contribute significantly to the 'Made in Saudi' ecosystem include – the GE Manufacturing and Technology Centre in Dammam (GEMTEC); the GE Oil & Gas Pressure Control Manufacturing Facility in Dammam 2nd Industrial City; GE Oil & Gas Multi-Modal Manufacturing Centre, and the Saudi Technology Innovation Centre in Dhahran Techno Valley. "We are proud of our contributions to IKTVA that have been recognised by Saudi Aramco. We recently won the 'Best in Supplier Development' honour at the IKTVA Excellence Awards programme for our excellence in local value creation," IKTVA," Al Manashi continues.
Tashkandi ... 'We are further expanding'
GEMTEC today manufactures heavy duty gas turbines in the kingdom. Last March, GE Oil & Gas delivered 12 locally manufactured high-efficiency gas compression trains for the Phase 1 of Saudi Aramco's Master Gas System expansion project, which were assembled fully at GEMTEC. It is a matter of great pride for GE to deliver the 'Made in Saudi' stamp on its turbines.
GE is continuing to expand its manufacturing capabilities in the kingdom, which in turn supports the goals of IKTVA. GE's Oil & Gas Pressure Control Manufacturing Facility at MODON, which is the largest GE advanced manufacturing facility in the region, has the full competency to manufacture all ranges of wellhead equipment in the kingdom to the highest specifications.
"We are further expanding its manufacturing capabilities and have now tripled its capacity to manufacture wellheads, valves and other equipment for the oil and gas sector in Saudi Arabia, as well as for exports," says Wael Tashkandi, Surface GEO-Market director for GE Oil & Gas.
On its part, GE is continuously expanding its local footprint in Saudi Arabia and has built a massive advanced manufacturing infrastructure that supports its customers, and takes it closer to them. GE's goal is to double the Saudi workforce to 4,000 by 2020 and also double its Saudi supplier base from 150 to 300 to strengthen the Saudi supply chain.
Al Sadoon ... 'We had increased our focus in local training'
In 2016, GE Oil & Gas Production Solutions had reached the highest Saudisation levels so far. "We had also increased our focus in local training as well as local supplier development; certain crucial equipment to the Electrical Submersible Pump business had been localised using Saudi suppliers," says Khalid Al-Sadoon, general manager, Production Solution, Saudi and Bahrain.
"IKTVA will strengthen local markets by nurturing more SMEs, reduce lead time, create new jobs that support local talents, and facilitate exports from the kingdom," he continues.
GE Oil & Gas Production Solutions is gearing up to the future of the kingdom. It established the business of Electric Submersible Pumps in Saudi Arabia back in 2011 with a vision of bringing in technology and manufacturing and growing local talents in these arenas.
Looking forward, he says GE Oil & Gas Production Solutions is planning on completing many milestones throughout the year. "We are partnering with our clients to bring in new technologies that will address their artificial lift, data monitoring as well as optimisation needs. "We are also working with both the Mining and Agriculture industries to diversify the kingdom's income outside of the oil and gas industry," Al-Sadoon adds.
As a full-stream company, GE works from exploration and production to downstream, and its long-term contribution to the kingdom is underlined by its capacity building initiatives to drive the digital transformation of the sector.
Fagih ... the digitisation of assets is vital
Oseid Fagih, Downstream Account executive, says it is important to focus on the digitisation of assets and to leverage the potential offered by digital industrial technologies – not just for GE but for its partners too. "We are drawing on our global capabilities to deliver training and share best practices to strengthen the skills of engineers with the right digital industrial technologies required for the future."
Fagih adds that the groundbreaking of the GE Oil & Gas Multi-Modal Manufacturing Centre in 2016, which is a manufacturing, assembly, repair, services, and training facility in Dammam, will create 100 high quality jobs. It will serve the company as a hub for the full portfolio of businesses under GE Oil & Gas, including Digital Solutions, Turbomachinery and Process Solutions, Subsea Systems and Drilling and Surface.
"By collaborating with our customers we can accelerate innovation and more quickly overcome the simplest to most complex challenges faced by the industry. Through localised manufacturing, skills training and the introduction of digital technologies, we are supporting the transformation of the sector in line with the goals of Saudi Vision 2030 and beyond," he adds.