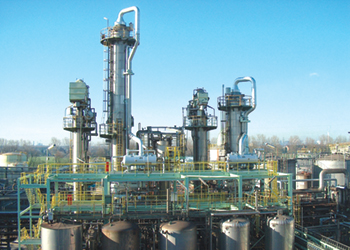 Oman is continuing to invest in projects
Mega-projects, including oil and gas, refinery and petrochemical investments, will position the sultanate as a strong player in the energy sector, as well as boost local value creation and employment generation
Oman is currently implementing a string of projects worth $26 billion aimed at the sultanate's economic diversification, a senior official says.
The mega-projects, including oil and gas, refinery and petrochemical investments, will position the sultanate as a strong player in the energy sector, as well as boost local value creation and employment generation, says Salim bin Nasser Al Aufi, Under-Secretary of the Ministry of Oil & Gas (MOG).
The projects aim to make a significant contribution to sustainable development through which the MOG seeks to attract promising investment opportunities, expand investments and work with partners to capitalise on technical expertise in order to help boost local production and create jobs which have so far reached some 6,000 positions, he notes.
Notable among the projects is the Liwa Plastic Industries Complex (LPIC), a mammoth petrochemical scheme under construction at Sohar Port at a cost of $6.7 billion, which will contribute to the production of polyethylene, a class of plastics that enjoys growing global demand. The project will be ready in Q2 2020.
Work on a sizeable portfolio of refining and petrochemical projects is progressing in Sohar, Duqm and Salalah. Oman Oil and Orpic Group are executing the Salalah Liquefied Petroleum Gas Project at a cost of $826 million.
The Rabab Harweel Integrated Project (RHIP), being implemented by Petroleum Development Oman (PDO), Oman's flagship crude oil producer, with an investment of $4.7 billion, is billed as one of the largest oil and gas schemes in the sultanate in terms of capital costs. The integrated project will produce gas and condensates from the Rabab field and oil from the Harweel field using miscible gas injection. The giant scheme is expected to come on stream in June this year.
Restucci .. increasing technical and operational scale challenges
PDO's Yibal Khuff project, which is being constructed with an investment of around $2.9 billion, is designed to harness the acid oil and gas potential of the Khuff and Sudair reservoirs. The project is slated to come into operation in early 2021.
PDO recently brought into operation its Tayseer acid gas field, which was discovered in late 2014. A preliminary processing plant at site processes hydrocarbons which contain 4 per cent hydrogen sulphate gas, producing 35 million cubic feet of gas and 4,400 barrels of condensate per day. Total investment in the venture was $350 million.
Ghazeer, representing Phase 2 of BP's tight-gas development in Block 61, is also making headway in its implementation. Work on a new gas processing plant is now well past the midway point. The project will add a further 0.5 billion cubic feet per of gas when the Ghazeer field commences production in early 2021.
Meanwhile, PDO announced plans to ramp up oil production to a new level of 670,000 barrels per day (bpd) in the next five years.
After setting a 550,000 bpd ten-year plateau commitment over the last decade, PDO has consistently grown production and is confident of delivery of further production growth. This comes after it confirmed that 2018 yielded its highest oil output since 2005 of 610,170 bpd, despite the impact of Cyclone Mekunu last May, which disrupted production in the south of its concession area.
PDO remains the largest producer of gas in Oman
Speaking at the annual media briefing of the Ministry of Oil and Gas at the Oman Convention and Exhibition Centre, PDO's Managing Director Raoul Restucci said: "Our approach has been simple: To stay the course in the face of oil price uncertainty and increasing technical and operational scale challenges. Increasing value delivery for the nation's development and preparing the business to face changing energy expectations. This means more sustainable oil and gas, driving energy efficiency in all aspects of our operations."
He said, during 2018, PDO successfully delivered a combined daily oil, gas and condensate output of 1.205 mbpd. "As we head into the next decade, we are stepping up the deployment of new technology and pursuing ever more efficient ways of working to achieve enhanced productivity in our exploration and production business."
Restucci said that while oil and gas will continue to be fundamental to PDO's energy mix, the company is developing innovative renewable solutions to create new growth opportunities. "This has us increasing emphasis on renewables, such as solar, whilst leveraging new technology and improving our overall energy efficiency."
He said "good progress" was being made on both PDO's mega projects at Rabab Harweel and Yibal Khuff with the former, the largest capital project in PDO's history, expected to come on stream in mid-2019, representing a reserve add of more than 500 million barrels of oil equivalent. The latter, an integrated sour oil and gas development, is scheduled for start-up in 2021, developing in excess of 327 million barrels of oil equivalent.
Despite the increased complexity in 2018 drilling scope, PDO's Well Engineering Directorate delivered 600 new wells and achieved the best ever recorded cost per metre drilled in PDO's history (four per cent lower than 2017). By the end of 2018, the directorate had carried out 22,400 completion and well intervention activities - the highest number ever recorded with the same number of resources as previous years.
PDO also ramped up its in-country value programme, awarding contracts worth $3.7 billion to nationally registered firms, retaining a value in country of 44 per cent, and supporting the opening of new Oman-based workshops and factories to service the domestic oil and gas sector.
PDO in its sustainability report, said that it has achieved the production level of 610,170 bpd, highest since 2005. Besides this, PDO has also achieved the production level of 65,300 bpd of condensate and 64.8 million cubic metres per day of natural gas during the last year.
"Overall the company has been able to achieve 1.205 million bpd of oil equivalent per day in 2018," the report said.
"We deliver the majority of the country's crude oil production and natural gas supply, but above all we focus on delivering excellence, growth and sustainable value creation within and well beyond our industry," the report said while adding that, "Petroleum Development Oman LLC is the leading exploration and production company in the Sultanate of Oman."
The report also highlighted a number of important milestones achieved by PDO in improving efficiency of its performance and adding value to the country. PDO have been able to avoid additional cost to the tune of $700 million through a project called Knowledge Management Programme.
With the help of a number of initiatives taken over the past few years, PDO has been able to save around $107 million of capital expenditure in oil exploration and production while the number for gas sector stood at $57 million in 2018, the report said.
The report also highlighted that PDO achieved the lowest ever recorded cost per metre drilled in its history in the last year. The oil major has also been able to achieve $152 million cost saving in other activities through Lean Business Efficiency Initiatives, a programme launched by it to improve efficiency in operations.
Another important highlight of 2018 was that PDO had executed more than 12 strategic standardisation projects using in-house capabilities to build a stronger foundation for the next stages of continuous improvement transformation.
Oman's total production capacity currently stands at 1 mbpd of oil (crude and condensates) and 110 million cu metres of natural gas per day. Natural gas is also playing an increasingly important role in Oman's energy mix, with a production-sharing agreement on the development of the Mabrouk gasfield in north-east Oman expected in late 2019. We therefore expect the sultanate to make steady progress in achieving its production-capacity targets by 2023.
According to Al Aufi, expenditure on the oil and gas sector totalled about $11.8 billion in 2018, slightly higher than in 2017. The average cost of producing a barrel of oil stood at $25, of which operational costs amounted to $7.8/barrel, 18 per cent lower than in 2016, an indication of the success of lowering costs when oil prices were low in 2017.
With a total of 19 international and local companies engaged in exploration and production in 2019, state-controlled PDO no longer has the near monopoly on Oman's oil and gas sector it once had.
However, PDO (in which the government owns a 60 per cent stake, Royal Dutch Shell 34 per cent, Total 4 per cent and Partex 2 per cent) remains by far the most important player, accounting for about 70 per cent of the sultanate's total oil output and the bulk of its gas production.
Despite ongoing diversification, Oman's economy is still heavily reliant on hydrocarbons, which supplied over 75 per cent of government revenue and over 60 per cent of export revenue in the first 11 months of 2018.
The company's current and future production is therefore of enormous importance to the sultanate. PDO's production levels were well above the 550,000 bpd plateau to which PDO committed itself over the past decade.
PDO had a virtual monopoly on Oman's gas production until BP's huge Khazzan project came on stream in late 2017; PDO remains the largest producer of gas in Oman. The completion of the Rabab Harweel and Yibal Khuff mega-projects over 2019-21 will ensure that it remains so.
Increasing oil output in recent years has given PDO the confidence to announce a planned increase in oil capacity to 670,000 bpd in the next five years. This is slightly lower than the 680,000 bpd target originally mooted by Restucci, in September 2018, suggesting that the company felt that it was more sustainable. Rabab Harweel, the largest gas project in the company's history, is due to come on stream in mid-2019, according to Restucci. Once fully operational the project is expected to deliver 60,000 bpd of oil and 212 million cfd of gas.The application of enhanced oil recovery (EOR) technology since the mid 2000s has enabled the company to successfully halt a rapid decline in production that affected Oman's ageing oil fields around the turn of the millennium. Despite the high cost of the technology, PDO said in 2018 that it expects that over 23 per cent of its total output will be from EOR-based production by 2025.