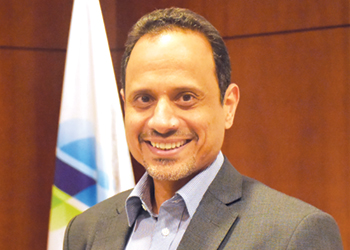 Ababtain ... leading a highly professional and a loyal team
The refinery's high-value-added products include diesel, jet fuel, gasoline, LPG and petrochemical products (para-xylene, aromatic benzene, and propylene). Its refined products meet the most stringent global specifications
Saudi Aramco Total Refining and Petrochemical Company (SATORP), a joint venture between Saudi Aramco and Total Oil Co, has recently increased its refinery capacity to 450,000 barrels per day (bpd) from the initial design capacity of 400,000 bpd.
The Jubail-based integrated refining and petrochemicals plant is one of the largest and most sophisticated refinery in the world, treating 100 per cent of Arabian Heavy crude with a profound conversion leading -in normal conditions- to no fuel oil production with its Coker unit. It is the first refinery in Saudi Arabia and one of the biggest refinery in the Middle East to produce paraxylene and petroleum coke.
Its high-value-added products include diesel, jet fuel, gasoline, LPG and petrochemical products (para-xylene, aromatic benzene, and propylene). Its refined products meet the most stringent global specifications.
The company benefits from its close proximity to the Arabian Heavy crude supply system, as well as from the excellent facilities of the Jubail Industrial City, such as power, water, industrial services and a residential area. It also benefits from the export facilities at the King Fahad International Port (KFIP) on the east coastline of the Arabian Peninsula as Saudi Aramco and Total jointly market the products.
"SATORP is blessed with assets like no others. We have highly professional and a loyal team that is committed for excellence and success. Our wonderful people, being our most valuable asset, are dedicated for growing SATORP to become a world leading integrated refinery and petrochemical facility that would be able to optimally benefit from both fuels and petrochemical cycles," says SATORP President and CEO Sulaiman Ababtain.
The refinery maximises value to shareholders besides giving back to the community and environment.
The SATORP refinery ... cutting-edge technologies at the plant
"It was a great honour for SATORP to be among the winners of 2019 Saudi Aramco President's Excellence Award presented on March 13th, 2019. Despite the intense competition, SATORP won three important awards -- best performance in Operational Excellence and most improved in Health, Safety & Environment in addition to Energy efficiency. SATORP is also honored to receive the 2018 Total Refining and Petrochemical Orient Safety Award. This success would have never been possible without the collaborative efforts, efficiency and devotion of SATORP team. We have accomplished a lot, and yet many milestones lay ahead of us to be achieved," Ababtain adds.
SATORP has several plans for further growth to achieve throughput exceeding 450,000 bpd in the coming years.

SATORP'S KEY ADVANTAGES
SATORP's process facilities consist of modern and cutting-edge technologies at the plant which include the deep conversion technology that enables the facility to produce a high percentage of light products and value-added petrochemicals. The design configuration incorporates an integration process between fuels and petrochemicals.
SATORP configuration is based on two 200,000 bpd crude oil trains, both include a crude distillation unit and a heat-integrated vacuum distillation unit. The twin-train arrangement will provide operating continuity and flexibility should problems occur in either train.
The increase in SATORP's processing capacity has led to an overall increase in its revenues. It is indeed remarkable to note how efficient SATORP's design is as the increase in its crude capacity matches the increases in its other units, maintaining the margin per barrel of crude processed stable. This is not only the result of a remarkably efficient design and engineering from the conception phase but also the result of a single crude scheme of SATORP. This translates ultimately in excellent utilisation rates exceeding 98 per cent.
Compared to other refineries, SATORP is a step ahead on economic diversification and maximisation of hydrocarbons value. It provides ultraclean fuels and chemical products that create value and help meet domestic and international demand of clean fuels and chemical products.
SATORP is primarily an export refinery; its production is meeting the most rigorous specifications worldwide to reach the most profitable markets in Europe, the United States and Asia. The company, on the other hand, started the ISF facility to supply the newly commissioned Saudi Aramco bulk plant with diesel and gasoline (P91 and P95) for domestic market. This project will ensure safe and efficient distribution of fuels to the Eastern Province which positively impacts the downstream sector in the kingdom.
SATORP refining scheme is on the top of the line in terms of conversion with Zero (0) per cent fuel production scheme. It is also targeted towards maximising the value of each molecule processed: hydrocracking capacity, FCC conversion, naphtha reforming -- all these units are part of a scheme that is geared towards petrochemicals components (propylene, benzene and paraxylene) as well as high value fuels (10ppm diesel, low density jet fuel).
A strategy was put in place to use a proven and best-in-class technology for SATORP right from the early phase. This includes very advanced tools in terms of data processing and unit optimisation.
SATORP's main units are equipped with advanced process control not merely to monitor but essentially to elevate units' overall performance by improving yields, minimising giveaways and reducing stabilisation periods.
A complete software package links all of SATORP's activities from operations to maintenance, mass balance, performance control and laboratory which allows quick information sharing on all its operational activities preventing any loss of value.
SATORP also leverages digital technology to efficiently manage plant optimisation, inspection, maintenance and management of change in the project. All individual process units are represented with their process models and linked together to represent the whole refinery simulation, which is the key tool to monitor actual performance vs theoretical to further improve margin.
SATORP refinery is also designed to meet the stringent environmental regulations of the Royal Commission of Saudi Arabia. It has a state-of-the-art bio-treating facility to treat effluents and sulphur recovery units to meet emission standards. All stack emissions and effluent releases are carefully monitored.

PROJECT FINANCING
The total project cost was $14 billion, $8.5 billion of which was secured in June 2010. The project was financed externally through 40 banks and 7 Export Credit Agencies from France, Germany, Japan, South Korea and Spain.
In addition, the project financing also involved 3 Islamic instruments amounting $2.8 billion of which $1 billion in Sukuk facility funding, which positions the company as a pioneer in Islamic financing in the kingdom. The balance of the project cost is financed by both shareholders.