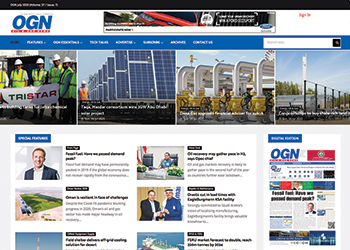 Oil and Gas News (OGN), the Middle East's leading energy industry media platform, has a new look online presence and home at www.ognnews.com, from August 1.
The journal has built a solid reputation over 30 years as the definitive news source on industry developments in carbon and non-carbon sources of energy and the Middle East's energy markets with a unique global perspective.
'Oil and Gas News (OGN) began life as a weekly publication. Today it's a comprehensive media platform. OGN supplements its monthly print edition with an online presence through its website, supported by a daily newsletter and dedicated social media handles,' says Jubran Abdulrahman, Publishing Director of OGN.
Simple to navigate, OGN's new website allows visitors access to all the latest features once they complete the free one-time registration requirement. Tech Talk and Emerging Trends segments have been added to the website, in addition to a video section for exclusive online interviews and company and products promotions. These dedicated additions will offer unique content that is visually stimulating and accessible to readers.
Readers who want a personal print copy of the monthly journal can subscribe for a small fee to cover postage and delivery charges.
'Our subscribers will be provided with 24/7 sector news updates and a holistic 360 degree view of the energy sector,' says OGN Editor Abdulaziz Khattak.
The OGN website currently gets over 40,000 views per month. In addition, OGN dispatches 7,199 e-newsletters and alerts per day.