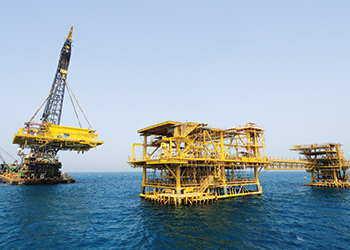 Name of Client: Saudi Aramco
Estimated Budget: $5,000,000,000
Facility Type: Gas oil separation plant (GOSP)
Sector: Oil
Status: Construction
Location: Marjan
FEED: Worley
Main Contractor: McDermott International; China Offshore Oil Engineering Corporation (COOEC)
Award Date : Q1-2019
Background
As a part of the Marjan oilfield expansion, Saudi Aramco plans to build a gas oil separation plant (GOSP). Marjan oil field delivers a high volume of associated gas, and the new oil capacity will replace in time declines in oil capacity from other fields elsewhere. Marjan is estimated to have the capacity to produce about 500,000 bpd of crude based on existing production facilities. Aramco's extensive operations, both offshore and onshore are expected to maintain production on the mature gulf fields over the next decade as hundreds of new wells will be required to be drilled to support other operations in nearby oil fields.
Project Status
As of June 2020, Aramco has decided to delay the execution work of Mcdermott and COOEC on the GOSP.
Project Scope
The project scope involves the development of a GOSP for Marjan oilfield expansion. The GOSP-4 complex will be designed to handle 475,000 bpd of oil, 813,000 bpd of liquids and almost 750 million cu ft per day of gas. The EPC contract will feature the following: Removal and salvage of existing gas turbine generators; installation of two 115-kv subsea power and communication cables; replacement of two platform decks; various facilities and platforms, including a new accommodation platform, gas compression platform, tie-in platform, etc. It will also include one 36-inch subsea oil trunk line totaling 100 km, and two subsea cables to connect the offshore facilities to the Marjan field's existing onshore facilities. McDermott's contract is part of the power system development and features the engineering, procurement, fabrication and load out of the platforms and cable.
Project Finance
The project client is Saudi Aramco.
Project Schedules
Project Announced 4Q-2014
FEED 3Q-2017
EPC ITB 1Q-2019
Engineering & Procurement 1Q-2019
Construction 3Q-2019
Completion 4Q-2022