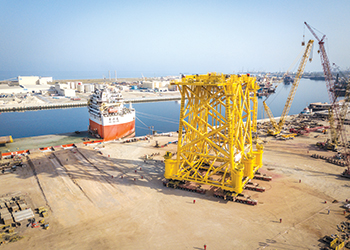 Mammoet, a global heavy lifting and transport specialist, has been contracted by Eversendai Offshore for the loadout of the jacket foundation and accompanying piles from its fabrication yard at Ras Al Khaimah (RAK) in the UAE.
Covering an area of 235.8 sq km, TenneT's Hollandse Kust (zuid) Wind Farm Zone (HKZ) is a designated wind farm zone located in the North Sea off the Dutch province of Zuid-Holland.
Mammoet's scope consisted of weighing, land transport and load-out of the jacket and pile sections at Eversendai Offshore's fabrication yard.
Following operations to weigh the jacket and determine its centre of gravity, the six-legged structure – weighing 3,200 tonnes and measuring 40 m long, 47 m wide and 48 m high - was safely transported from the fabrication yard to the quayside. It was then successfully loaded out, using 128 axle lines of SPMT and six power pack units (PPU).
Separately, three 220-tonne long piles measuring 75 m long, and three 184-tonne short piles measuring 65 m were loaded out and positioned on the deck of the sea-going vessel. Detailed engineering calculations, thorough planning, and comprehensive risk assessments of the loadout operations and procedures ensured safe handling of the jacket and piles. They are now ready to depart the UAE bound for the Dutch North Sea.
The 1.4-GW Hollandse Kust Zuid zone comprises four offshore wind farms that will be connected to the HKZ Alpha and Beta substations. Petrofac is responsible for the engineering, procurement, construction and installation of both substations. Eversendai Offshore is in charge of the engineering and fabrication of the jackets and accompanying piles for the substation platforms at its fabrication yard in RAK Maritime City, Ras Al Khaimah in UAE.