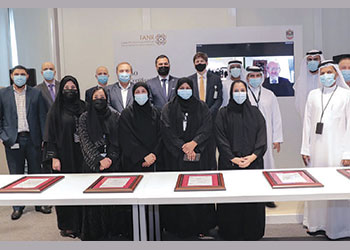 UAE gets key nuclear ISO certifications
ABU DHABI: The UAE's Federal Authority for Nuclear Regulation (FANR) has been awarded six ISO certifications this year for the robust systems, it has put into place to carry out its mandate to regulate the nuclear industry in the country.
These inlcude ISO 45001:2018 Occupational Health and Safety Management Systems, ISO 14001:2015 Environmental Management Systems, ISO 22301:2012 Business Continuity Management Systems, ISO 22320:2018 Security and Resilience, Emergency management, ISO 30401:2018 Knowledge Management Systems, and ISO 10015:2019 Competence Management and People Development.
Since its start in 2009, FANR had in place its Integrated Management System that has been continuously benchmarked and improved against updates of standards from the International Atomic Energy Agency (IAEA).
Sabic expands scope of COTC project
RIYADH: Saudi Basic Industries Corporation (Sabic) has expanded the scope of converting crude oil to chemicals (COTC) project with Saudi Aramco to include existing development programmes of advancing crude to chemicals technologies as well as through integrating existing facilities.
The two companies are looking at opportunities for integration with existing facilities to maximise the economic value while evaluating the optimal technical options and market risks. Consequently, they intend to re-evaluate the scope of the COTC complex project and study the integration of Saudi Aramco's existing refineries in Yanbu with a world-scale mixed feed steam cracker and downstream olefin derivative units.