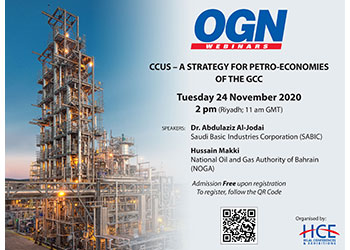 In A recent McKinsey Global Institute report, experts have suggested limiting global warning to 1.5 deg C to avoid the most dangerous and irreversible effects of climate change, and in a wake up call have termed the next decade as critical for dealing with the effects of climate change.
The report says any efforts would require significant economic incentives for companies to invest rapidly at scale in decarbonisation efforts. Going hand in hand with technological challenges to the corporate world; individuals would have to make changes in fundamental lifestyle choices such as, the food they eat or their modes of transport.
The role of carbon capture, utilisation and storage (CCUS) is seen as a crucial tool to tackle the dual challenges of energy security and climate security. Companies around the world are committed to investing into CCUS technology, which can remove carbon before it reaches to the atmosphere.
Oil and Gas News (OGN) magazine has always played an active role in its media platform to give a voice to organisations and experts to promote technology and ideas as part of its role to share information and knowledge with industry and society at large.
'Tackling climate change is a global challenge. The GCC with its strong downstream and upstream petrochemical sectors is looking to new technology to deliver on net-zero emission targets for the petrochemical sector in the region,' says Ahmed Suleiman, Director of Public Affairs for Al Hilal Group, the publishers of OGN.
Abdulaziz Khattak, Editor of OGN, adds: 'Carbon capture is an essential technology in the fight to mitigate climate change. This is a technology which also provides economic opportunities from investment in CCUS facilities. By converting waste CO2 not only increases operational efficiency but creates value added products. The landmark joint venture of Bahrain and Saudi Arabia has shown a commitment to the development of circular carbon economy. The Sabic CCU plant provides by example urea for agricultural nutrients, liquefied CO2 for the food and drink industry, and methanol.'
The OGN's webinar on November 24 at 2 pm Riyadh Time (11:00 GMT) will seek to address 'CCUS – A Strategy for Petro-economies of the GCC'.
The webinar will feature two regional experts: Dr Abdulaziz Al-Jodai from Sabic, and Hussain Makki from Bahrain's National Oil and Gas Authority (Noga), who will explore in detail:
• The circular carbon economy model.
• Technology options to be deployed in CCU, storage and transport.
• Using CCUS for enhanced oil recovery.
• Using CO2 as a feed-stock to produce chemicals, fuels and polymers.
• Scale-up and commercialisation of CCUS technology.
• Latest research and findings from carbon capture projects.
• Market predictions, business opportunities, and unlocking the economic potential of CCUS.
The event is organised by Hilal Conferences and Exhibitions on behalf of OGN. Attendance is free but by registration. To register, scan on the bar code