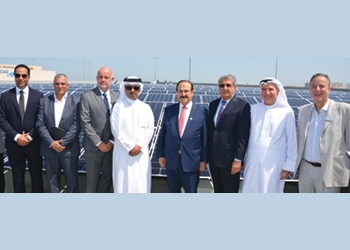 Dr Mirza, fourth from right, during installation of solar panels at The Avenues car parking
The Kingdom aims to increase the share of renewable energy in the total energy mix to 5 per cent by 2025 and 10 per cent by 2035, says Dr Abdul-Hussain bin Ali Mirza, President of the Sustainable Energy Authority
Bahrain witnessed notable developments in 2020 in the fields of renewable energy and energy efficiency, establishing and actively promoting the sustainable energy sector. Leading the way is the Sustainable Energy Authority (SEA), which is playing a pioneering role in making the Kingdom a centre of excellence in energy efficiency.
The authority has successfully implemented several initiatives included in the National Renewable Energy Plan and the National Energy Efficiency Plan, while completing and numerous pilot projects in the field of renewable energy, and launching others.
The SEA was mandated by a Royal Decree issued by His Majesty the King in 2019 to implement the national agenda on renewable energy and energy efficiency and to promote sustainability as one of the main pillars of achieving national development.
'It thus remains an essential component of achieving the Kingdom's national, regional and international commitments related to sustainable development and the national efforts to address climate change,' Dr Abdul-Hussain bin Ali Mirza, President SEA, tells Abdulaziz Khattak of OGN.
Dr Mirza visiting a central cooling plant
Bahrain's National Renewable Energy Plan outlines considerably increasing the country's share of renewable energy in the total energy mix. Accordingly, it will be 5 per cent, equal to 250 megawatts (MW) by 2025, and 10 per cent (710 MW) by 2035. Solar energy will constitute the largest part of the mix due to Bahrain's geographical location and its favorable climatic conditions. Currently, Bahrain's total daily electricity production of 3,920 MW mainly comes from natural gas sources.

SOLAR PROJECTS
To overcome the challenges of limited space, the SEA presented a number of proposals, amongst them taking advantage of building rooftops and unoccupied spaces in infrastructure projects for renewable energy projects.
Installation of solar systems at the Sheikha Moza bint Hamad
These include installation of solar panels on water tanks, integrating renewable energy solutions on bridges, at recreational facilities and in gardens, parks and walkways, as well as exploring the feasibility of floating solar panels projects and wind energy production projects in shallow and deep waters.
In 2020, SEA formed and headed a taskforce, which included representatives from a number of government agencies, to study and evaluate lands in various parts of the Kingdom and in its territorial waters to exploit them for renewable energy. The taskforce will submit proposals through the SEA to the Ministerial Committee for Development Projects and Infrastructure in this regard.
Dr Mirza laying the foundation stone for the second solar panels
manufacturing factory
Also, a number of studies and surveys have been conducted on public, commercial and private buildings to reduce energy consumption. It was found that some 535 government buildings could be utilised to produce about 50 MW of clean energy. The authority has been quick to install solar energy systems on government building rooftops in partnership with the private sector without any investment cost to government agencies.
In Phase 1, the SEA has in cooperation with the Education Ministry launched a public tender for installing solar energy systems on the roofs of eight government schools as a pilot project. It is expected that the power bills of these schools will be reduced by 30 per cent. Winning bidders will have to provide power tariffs lower than government tariffs. The scope of works of these tenders includes system installation and their maintenance for 20 years.
Installation of solar panels on villas in Durrat Al Bahrain
This phase will be followed by installations on buildings belonging to other ministries, government bodies and institutions. The SEA has already received requests from over 22 government agencies, who have expressed their desire to install solar energy systems, as a means to save cost and partake in national goals concerning renewable energy.
The SEA has also extended its support to the establishment of the second factory for the manufacturing of solar panels in Bahrain.

PUBLIC-PRIVATE PARTNERSHIPS
In addition to government bodies, SEA has witnessed a growing interest in renewable energy projects in general; and it has expressed its desire to work with contractors, investors and consultants to encourage them to invest in renewable energy and contribute to its advancement. In this regard, the SEA held a number of meetings during the year with several foreign trade delegations from major international companies to explore opportunities of collaboration.
Installation of solar panels at the King Hamad University Hospital car parking
The SEA also received official endorsement to create a commercial registry to register companies and institutions working in the field of renewable energy
Furthermore, the authority has developed 'renewable energy certificates', which will be granted to companies investing in solar energy systems.
These companies will register their energy production with the authority through an electronic platform. The authority will then evaluate and monitor the amount of energy produced and approve it in the form of a certificate, granted to investors for every megawatt hour.
The system enables producers of renewable energy to offer the renewable energy certificates issued electronically for sale to those wishing to invest in renewable energy and benefit from certificates to overcome the challenges that prevent them from producing renewable energy themselves, the report said.
The certificates system will provide an opportunity for investors and financing institutions to evaluate investment opportunities, finance sustainable energy projects and verify the energy output, which is produced through reliable and approved programmes and tools.
This will be carried out through the application of blockchain solutions to ensure transparency and the possibility to track and verify every certificate issued to each system registered in the programme to ward off the risks of electronic breaches.
Trials are currently underway under Phase 1 with a limited number of solar energy systems. This phase will determine the scalability of the system and its application at the national level to include all solar energy systems in the Kingdom.
In a first of its kind, the SEA has also started work on the development of a national award programme for renewable energy to recognise outstanding achievements in the renewable energy field and encourage the uptake of sustainable energy.
Installation of solar panels on 600 lamp posts at the Ramli residental project
Among SEA's other achievements in 2020 is the adoption of the Green Building Code prepared in cooperation with the Ministry of Works, Municipalities Affairs and Urban Planning. This is one 22 initiatives included in the National Plan for Energy Efficiency.
This code, which includes 10 mandatory requirements and 64 optional requirements, is a proactive and important step in the Kingdom's history, as it constitutes a reference for all sectors regarding standards and requirements that must be adhered to when requesting new building licenses. It code encourages making buildings that are more energy-efficient and can thus save up to 30 per cent in power and water costs.
Work is also currently underway to prepare complementary policies to the Green Building Code, through which buildings will be classified according to their energy and water consumption and their compliance with the code.
Green building rating scheme policies will be one of the important and basic tools for evaluating investment returns by integrating renewable energy solutions in buildings and the applications of energy efficiency improvement technologies in them.
Meanwhile, the SEA, in cooperation with the Ministry of Works, has prepared legislation and policies to regulate district cooling. This is an important initiative to achieving the national goals to improving energy efficiency, especially since cooling constitutes approximately 50 per cent of total consumption of establishments and homes. These policies are currently under review and will be published this year.
A study to use renewable energy to desalinate seawater to reduce production costs is also an important achievement by SEA during 2020.
In addition to these achievements, the SEA has contributed to raising public awareness on renewable energy through seminars and conferences.
Furthermore, the authority has in cooperation with international companies continued to provide free training courses to contractors and consultants to qualify them to install solar energy systems. To date the total number of qualified licence holders has crossed 260. In the current times of the pandemic, these courses are being held remotely
Lastly, work has also started on preparing a national strategy for electric vehicles in cooperation with the Ministry of Industry, Commerce and Tourism.