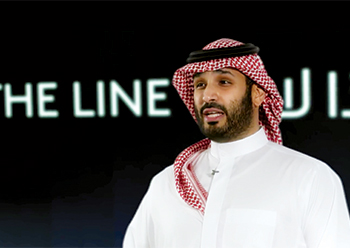 The Crown Prince launches The Line
Two remarkable events in the past six months – the first, the world's largest green ammonia project worth $5 billion at Neom, followed by the world's first blue ammonia shipment from Saudi Arabia to Japan – were enough to indicate the Kingdom's commitment to transitioning to cleaner and more sustainable energy systems.
'Saudi Arabia is moving ahead with its diversification plan, Saudi Vision 2030, by adopting hydrogen,' say experts at the Riyadh-based King Abdullah Petroleum Studies and Research Center (Kapsarc).
In January, His Royal Highness Prince the Crown Prince Mohammed bin Salman bin Abdulaziz announced The Line, a zero-carbon city, at Neom.
The Public Investment Fund (PIF) is now a major engine in achieving the Kingdom's Vision 2030 and a catalyst for diversifying the local economy's resources away from oil.
Last month, the Crown Prince approved PIF's five-year strategy, which he said will be pivotal in achieving economic growth, upgrading the quality of life, and achieving the concept of comprehensive and sustainable development in various traditional and modern sectors. Renewables is one of the 13 vital sectors the funds aims to focus.
The fund will in the coming years work on many goals, the most important of which is pumping $40 billion annually into the local economy, in addition to contributing $320 billion through its subsidiaries to the non-oil GDP. The fund also aims to increase its size of assets to over $1 trillion by the end of 2025 in addition to creating 1.8 million jobs.
'In the Public Investment Fund, we do not only invest in businesses and sectors, but rather we invest in the future of the Kingdom and the world. Our goal is to make our country a pioneer for the new human civilization. The fund's strategy aims to achieve the goals of the vision by maximising the fund's assets, launching new sectors, building strategic economic partnerships and localising technologies and knowledge, which will contribute to supporting development and economic diversification efforts in the Kingdom, in addition to consolidating the fund's position to be the preferred global investment partner,' the Crown Prince stated.
Kingdom draws a line into the future, Page 4