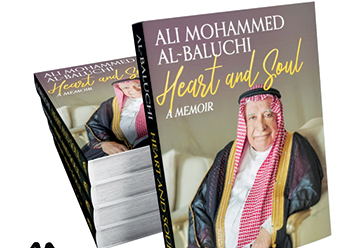 Ali Al-Baluchi's memoir, 'Heart and Soul: A Memoir' offers a rare Saudi insight into the development of his home community as it paralleled the growth of the world's largest energy company, and the forgingof an international community of Aramcons.
Born in KSA's Eastern Province, Al-Baluchi started work as an office boy for Aramco in 1949. Along the way, against a backdrop of decades of seismic changes propelled by oil revenues, he earned two college degrees, retiring as a general manager in 1990. In his own words and through testimonials from friends and colleagues, Al-Baluchi offers unique personal insights, from the challenges of navigating a foreign work culture to nurturing lifelong global friendships. This is a personal story that, along with its fascinating collection of photographs, will appeal to those interested in everyday life in a global corporation set at the heart of the modern Kingdom of Saudi Arabia and told by a true Saudi Aramcon.
About Al-Baluchi, Amin Nasser, CEO Saudi Aramco, says: "If the global Aramco family had a father figure, then surely that person is Ali Al-Baluchi … no one has done more to bring us all together to celebrate our common experience as Aramcons."
The book, published by Medina Publishing Books, will be available internationally in April 2021.