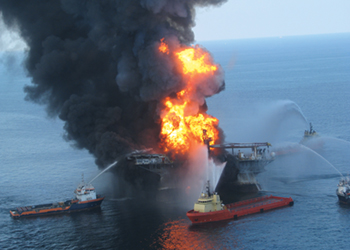 A Deepwater Horizon offshore drilling platform on fire
The oil and gas industry is certainly not as notorious as the banking industry in racking up fines for bending the rules, but it has found itself in trouble with authorities many times for some terribly irresponsible acts.
A recent research from Diggity Marketing found the industry to be third place behind financial services and pharmaceuticals to have received the most penalties. It was slapped with over $45 billion in fines, compared to a whopping nearly $331 billion and $50 billion by the latter two, respectively.
And if we were to consider the entire energy sector along with its allied services, then the financial penalties surge by another over $33 billion easily, writes Abdulaziz Khattak for OGN.
The research has looked at businesses that have been fined the most over the last two decades, as well as the most commonly fined industries and offenses leading to fines.
But what's incredible is that BP has single-handedly endured nearly 65 per cent of all oil and gas industry fines. Most of it was what BP paid in the wake of the Deepwater Horizon oil spill.
However, BP isn't just the company that has paid back the third-highest amount in fines, it also holds the dubious honour of having paid the single biggest one-off fine in history, paying $20.8 billion as part of its part in the 2010 Deepwater Horizon oil spill, the biggest oil spill in history. All told, the incident ended up costing the company in excess of $65 billion in cleanup costs, charges, and penalties.
BP's top 5 primary offence types and corresponding fines include environmental violation ($27.84 billion), investor protection violation ($525 million), energy market manipulation ($306 million), consumer protection violation ($255 million), and False Claims Act ($154 million)
Other industry companies in the top 100 list of offenders include Occidental Petroleum (US) at No 17 with $5.4 billion fines; Exxon Mobil (US) at No 50 with $1.57 billion; Marathon Petroleum (US) at No 55 with $1.48 billion; Royal Dutch Shell (Netherlands) at No 67 with $1,24 billion; CVS Health (US) at No 70 with $1,16 billion; Valero Energy (US) at No 79 with $1,07 billion; and Chevron (US) at No 84 with $987 million in total fines.
It's unfortunate that most of these companies, including BP, were fined for environment-related offences, which made up over 90 per cent of their penalties.
In allied industries, Utilities and Power Generation was at No 5 and was told to cough up over $22 billion in fines for a total of 1,911 offences; Chemicals was at No 13 with $5.3 billion in fines; and Oilfield Services and Supplies was at No 16 with a total of $3.258 billion in fines.
However, if it's any consolation for the oil and gas industry, the financial services sector beat it a by a huge margin. And in fact the top two companies in the top 100 list are from the latter sector.
Taking the spot for the company, which has been fined the most since 2000, is the Bank of America, which has paid a staggering $82.7 billion across 214 individual fines over the years, many of which have come about as a result of the 2008 financial crisis and relate to things such as mortgages and financial disclosures.
The biggest single fine it faced added up to $16.65 billion as part of a settlement to the Department of Justice over the sale of risky, mortgage-backed securities prior to the recession, the largest settlement between a single company and the federal government of all time.
Next up was JPMorgan Chase (US) that gave up $35.74 billion in fines.
At No 4 in the most fined industries is motor vehicles ($31 billion fines) followed by the Utilities and Power Generation.