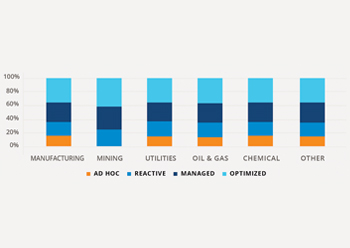 Figure 1: Maturity across industries to reliability improvement
Managers need to establish consistenct practices in order to make lasting changes, and put in place the right technology to support building a culture of reliability that will help companies save money, improve efficiencies and get ahead of the competition

Survey has revealed that a gap between current practices and best-in-class with regard to reliability and maintenance strategy still exists across many industries, including oil and gas. Many organisations have work to do to catch up with today's advancements in these critical areas.
The study done by leading global provider of reliability solutions ARMS Reliability and SmartBrief surveyed 556 people leading global provider of reliability solutions. The found a common shift and focus toward reestablishing fundamental maintenance tasks, consolidating data and aligning reliability strategies across like assets.
Digitalisation is revolutionising how companies think about asset performance and management. However, simply purchasing a digital solution is just one of many steps toward true digital transformation. Companies need to question how assets are managed, challenge their operating assumptions and implement new strategies to outperform the competition.
They also need to create a maintenance strategy that is continually reviewed and modified to encompass changes to the operating environment, the study said. But having a strategy won't necessarily solve all problems. Improving asset performance and reliability requires a shift in a company's culture.
Figure 2: Periodic reviewing and updating of maintenance plans
Some 17 per cent of the survey respondents were from the oil and gas industries, 8 per cent (chemical), 22 per cent (manufacturing), 13 per cent (mining), 14 per cent (utilities), and 26 per cent from other industries.
Furthermore, those taking the survey work came from various divisions, with the large majority coming from reliability and maintenance (64 per cent), followed by asset management (20 per cent), engineering (6 per cent), operations (3 per cent), project management (3 per cent), quality (1 per cent), and 3 per cent from other divisions.
Several key insights were revealed about the renewed focus on maintenance strategies and the role they play in the reliability of assets. These include:
• Digital transformation is changing asset management across industries. As companies quickly adopt new technologies to keep up with the competition, they also need to shift strategies to best incorporate them.
• Just connecting assets to the internet or adding sensors isn't enough to generate long-term success. Companies that are shifting to data analysis and implementing data-driven strategies are beginning to see improvements in asset reliability.
• Asset managers realise they need to focus on fundamental tasks first in order to make reliability gains.
• Establishing a culture of reliabilty is important, but many are struggling to create lasting change.
• Companies are starting to get control of their processes to execute and put in place a technology platform to support building a culture of reliability.
The survey shows that many are starting to understand the importance of fundamentals and the need to implement changes. Companies that rank themselves highest on investment in asset reliability realise they need to do more to achieve better control of their assets.

CURRENT MAINTENANCE AND RELIABILITY STRATEGIES
Across industries, only 14 per cent of the respondents said their approaches to reliability and maintenance plans were in the 'optimised' category, with 40 per cent falling into the 'reactive' category, indicating that many still need to shift how they approach managing their assets.
There is not a significant difference in the level of maturity across industries, however the mining industry does stand out as being more sophisticated in their maintenance and reliability practices, revealing that the industry may be setting the example for a more strategic approach to reliability management (Figure 1).
When it comes to implementing a reliability-first principles approach, such as structured failure mode, effects and criticality analysis (FMECA) or reliability-centered maintenance (RCM) to develop maintenance plans, the majority of respondents said they sometimes took a structured approach or did so for critical assets only.
A best practice for developing maintenance plans is using a standard asset library. An average of 13 per cent of those surveyed said they have a library for all assets and criticality variants, while 21 per cent said they never use a library and 35 per cent said they sometimes do. This indicates that there are basic levels of standardisation that still need to occur when it comes to developing maintenance and reliability strategies.
It's important to take a thoughtful, well-organised approach to creating a maintenance plan for assets. Finding ways to standardise plans using a library and templates helps companies get a handle on asset management.
Companies with sound maintenance plans evaluate risk and cost benefits when determining tasks. Adding the layer of evaluation helps companies move from a culture of checking the boxes to one of thinking critically about variables that affect how assets are used and maintained.
For example, an asset in the Philippines may see some parts wear more quickly than a similar asset located in Utah because of variables such as weather, and companies may decide it is more cost-effective to replace the asset on a different timeline based on analysis of the data.
Asset performance feedback is also a critical component of plan development. Of those surveyed, only 12 per cent on average always reviewed asset performance and followed a formal process for updating maintenance plans based on this analysis. The majority of respondents indicated that reviews were ad hoc (Figure 2).
Having an ad hoc response to maintenance, such as starting a project to fix an asset that's experiencing a significant drop in reliability, means organisations don't reap the full benefits of having a strategy.
Because management views reliability improvement initiatives as having start and end points, updates are often moved to the work management system and then shelved. Only 20 per cent or fewer had ongoing monitoring to ensure maintenance plans complied with the approved reliability strategies.
Top companies understand that creating reliability and maintenance strategies is a dynamic process that requires coordination across departments, locations and functions. Plans need to be reviewed, revised and updated continually to align with a constantly changing operating context.
Even the companies with well-defined strategies need to invest in automating optimisation. The majority have manual processes and often don't adjust their plans when the operating context changes.

OPTIMAL MAINTENANCE STRATEGIES
There are several challenges to deploying optimal maintenance strategies to all assets across a company. One challenge is standardisation within the computerised maintenance management system (CMMS) or the enterprise asset management (EAM) system.
The survey suggests companies are doing a little better in this department, with the majority having at least some standard guidelines for creating maintenance plans.
Another challenge is managing the use of a standard task library to help create consistency across assets. The majority of surveyed companies do not use a technology-powered library, which means updating maintenance tasks is typically a manual process. Once changes are made to individual assets, they become disconnected from the library, creating the need for more manual updates.
This can create challenges with data. Most companies have to manually evaluate tasks and put them into their EAM master data, something that often falls to an on-site planner with other responsibilities. Some companies are automatically collecting tasks and using digital tools to evaluate and process them. While it may take some time to automate this step, finding the right technology solution can create more streamlined planning that's easily scaled to all assets across the company. By automatically generating and updating master data, adjustments are more efficient and repeatable.
Having this type of connected data enables companies to leverage improvements to the greatest extent. For example, if there's a failure on a particular machine at one site, changes that are made to address the failure can be pushed to other assets of the same type, including at other sites, if needed. This allows managers to communicate improvements and institutional knowledge across the company.

AGILE MAINTENANCE STRATEGIES
When it comes to understanding how to manage data, processes and plans, it's important to make sure that systems aren't completely rigid because too much lockdown on master data can lead to inefficiency. However, many companies make manual changes with no review, justification or approval, which can create an uncontrolled environment. The key is to have a balance of rapid improvement capability versus appropriate governance that's right for the individual company.
While the majority of surveyed companies check to make sure the agreed strategy is in the CMMS/EAM and is being executed, some go one step further to implement a process to ensure maintenance strategies are being continually reviewed. This allows companies to make the right decisions and implement them on an ongoing basis.
On average, nearly half of those surveyed said they never or rarely benchmarked the performance of similar assets. This indicates that many industries could easily see improved efficiencies by implementing digital tools to compare assets and streamline maintenance strategies by leveraging their best strategy across like assets.

BEST-IN-CLASS RELIABILITY PROGRAMMES
Of those surveyed, 45 per cent said they lacked clarity regarding who in their companies is responsible for maintenance strategy and performance improvement. Creating accountability and a defined reliability function are the first steps to improving asset management.
To create a best-in-class reliability function, companies need to have a defined process that is integrated into operations, not a project or short-term initiative.
Teams need a continual process that includes review and alignment of strategies to match performance requirements; and the right technology in place to support those processes and reviews.
Implementing systems that are connected and integrated to support processes is critical. Companies should take the time to do foundational work and implement appropriate processes over time to improve efficiencies.
Companies that fall into the Optimised category (12 per cent) on this survey are more likely to focus on people, culture and integrating new technology. Those that take a more ad hoc approach (14 per cent) to reliability are reacting to equipment failures, not taking new initiatives. The companies within the Optimised category are also more likely to invest in reliability iniatives during the next 12 months, while those that scored lower are reducing their budgets and investments.
To make reliabilility gains, managers should execute, begin or continue the process of establishing a culture around making lasting changes. Putting in place the right technology system to support building a culture of reliability will help companies save money, improve efficiencies and get ahead of the competition.