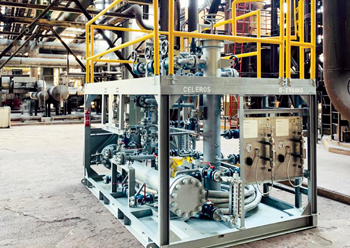 Celeros FT's on-site gas filtration test skid at a production facility in the UAE
By appointing the first KSA country leader, the company is committed to adding value at all stages of the operational lifecycle, elevating productivity and lowering the overall cost of ownership

Celeros Flow Technology recently announced Bassel Al Dawoud as its first Saudi Arabia Country Leader as part of its strategic aim to become the lifecycle partner of choice for flow control customers across the Middle East.
Amidst the first of several key appointments, the company is investing significantly in strengthening its local presence, introducing new products and improving services.
'Celeros FT is committed to adding value at every stage of the operational lifecycle, extending uptime, elevating productivity and lowering the overall cost of ownership,' says a company spokesman.
Its brand portfolio comprises a comprehensive range of pumps, valves, filtration and pipeline access solutions from brands such as ClydeUnion Pumps and Plenty Pumps, Airpel, Dollinger and Plenty filtration, Copes-Vulcan and M&J Valve, and GD Engineering.
The company has a robust programme of product development, driven by solving real customer problems. For example, its M&J Valve surge relief system combines a traditional surge pressure relief valve with a predictive pressure rate-of-rise system to allow pre-emptive action against a developing surge event.
Unaffected by power loss, communication disruption, or cyber-attacks, this solution provides a reliable hydraulic safety barrier against transient pressure surges.
Another innovation is Celeros FT's new range of High-Capacity (HC) filtration solutions, which separate solids and liquids more efficiently and can improve process efficiency and product quality, while reducing maintenance and operational costs. Typical applications include amine/glycol systems and specialty chemicals production.
Allied to new products are new services to help customers accurately assess their flow control requirements. The first deployment of Celeros FT's pioneering on-site gas filtration test skid took place at an oil and gas production facility in the UAE in January 2021.
The Skid enables the quantities of solid and liquid contaminants in gas flows to be detected with far greater precision and without interrupting production. The customer was impressed with the initial results and a multi-site test programme is now underway.
Aftermarket support is equally important for oil and gas customers wanting to maximise uptime and extend operational life. One Celeros FT customer was experiencing high levels of vibration on eight vertical pumps which formed part of an LPG process. The customer wanted to enhance their reliability without changing the configuration of the installation and to operate at higher flows than those originally specified.
The Celeros FT aftermarket engineers discovered that poor lubrication of the pump bearings due to the presence of gas phase in the pumped liquid had caused internal damage.
It was established that the gas pockets were caused by the installation itself (head losses along the suction line, control of levels in storage tanks compared to vapour pressures of liquids pumped), and over-flow during pump start-up sequences.
The Celeros FT solution consisted of changing the shaft line bearings material to improve behaviour during pumping in the presence of gas, as well as a specific design of suction stage to improve the re-pressurisation of gas pockets. Together, these upgrades improved the overall pump performance to match new duty requirements.
Oil and gas production is a time-critical industry and Celeros FT is constantly improving its speed of service. It has recently rationalised its ClydeUnion reciprocating pumps range: enabling application-led pump selection and achieving quicker turnaround times on typical applications for downstream oil & gas customers.