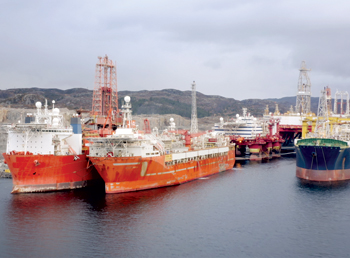 Asset integrity is an important element to optimise safety and efficiency in the FPSO industry
Huge maintenance backlogs amid the global pandemic have created an unprecedented challenge for the industry, which is now looking into adhesive bonding to maintain structural integrity maintenance

Floating production storage and offloading (FPSO) units are exposed to some of the world's toughest environmental and weather conditions. This usually results in deep corrosion, which impacts the lifespan and production capacity of a vessel.
With the global Covid-19 pandemic, the maintenance backlog has significantly increased, resulting in major congestion. FPSO operators are trying to maximise production, and are seeking to avoid major disruptions.
According to the FPSO Market Report 2021 prepared jointly by the International Quality and Productivity Centre (IQPC), Cold Pad, and FPSO Network, FPSO owners will have to invest time and resources into structural repair which can be costly, yet necessary. This is especially so for FPSOs older than 10 years that require more costly maintenance.
According to IHS Markit, the number of FPSOs older than 10 years still in operation far exceeds the number of those left idle. This means that more maintenance works need to be done to ensure these mature FPSO vessels are structurally effective to continue operations.
Figure 1: ATEX pipe support repair -qualitative value creation-
According to Oil Review Africa, "of the total $380 billion of projected investments, about 60 per cent ($234 billion) is likely to come from producing assets, which have two main spending channels: facility and capex.
And within facility capex, 38 per cent is spent on facility maintenance. This is believed to be a low-risk category, as operators were forced to postpone most of their planned maintenance programmes in 2020 due to coronavirus restrictions and lower oil prices. Maintenance work will, therefore, have high priority in 2021 to avoid unplanned outages in the future.
Also, with energy transition gaining increasing importance globally, life extension practices are a leverage to lower CO2 or greenhouse emissions (GHG) emissions as compared to new builds.
By avoiding the construction of new units, a total of 1,450,000 tonnes of CO2 per year can be saved from being emitted into the atmosphere in 10 years. That is equivalent to taking 310,000 cars off the road per year.
Asset integrity remains an important element to optimise safety and operational efficiency within the industry. It is especially unavoidable with mature and ageing assets. This is often regarded as costly, largely due to the reactive approach taken by most project owners when it comes to structural integrity management.
The 'Maintaining Vessel Integrity & Operational Excellence Industry Benchmarking Report' conducted by the FPSO Network in December 2020 found maintenance of steel structures part of the most common issues ship owners faced.
The common reactive approach to structural integrity management leads to unplanned large-scale repair works, which could have otherwise been prevented, or reduced in scale if planned and scheduled repair frameworks were implemented.
At the FPSO Brazil Congress held in November 2020, industry leaders agreed that the global Covid-19 pandemic drove a strengthened emphasis on health and safety of operations on board the vessel, which led to increased pressure to reduce manning offshore. This comes hand in hand with added pressure to ensure vessel integrity at this crucial time.
According to an Asset Integrity Manager at SBM Offshore: "The pandemic has also highly affected tank inspection at large and consequently all monitoring, to ensure proper control over integrity issues".
One of the biggest challenges the industry faces right now is to debottleneck the maintenance pipeline and process while trying to keep it a cost effective exercise.
"The pandemic has led to "increased development in remote inspection and maintenance," said an Offshore Structural Engineer with TechnipFMC.
This is also the case with SBM Offshore, who is increasingly looking into online monitoring solutions to ensure no tank entry for future operations.
While such investments are in place, industry leaders recognise that there has never been a greater need for a holistic safety approach for FPSO vessel repairs and life extension than now, and FPSO operators are also exploring "cold work" solutions that guarantee safe and economical hull repair.
Large infrastructures are subject to ageing from the day they are built. Ageing means corrosion, erosion, wear and tear. Consequences of corrosion lead to the failure of parts or components in multiple ways. It may be environmental with spillage at worst, but also such failure may result in shutting down the plant leading to extremely costly business interruptions.
The typical cost of one day of business interruption/shutdown of an offshore oil and gas platform can easily reach €2-8 million ($2.39-9.55 million) and the total annual cost of corrosion in the oil and gas production industry is estimated to be €55 billion ($65.65 billion) according to NACE international.
A significant share of this cost is linked to the need of primary steel maintenance on floating structures (corrosion, leaks, cracks), while they have the drawback to be mostly permanently moored.
It means that this maintenance, contrary to most other kinds of ships, has to be performed in situ and outside of a controlled drydock.
Crop and renew operations on steel structures, which is basically cutting and welding new plating, is usually considered trivial for common ships and may, therefore, become an extremely difficult operation when done offshore.
Concerning offshore platforms, which are explosive atmospheres by essence, these maintenance activities often yield to heavy gas flaring, congested planned shutdown, important opex but primarily safety concerns.
In any explosive environment, repair using conventional techniques like welding, means stopping all the works in a very extended perimeter (that is, empty the tanks, clean them); securing the zone (for the works and nearby installations); carrying out the works; and checking safety before resuming operations.
This takes time, and costs are counted both in days of business interruption and the actual cost of the repairs.
In an effort to avoid ocean pollution (oil spill) and maximise safety of both the assets and offshore personnel, operators and classification societies have, therefore, tried to avoid the risky and costly hot works. The industry has been looking for solutions that can be implemented during regular production with no risk of explosion limiting impact on the ocean ecosystem.

ADHESIVE BONDING
Ship owners and classification societies have been looking for cold work methodologies but often faced technological show-stoppers to obtain the above-mentioned industrial reliability.
A European joint industry project, called Bondship, and led by DNV GL actually focused on that reliability and gave recommendations as early as 2005 but no product was complying with the requirements.
In summary, adhesive bonding operations require a good control of the whole bonding procedure (control of atmospheric conditions, surface preparation, adhesive preparation and application, and polymerisation).
A rigorous control of the procedure can be tricky especially for outdoors operations. For instance, bonding best practices demand a targeted 50 per cent control of environmental relative humidity.
If not properly managed, this induces lot of scattering in performance and, therefore, cannot be called industrial. Other industries, like the aerospace industry, have the luxury to do their composite repairs in large air-conditioned workshops to control both the temperature and humidity levels.
But how can you create "lab conditions" on a permanently moored offshore platforms or floating wind turbines in tropical waters where humidity can achieve 100 per cent?
Although some shipowners have tried to implement some air-conditioned cofferdams offshore, it proved to be risky, costly and not always efficient.
To overcome this challenge, Cold Pad came up with a breakthrough innovation for the FPSO structural maintenance.
Since then, reliable bonding has been defined in scientific papers co-authored with Bureau Veritas as the combination of three factors: The encapsulation of the bondline, the command of edge effects and control of design strength, and a repeatable installation through process-controlled tooling. The disruption is, therefore, both product-based with the fastener itself and process-based with the installation tooling.
This technology now allows both for FPSO hull repair but also for tertiary steel structures repair and modifications (pipe supports, handrails, cable trays, etc).
Due to the industry drivers to maximise production while being pressured with constrained manning, outfitting is rarely the priority to be repaired during shutdowns.
This may create safety issues at some point. While this kind of situation could be easily managed inside a regular industrial plant, the situation becomes more complex when those pipe supports are directly fastened on top of a chemical oil tank (that is, an explosive environment).
Figure 1 provides a qualitative comparison for the repair of such pipe supports between standard hot work techniques and Cold Pad non-intrusive techniques, such as C-Claw – a reliable, durable and universal fastening solution.
On the one hand, C-Claw eradicates the risk of explosion and the associated environmental consequences, and on the other hand, it avoids all the associated costs related with the emptying/cleaning/entering operations in the below tank and the associated paint touchup operations.
On top of those associated costs, there may also be business interruption costs which may be extremely important.
Although C-Claw direct costs may be more expensive than welding, the total cost of ownership for the client exhibits major value savings. Quantitatively these value savings depend on the scope but typically represent between €200,000 and €400,000 for approximately 30 pipe supports to be replaced.