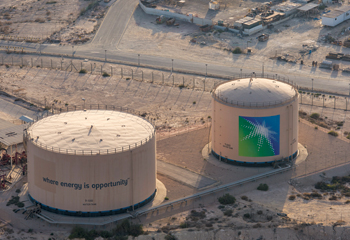 Aramco ... more spending planned
After an enormous jump in profits, Aramco, the world's bigger oil producer, will continue spending albeit in a disciplined manner to create more value from its vast assets.
Despite the fact that oil prices have recovered from last year's slump, sector companies are acting cautiously in spending too much.
According to RBC Capital Markets, the investment budget for 190 oil and gas companies in 2021 is $348 billion, up 4 per cent from last year but 25 per cent lower than the 2019 spend.
The report pointed out 10 national oil companies, including Aramco and PetroChina to spend a combined $170.35 billion this year.
Aramco's capital expenditure for 2021 is estimated to be $35 billion, $8.1 billion more than what it spent last year, according to its Q2 2021 report.
In Q2, the company spent $7.5 billion and $15.7 for the entire first half of the year, up by 20 per cent and 15 per cent respectively.
Aramco surprised analysts when it reported a 288 per cent increase in Q2 net income, or $25.5 billion, over the same period last year.
And although it produced 8 per cent lesser in Q2 than last year, it raked in four times the profit owing to higher oil prices and a recovery in global demand.
A successful pipelines stake sale brought in $12.4 billion showing investors' confidence, and reports indicate that the company might put more assets up for grabs as it looks to diversify its funding sources.
Meanwhile, cognisant of its responsibility towards the planet, Aramco has rolled out a number of strategic programmes that particularly focus on sustainability and low-carbon fuels. It's also diversifying its energy mix and investing in renewables and gas projects.
Saudi Arabia is now the world's sixth largest gas market and is tapping into new gas reserves to meet demand and decrease the use of oil.
It also hopes to gain from the rising demand of hydrogen and ammonia and position itself as a key exporter.