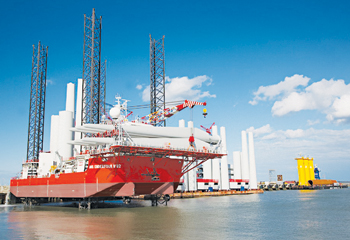 The GMS Endeavour with wind turbines on board
With a relatively young and up to date fleet, GMS vessels are being sought to carry out regular maintenance of the extensive network of offshore oil and gas infrastructure in the region, Mansour Al Alami, GMS Chief Executive, tells OGN


Abu Dhabi based Gulf Marine Services (GMS), which provides lift boats for offshore oil and gas and windfarms, is seeing strong demand in the region for its services amidst an improving oil and gas market.

Having invested in new vessels only a few years ago, GMS finds itself in the fortunate position of having a relatively young and up to date fleet, meaning that there are even more companies knocking on their door seeking a vessel.

Speaking exclusively to OGN, Mansour Al Alami, GMS Chief Executive, says: 'GMS's fleet is predominantly and intentionally based in the Gulf, which is an ideal market for lift boats.

As the name suggests, a lift boat is a support vessel, which can be manoeuvred into position, jacked up on legs that sit on the seabed, creating a solid platform, from which essential maintenance or capital expenditure work can be undertaken.
The GMS Endurance is a self-propelled self-elevating
accommodation jack-up barge
For clients, who tend to be large national oil companies, EPC contractors and windfarm developers, lift boats are an efficient and cost-effective solution.
These vessels are self-propelled, so can quickly and easily be moved into place and undertake the work needed. The alternative is often much larger rig vessels that need tug support to get them into place and tend to be far more costly to employ.
The other key consideration for clients is the reliability and efficiency of the vessel they employ. From their perspective, all they want to know is that the vessel is able to do the work involved, efficiently and without risk of delay.
Al Alami says there is an extensive established network of offshore oil and gas infrastructure that needs regular maintenance and the sea depth, combined with the relatively benign weather conditions in the Gulf, make it a relatively easy place to operate for these types of vessels.
Offshore can be a relatively harsh environment for installed infrastructure, so these platforms tend to need regular attention to keep them working at their optimum.
At current oil and gas pricing, oil companies are looking to maximise their production opportunity, so keeping infrastructure working and producing efficiently is not surprisingly more in focus.
'With strong current demand, however, the problem clients are likely to face, in the Gulf region anyway, is finding a vessel to contract,' Al Alami says.
As market conditions have improved, there has been a scramble among oil and gas companies and EPC contractors to secure slots but with only c.50 vessels of this nature in the region, supply is limited.
According to Al Alami: 'When you also take account of older, less attractive vessels, and the migration of vessels to China in recent years, that number shrinks again. It is quite a commitment to move a vessel from one region to another but the growth in demand for offshore windfarm installation and maintenance in China has made it an attractive option to undertake.'
With 13 of those 50 vessels in GMS's fleet and with a young average age, GMS has found itself to be in a strong position.

ON ROAD TO RECOVERY
Shortly after GMS listed on the London Stock Exchange in 2014, it found its core market of oil and gas in decline.
The management team at the time had also taken on significant debt, which combined with the equity raised, was being used to build out their fleet of offshore support vessels.
The company quickly found itself committed to capital expenditure, with falling revenues, resulting in a falling share price and the debt accumulated eclipsing the equity value of the company.
Things started to change for GMS in 2020 after a new management team taking over the reins. The new team, which was predominantly from the UAE, where GMS is based, had a good understanding with the company's banks and managed to put in place a much-improved debt deal.
The company also raised £20 million ($25 million) on the London Stock Exchange in June 2021, to help reduce the debt profile. The combination of these events set the foundation for company on a path to recovery.
Alongside its improved balance sheet, GMS also benefitted from much improved market conditions.
On the back of rising commodity prices, post the pandemic and due to the war in Ukraine, demand for maintenance work and capital expenditure in offshore oil and gas and windfarms has increased rapidly and expectations are that it will remain so for quite some time.
The impact of that demand supply imbalance is reflected in average day rates paid for GMS's vessels.
In the company's annual results, which were announced earlier this month, it was reported that the day rate in 2022 had increased 12 per cent on 2021 actual levels.
While baked in, the benefit of these higher rates won't be felt immediately but will come through as vessels move onto new contracts, as established contracts and workloads unwinding.
Putting the company back on a growth path, of course, has also been about careful and prudent management. Over the last few years, the company has taken more than $32.2 million out of annual finance costs, supporting the bottom line.
The key to this has been through improved efficiencies, with capex required to maintain vessels to a high regulatory standard and in-line with client needs, being an area of expenditure that offers very little, if any flexibility.
In summary, GMS has just posted its first net profit in 6 years, at $31.2 million.
'At 5.8x, the level of debt has also fallen materially and is well on the way to returning to what might be considered normalised levels. That means we should be seeing a corresponding increase in the equity value but as yet that does not appear to be fully reflected,' says Al Alami.
The current equity value might reflect concerns over potential dilution later this year, as part of the revised debt agreement.
But, when looked at more closely, the actual level of dilution is likely to be limited, at around 13 per cent, assuming the company allows the bank's warrants to be converted, as it hinted in its results announcement, rather than seeking a further equity raise.
'In time though, no doubt the equity value will catch up,' says Al Alami.
'The beauty of the GMS business model is that it is relatively simple and with that comes considerable visibility.
With a secured backlog of $179.2 million as at April 1, 2022, at higher average day rates, you can safely say that performance expectations for this year are looking relatively safe and you can have fair confidence that subsequent years are also looking good,' Al Alami concludes.

By Abdulaziz Khattak