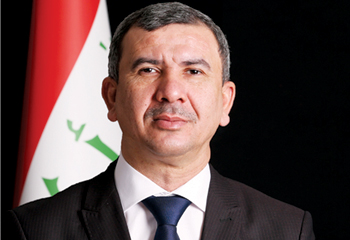 Ismaael ... 6 mbpd target by 2027
Production levels are back to normal after a period of maintenance in the country, Ihsan Abdul Jabbar Ismaael, Iraq's Minister of Oil, tells OGN

In what seems as ambitious, Iraq plans to boost its oil production to 6 million barrels per day (mbpd) by the end of 2027. But an even overly optimistic target is 8 mbpd by the end of 2029.
However, Ihsan Abdul Jabbar Ismaael, Iraq's Minister of Oil, finds the targets achievable, and said the negative environment surrounding the oil and gas industry that had once held back investments are now over and indicated moving towards increasing capacity.
Iraq, the second largest producer in the Organization of the Petroleum Exporting Countries (Opec) group, has struggled to maintain its production quota under an Opec+ agreement.
In April, Iraq's Opec+ quota rose to 4.414 mbpd from 4.370 mbpd in March.
Ismaael attributed the shortage to industry maintenance in the country for the last three to four months, but said production levels are now back to normal. 'We supplied 120 per cent of our quota in April, and we expect to reach 98-100 per cent in May,' he told OGN at the 29th Annual Middle East Petroleum & Gas Conference held in Bahrain in May.
Ismaael anticipates a spare capacity of 200,000 bpd next year.
As a group, he said Opec was doing its best to meet demand and would accelerate investment to ramp up supply.

ACCELERATING INVESTMENTS
The Iraqi government was finally pumping in investments after a lull period.
Ismaael said the government had invested over $12 billion in 2021 and expects $17 billion in in 2022. Investments from private investors will be additional, he added.
Iraq will use revenues from higher oil prices towards additional production capacity. 'The programme is to accelerate projects with BP, Eni, Total and others oil companies so we can reach the 6 mbpd target by 2027-end,' Ismaael said.
In the downstream, the country is boosting its refining capacity. 'Two refinery units recently went into operation and two new refineries are underway. There have been huge investment in gas as well,' the minister said. The country's refining capacity was currently at 600,000 bpd.

KRG DISPUTE
The Kurdistan Regional Government (KRG) in Iraq has in the past acted independently of the centre in oil contracts with international oil companies (IOCs).
However, in February 2022, the Iraqi Supreme Court ruled the 2007 oil and gas law as unconstitutional, much to the KRG's displeasure.
And after 75 days of negotiations between the central government and the KRG, Ismaael said issues between them had finally been 'resolved and letters had been issued to all the IOCs to deal directly with the federal government'.
Among other issues the minister expressed concern about Russian crude being sold at discounted rates to markets in India and Asia.
'Iraq exports 70 per cent of its oil to India and China and with this competition, we have some concern, but in the end, it is not a normal situation. I think we can recover (from the situation),' he said.
By Abdulaziz Khattak