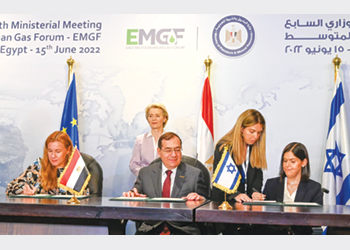 Egypt signs deal to import gas to EU
The European Commission has proposed a deal to accelerate natural gas imports from Egypt in a bid to reduce its reliance on Russian gas.
By funding exploration and production as well as LNG developments in Egypt, Europe can tap into a new pool of gas reserves as it moves to divest from Russian resources
With Egypt ramping up efforts to become a major liquefied natural gas (LNG) player through increased exploration, production and infrastructure build up and modernisation, the north African country is well positioned to expand energy exports to Europe while addressing African energy demand.
Owing to its strategic location in close proximity to European markets as well as its success as a gas exporter, Egypt has emerged as an ideal supplier for Europe in the wake of the Russian-Ukraine conflict.
In 2021, Egypt exported approximately 8.9 billion cu m (bcm) of LNG, with 63 per cent destined for Asian markets and 31 per cent for Europe.
In 2022, this figure is expected to increase significantly following upstream developments including the Zohr, Atoll, Nooros and West Nile Delta discoveries as well as new commitments by Europe to invest in Egyptian gas projects.
With the Egyptian government set to introduce new licensing rounds in offshore frontier regions, new players are anticipated to enter the market while existing firms boost their own exploration initiatives.
Already, Italian energy major Eni has acquired two exploration blocks in the Meleiha concession following April 2022's oil and gas discoveries in the Nada E Deep 1X well.
Meanwhile, firms including BP, APEX international, Energeen Egypt, INA-lndustrija Nafte, Sipetrol, and United Energy are expected to pump new investments, drilling up to 33 new wells as part of the licenses awarded by the government in the 2021 International Bidding Round in first quarter of 2022.
These licensing round coupled with the government's new exploration drive have positioned the country as a highly competitive market as well as top global exporter.
As Egypt looks to increase exports, European nations are turning their attention to the north African country, recognising the opportunity to replace Russian gas with Egypt's.
Last month, the European Commission signed an agreement with Egypt and Israel whereby the East Mediterranean states will increase gas exports to the bloc.
Under the agreement, the EU will encourage European companies to participate in Israeli and Egyptian exploration tenders.
Meanwhile, European-based energy major Eni is focused on scaling-up exploration and production in Egypt in order to strengthen supply channels between the north African country and Europe.
In April 2022, Eni signed a deal with Egyptian state energy firm, the Egyptian Natural Gas Holding Company, to increase exploration in the Nile Delta, Eastern Mediterranean and Western Desert regions.
Furthermore, with the deal paving the way for Egypt to export up to three bcm of LNG to Europe via Italy as from 2022, gas monetisation in the north African country will reach greater heights.
Already, Egypt has witnessed a 98 per cent increase in export revenues to $3.892 billion in the first four months of 2022 and a 768 per cent increase between 2020 and 2021, according to the Ministry of Petroleum and Mineral Resources.