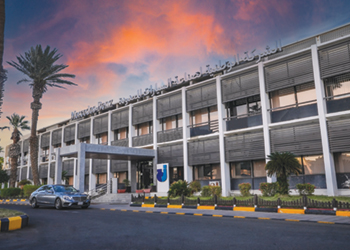 The JCV head office
In addition to realising the need for offering products and services in key locations across the country, a new factory in KAEC will allow it to assemble trucks locally
With a strong focus on localisation, Juffali Commercial Vehicles (JCV), a Saudi leader in the commercial Automobiles Industry, has announced to invest in a new factory for the assembly of the Mercedes-Benz truck line.
Heiko Schulze, CEO, JCV, emphasised with OGN energy magazine. He says: 'According to Vision 2030, Saudi Arabia aims to reduce its dependence on oil and is, therefore, developing different industry sectors. And with the growing trend of localisation, the demand in the automobile sector will continue and, in fact, will get stronger.'
The NAI factory in KSA
The new factory, which will be set up in King Abdullah Economic City (KAEC), will also assemble light- and medium-duty Mitsubishi Fuso models.
'This is how we are approaching the future of the industry — through localisation. Without localisation, it will be difficult to do business in the Kingdom in the future,' says Schulze.
The company is being challenged to meet customer demand, growing on the back of booming economic development in the country.
When the Covid-19 pandemic hit, it impacted the Kingdom's automotive industry, also affecting heavy truck suppliers and restricting companies like JCV from getting sufficient products in order to assemble and sell on time.
However, demand is rapidly returning. Schulze says: 'Over the past year we have had a high demand for heavy trucks in the Kingdom and that puts us (JCV) in an excellent situation.'
He says: 'The growth of economic activity overall is pushing the demand for heavy trucks — mostly driven by the construction and infrastructure sectors — however, it consequently generates demand for other commercial vehicle products as well.'

MARKET LEADING MERCEDES BENZ TRUCKS
Shulze ... localisation and expansion focus
The Kingdom is a core market for Mercedes-Benz trucks in the Middle East and North Africa (Mena) region with tens of thousands of trucks delivered since JCV was established.
It is estimated that Saudi Arabia constitutes between 60 to 70 percent of the total Mercedes-Benz commercial vehicle market for the region.
The scale of orders underlines the strength of the Mercedes-Benz brand and its powerful automotive value proposition in the region.
'Mercedes Benz is the market leader in the heavy trucks segment because its trucks are reliable and offer good value for money. Of course, there are products from Daimler, like electric trucks, alternative drive trains, and CO2 neutral solutions, but overall, this is not what customers are looking for,' Schulze says.
Mercedes Benz trucks have been assembled in the Kingdom for nearly 50 years now.

FUTURE INVESTMENTS AND MARKET OUTLOOK
To become successful in the commercial vehicles sector, Schulze understands that it is important to offer services and products that are in demand in all relevant locations.
The Mercedes-Benz trucks range
'We need to satisfy our customers' needs by being present everywhere and delivering quality services. And that is why JCV has put in place an expansion plan,' he says.
The company is already present in many key locations in the Kingdom and now plans to expand to the north. And even in its existing locations, JCV is investing in bigger and more modern workshops.
Furthermore, Schulze says JCV has set an agenda for the next 12 months to focus on growth in all aspects of the industry using different approaches.
'We need to prepare ourselves to participate in the economic growth of the Kingdom and to strive in being relatively better than our competitors, and offer better solutions for customers than others do,' he explains.
He adds: 'We permanently question ourselves; whether we are on the right track, what needs to be enhanced, what needs to be changed, what needs to be reduced or what needs to be strengthened. This is an ongoing process.
The Fuso range
Currently, JCV is making great progress in terms of building its brand. It has developed more online-based services to empower its customers, including creating its own websites and portals, an e-commerce platform for selling parts, and channels to contact customers.
It is also considering creating mobile workshops.
With regard to Saudi Arabia's economic development, Schulze expresses optimism and especially calls Vision 2030 a path in the right direction and its execution positive.
He adds: 'We saw good economic development over the last year, and it seems that 2022 will be a good year too.'