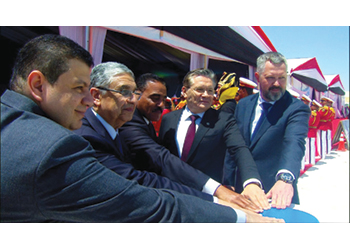 Officials at the concrete pouring ceremony
The plant will have four 1,200 MW power units and the latest Generation III+ VVER‑1200 pressurised water reactors
Egypt has kicked off work on its first nuclear reactor in the in the city of El Dabaa in the Matrouh Governorate, 300 km north-west of Cairo, effectively becoming part of the global nuclear club.
The first concrete was poured last month for Unit 1 of the El-Dabaa Nuclear Power Plant, which will have four 1,200 MW power units and Generation III+ VVER-1200 pressurised water reactors. This is the latest generation technology already deployed in Russia.
The El-Dabaa NPP is being built by Russian nuclear giant Rosatom for Nuclear Power Plants Authority of Egypt (NPPA), the owner and future operator of the plant.
It is the largest project of the Russian-Egyptian cooperation since the Aswan High Dam.
Commenting on the landmark project, Alexey Likhachev, Rosatom Director General, said: "The construction of the nuclear power plant will allow Egypt to reach a new level of technology, industry and education development. Having its own nuclear energy industry has been a dream for the Egyptian people for more than half-a-century, and it is a great honor for Rosatom to make this dream come true."
The project, which was conceived in the 1980s, was finally agreed to by Presidents Abdel Fattah el-Sisi of Egypt and Russia's Vladimir Putin in December 2017.
Then in February 2020, three Egyptian companies – Petrojet, Hassan Allam and Arab Contractors – were chosen to begin site preparation work.
As per the contract, Rosatom will fund and build the plant in addition to supplying Russian to fuel it.
The company will also train Egyptians personnel and support in the operation and servicing of the plant for the first 10 years after operation.
A separate agreement, the Russians will build a special storage facility and deliver casks for storing spent nuclear fuel.
Rosatom's business in the country goes beyond the construction of Egypt's first nuclear power plant.
The company is the world's largest producer of iridium-192, a radioactive isotope used in radiation sources for non-destructive testing systems.
In late June, Rosatom company Izotop and Egyptian provider of non-destructive testing services EGIT signed a cooperation expansion agreement covering supplies of commercial isotopes to Egypt as well as and non-destructive testing equipment, including Russian-made gamma-ray flaw detectors.