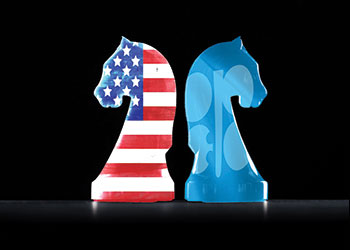 US and Opec+ at loggerheads over oil cuts
'The decision to cut production was purely economic'
Despite US threats, Opec+ members have thrown their weights behind Saudi Arabia in support of the group's decision to cut output.
In separate declarations, the Kingdom's all-weather oil friends have endorsed the slashing of crude oil production by two million barrels and stand by the country in its fervid back-and-forth with the US.
In a speech last month, Saudi King Salman bin Abdulaziz said maintaining the Opec + agreement was important to ensuring stability in the global oil markets.
He said Saudi Arabia is striving to ensure the immunity of the three pillars of the energy world: securing necessary energy supplies, continuous economic development by providing reliable energy sources and facing climate change, a Saudi Press Agency report said.
The US last month accused Saudi Arabia of coercing other Opec+ members to agreeing to the cuts, a claim that was rejected by the Kingdom, which said the decision was purely economic and made through a consensus after studying the markets.
It warned of 'consequences' and officials in the Biden administration suggested that US companies could be discouraged from expanding business ties with Saudi Arabia as part of a US response.
Till the filing of this report, it was learned that the US had decided not to participate in the annual Future Investment Initiative conference being held in Riyadh on October 25, an NBC News report said.
Meanwhile, in what is considered a diplomatic snub to the US, AFP quoted Richard Attias, the conference organiser, saying US government officials had not been invited, adding they did not want the gathering 'to become a political platform'.
In a tweet, UAE Minister of Energy Suhail Al Mazrouei said: 'I would like to clarify that the latest Opec+ decision, which was unanimously approved, was a pure technical decision, with NO political intentions whatsoever.'
His comment followed a statement from Iraq's state oil marketer SOMO, which said: 'There is complete consensus among Opec+ countries that the best approach in dealing with the oil market conditions during the current period of uncertainty and lack of clarity is a pre-emptive approach that supports market stability and provides the guidance needed for the future.'
Similarly separate statements of support were issued by Kuwait (fourth largest Opec producer), Algeria (seventh largest) and Oman and Bahrain.
A report by Fitch Ratings said actual output cuts by Opec+ would be significantly lower than what was announced. It estimates the cuts to be about around only 1.15 mbpd.
Amongst the Opec+ producers, Saudi Arabia and the UAE will have to make the largest cuts to production — about 500,000 barrels per day (kbpd) and 380 kbpd, respectively (see report on Page 58).
Separately, the International Energy Agency (IEA) warned that the Opec+ decision could push the global economy into recession.