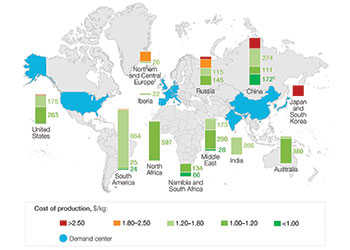 Hydrogen production potential, 2050, million tons per annum
The UAE is supporting the energy transition through domestic and foreign investment plans to invest $163 billion to diversify the country's energy mix, and achieve net zero emissions by 2050
UAE, like other oil producers, is playing well on both sides of the fence. On one hand it calls for investment into legacy fossil fuels and on the other hand it keeps reiterating its commitment to clean energy.
As contradictory in purpose that might seem, it is actually reasonable to keep the climate change mantra in check from derailing economic development.
One undisputed buzz word that is thrown around in any climate change discourse is sustainability, which calls for a balance between the environment, equity, and economy.
A fair definition of sustainability was presented by the UN in 1987: "Meeting the needs of the present without compromising the ability of future generations to meet their own needs."
For all intents and purposes, the UAE is on the right track, simultaneously ensuring energy security and energy transition.
The UAE can play a major role in meeting global hydrogen demand
In an international forum, Dr Sultan Ahmed Al Jaber, UAE Minister of Industry and Advanced Technology and Managing Director and Group CEO of Abu Dhabi National Oil Company (Adnoc), reminded the world of the "misguided" policies that were aimed at pulling the plug on the current energy system. He emphasised the need to build a new energy system first.
He said: "We have seen that all progress starts and ends with energy security. And, as the world's energy leaders, our responsibility in maintaining that energy security has never been more evident.
"Yes, we must all commit to mitigating the impact of global energy supplies, but let's keep our focus on capturing carbon, not cancelling production. Let's hold back emissions, not progress."
The UAE wants to boost its oil production capacity to 6 million bpd by 2030 and is investing in greater production capacity.
At the same time, national oil company, Adnoc is using advanced technologies and renewable solar and nuclear energy to decrease greenhouse emissions intensity by around 25 per cent by 2030 and expand its carbon capture capacity by almost 500 per cent, reinforcing Adnoc's position as one of the least carbon-intensive producers globally.

DECARBONISATION & NET-ZERO TARGETS
The UAE is supporting the energy transition through domestic and foreign investment with an investment of $163 billion to diversify the country's energy mix, and achieve net zero emissions by 2050.
Over the next decade, the UAE will focus on driving clean electrification through solar and nuclear, implementation of transparent policies, improving energy efficiency, reducing carbon and methane emissions, and turbocharging innovation to commercialise hydrogen technology and accompany these actions by strategies to unlock capital flows in support of clean energy transition to ensure affordability and reliability.
Hydrogen has a key role to play in the energy transition and the UAE's future energy system and will be crucial to decarbonise its industries, transportation sector, and the fossil fuel sector.
A few weeks back, the Abu Dhabi Department of Energy (DoE) said it was working with key local partners to introduce new policies, including a hydrogen policy and regulatory framework, to accelerate a carbon neutral future for the people of Abu Dhabi, and the UAE.
Its new hydrogen strategic framework will set out policies, regulations, standards, and certifications for the hydrogen industry to become globally competitive.
A recent report by consulting company Roland Berger and Dii Desert Energy put the GCC hydrogen market potential at $200 billion by 2050, positioning the region as a global hub for green hydrogen.
The UAE with its abundant solar resources and with large reserves of natural gas has an advantage to contribute to fulfilling a global need that will create new local industries and jobs, offer growth for existing firms, develop new skill sets, and facilitate more research. It will also stimulate more foreign direct investment in the energy sector.
In Abu Dhabi, hydrogen production is underway as a feedstock for ammonia and industrial processes. However, this is mainly grey hydrogen, for which production relies on natural gas.
Globally, the production of hydrogen has already reached 70 million tonnes per year. However, 96 per cent of this is grey hydrogen, produced from steam reformation of methane and costs about $1 per kg, according to the Hydrogen Council.
Blue hydrogen, which relies on carbon capture and storage technologies to remove emissions from grey hydrogen, costs around $2 per kg.
Meanwhile, green hydrogen, produced by electrolysers derived off renewable electricity, costs $4 per kg.
The UAE is determined to lead the decarbonisation and sustainability of the fossil fuel sector. It has been investing in decarbonisation for the past 15 years, with more than $40 billion spent in Abu Dhabi alone towards financing clean energy projects in the oil and gas sector.
Adnoc plans to increase its carbon capture capacity five-fold from 800,000 tonnes to five million tonnes by 2030. This will make Abu Dhabi one of the world's lowest-cost and largest producers of blue hydrogen.
To conclude, the International Renewable Energy Agency (IRENA) estimates that energy transition technologies will require global investments of around $131 trillion by 2050.
This presents huge opportunities for the UAE and the region as a whole to invest in what is definitely the future of energy.