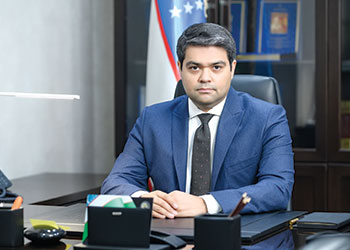 Akhmedkhadjayev ... strengthening energy cooperation with UAE
In the energy sector, Uzbek-Emirati cooperation is improving the lives of millions of Uzbek citizens, and large-scale projects have created future-proof green economy jobs, Azim Akhmedkhodjayev, First Deputy Energy Minister of Uzbekistan, tells OGN
The 'New Uzbekistan' that championed over six years of reforms by President Shavkat Mirziyoyev is especially evident in the energy sector, and the country's ambitious, but achievable goals.
The country's 34 million population is rising fast, as is its economy and its citizens' income – all of which leads to more energy demand.
Uzbekistan faces the challenge of powering itself whilst radically renovating its energy sector to match the requirements of a modern, green economy.
"A financially sustainable economy needs to be an environmentally sustainable economy. We owe our future generations the best possible opportunities to thrive, and survive. And so we have challenged ourselves to generate 8 GW of solar power by 2026 and 12 GW of wind capacity by 2030 - targets that we have upgraded more than once in the last couple of years. Such is our commitment and progress," Azim Akhmedkhodjayev, First Deputy Energy Minister of the Republic of Uzbekistan, tells OGN.
However, it is impossible to implement such ambitious plans without support; international assistance, technology, experience and capital is required.
Fortunately, Uzbekistan's distant neighbours in the UAE — with their vast energy sector experience — reached very similar conclusions before it did and have already invested heavily in the education and infrastructure needed.
The UAE has always been an important trading partner of Uzbekistan, but bilateral cooperation has grown year-on-year, with much recent momentum.
A significant role in the development of this partnership was played by the President of Uzbekistan, Shavkat Mirziyoyev, and his visit to the UAE in 2019, which was followed by several energy agreements.
Involving foreign companies such as Masdar, also known as the Abu Dhabi Future Energy Company, and one of the UAE's largest - is the fastest, most efficient way to grow Uzbekistan's domestic energy sector in a short period of time.
Long-term partnerships with such large UAE energy companies will benefit Uzbekistan by transferring knowledge and introducing international industry standards.
"Masdar is very important to our efforts, and is an active investor in Uzbekistan, particularly our solar and wind development programme," says Akhmedkhodjayev.
Masdar is currently implementing five renewable energy projects, an investment totalling well over $1 billion.
These include Uzbekistan's first successfully financed independent private producer (IPP) 100 MW solar power plant, in the Navoi region, in which Masdar beat 40 bidders, and bid a record low tariff. This will power 31,000 homes and cut CO2 emissions by 150,000 tonnes a year.
Masdar is also building a 500-MW utility-scale wind project – the Zarafshan project, which is the largest in Central Asia.
The project recently reached financial close with commercial operations set to begin 2024.
Upon completion, Zarafshan will power 500,000 homes and replace 1.1 million tons of CO2 annually.
Masdar is also contracted to develop an additional 890 MW of photovoltaic capacity at three sites — Samarkand, Jizzakh and Sherabad — in Uzbekistan.
Masdar has indicated it plans to build on its tremendous results and participate in tenders for the construction of new power plants.
With UAE national energy champions TAQA and Adnoc in addition to Mubadala joining forces as shareholders in Masdar, it means many UAE stakeholders are effectively investing in Uzbekistan.
In February, the 'Uzbekistan Energy Week' was hosted at Expo Dubai, where Emirate audiences received presentations reflecting Uzbekistan's progress in hydropower, renewable energy, thermal power plant upgrading and construction and the oil and gas industry.
The relations between Uzbekistan and the UAE will continue to grow stronger, with a specific focus on cooperative development of renewable energy resources.
This collaboration mirrors closer ties between the countries overall. Both are also committed to net-zero by 2050.
Foreign direct investment (FD) from the UAE to Uzbekistan has grown from small levels to $4.5 billion between 2019 and August 2021, and UAE citizens can now travel visa-free to Uzbekistan.
"Uzbekistan's connection with the UAE - a cultural and economic affinity based on trust and friendship – will only grow. In the energy sector, our cooperation is improving the lives of millions of Uzbek citizens, and large-scale projects have created future-proof green economy jobs," says Akhmedkhodjayev.
"We are proud of what Uzbekistan and the UAE is achieving together and are confident the relationship between our two countries will reach new heights in the years to come."