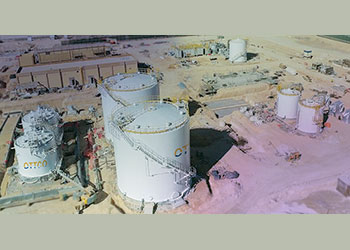 Ras Markaz will receive the first crude shipment in Q1 2023
Oq, Oman's integrated energy group, has completed the basic construction works of Ras Markaz crude oil storage terminal, which has a storage capacity of about 26.7 million barrels.
The project is being built by Oman Tank Terminal Company (OTTCO) and is the biggest of its kind in the region, reported Oman News Agency (ONA).
Located in the Governorate of Al Wusta and outside the Strait of Hormuz, the terminal mediates the Asian and African markets. It is scheduled to receive the first shipment of crude oil in Q1 2023 to secure the needs of Duqm refinery, which is connected with Ras Markaz through an 80-km pipeline. Eight huge reservoirs constructed at Ras Markaz will store the refinery's oil.
He pointed out that the area of the current completed first phase of the project is approximately 10 sq km with a capacity of about 26.7 million barrels.
Ras Markaz crude oil storage terminal will be spread out on a total of 40 sq km land area and will be able to store up to about 200 million barrels of oil. Its capacity could increase depending on the investor demand.
The construction is being done in two parts. Part one includes marine works and has already been completed. This part comprises the floating import and export terminal, which is about 7 km offshore, along with two 42-inc diameter pipelines, in addition to the associated systems.
The second part includes construction of the oil pumping systems, water treatment systems, the construction of reservoirs, the power stations network and other associated systems.
Salem Marhoon Al Hashemi, General Manager of the project, said: "Ras Markaz crude oil storage terminal aims to store and mix all kinds of crude oil in large quantities. It will cement the position of Oman as a main hub for storing oil in the region."
Oman currently relies on Mina Al Fahl for exporting crude oil.