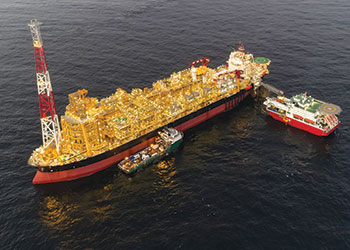 Demand for FLNGS may increase with the demand for LNG
The Russia-Ukraine conflict is driving more project uptakes of FSRUs and FLNGs in Europe to make up for the gas supply cutoff by Russia, however, some major market challenges remain, write David Hartell, Varun Chitnavis, Kenneth Montgomery and Audun Martinsen
The lack of floating liquefied natural gas terminals being caused by Europe's escalating energy crisis has led to a surge in demand for floating liquefied natural gas (FLNG) and floating storage regasification unit (FSRU) projects.
Following Russia's reduction in gas supply to Europe, energy security and ways to lower skyrocketing energy bills for businesses and households are at the top of the energy policy agenda. As a result, the demand for FLNG projects is rising in both gas-producing countries and gas-importing countries.
Therefore, in order to expedite the process, Europe has opted to search for FLNGs and FSRUs to rapidly expand its LNG import capacity.

CURRENT STATE OF FSRU MARKET
Currently, there are 34 operational FSRUs operating globally; less than five FSRUs are active in each Europe in the Middle East, and there will soon be seven active FSRUs operating in Asia.
Due to the energy security situation brought on by the Russia-Ukraine conflict, Europe is the region where FSRU development and deployment is being driven most aggressively. This is clear from the fact that 10 of the 21 FSRUs that are planned with established charters are for Europe.
Europe intends to boost its import capacity by roughly 50 billion cu m per year by the end of 2023. And while this is still just a third of the pipeline gas from Russia imported in 2021, it demonstrates the region's commitment to securing their energy supply.

CURRENT STATE OF FLNG MARKET
There are currently five operational FLNG projects with a combined capacity of more than 8 Mtpa: PFLNG 1, PFLNG 1, Tango (which is currently idle), Prelude, and Golar Cameroon.
In the past, the FLNG sector has experienced a period of relative calm following the decline in oil prices in 2015, during which no major projects were approved.
Only Coral and Greater Tortue Ahmeyim were sanctioned after 2015. However, there will be increasing interest in FLNG in the years to come as LNG demand rises and nations want to immediately monetize gas resources amid longer-term uncertainties.
It is anticipated that FLNG capacity would surpass 14 Mtpa by 2024. A total of 18 Mtpa worth of projects are in the very early phases of development, and over 17 Mtpa worth of projects are now in planning.
As the industry gains more expertise in FLNG operations, the concept will play a larger part in addressing the future. In total, there are six FLNGs in Europe that are active or planned.

FSRU & FLNG DEVELOPMENT OPTIONS IN EMEA
Even though FLNG and FSRU only account for a small percentage of the whole LNG market, they have recently drawn a lot of interest. FLNG offers cheaper capital investment and managed costs in a world where rigorous capital management is essential.
As can be seen from the final investment decisions (FID) developed for Coral and Tortue, faster building periods allow early cash flows to support additional development.
On the contrary hand, it is predicted that growth would slow down and become steadier as FLNG competes for clients and investors in the competitive LNG market.
The booming trust in the ability to carry out the liquefaction process offshore, the expansion of the global LNG supply, and the practicality of using it are the main forces behind the rise of the FLNG market (using FSRUs).
On the other hand, doubts about the FLNG's viability and safety are limiting the market's expansion.
Determining these vessels' safety, functioning, and issue areas is crucial to the industry's growth because doing so will make projects simpler to finance and easier to insure. Despite the lower entry barriers on the FSRU side, the market is still small due to FLNG's specialty.

CHALLENGES to FLNG & FSRU GROWTH IN EMEA
A reliable supply of LNG cargo and the capability of onshore pipeline infrastructure to receive and handle the LNG quickly are challenges for FSRUs.
LNG cargoes are a mix of spot market and long-term contracts, but market volatility has disrupted certain agreements and caused cargoes to be sent in a different direction than intended.
To preserve the FSRU's economic case, onshore pipeline infrastructure must allow for quick cargo discharge. These challenges may influence future potential investor interest and have a substantial impact on economic returns.
The funding of capex and the availability of qualified staff to run LNG facilities are two FLNG challenges.
If all LNG exports go to international markets, there can also be challenges in providing energy for domestic customers.
The ability of African nations to meet their populations' energy demands cannot be hindered by Europe's current interest in exporting African gas.
These domestic markets could be able to get the electricity they require via undersea cables from offshore power production facilities connected to the gas resources that the FLNG plants are using. They don't necessarily need LNG; instead, what they really need is electricity.
Cost, logistics, and material supply are the three factors that affect prices and lead times.
All of the aforementioned regions are in intense competition as a result of the massive increase in LNG and offshore vessels and projects, and major Korean, Chinese, and Singaporean yards are already fully booked through 2027.
While a conversion provides a faster option, the majority of used ships now on the market are steam propelled and have a capacity of less than 150,000 cu m, ideally above 170,000 cu m is required to meet the compatibility for most import terminals as this is the most common size of LNG carriers currently.
FSRUs are derived from LNG carriers, and with only a small amount of additional training and qualification, it is usually possible to use current LNG vessels' operational knowledge to run them.
However, FLNGs are incredibly complicated plants that combine the limitations of a marine environment with the technical challenges of a land-based plant; finding the necessary knowledge is a time-consuming process that can take years to complete.
The key firms driving FLNG have been able to staff them up to this point, but if expansion picks up, there will need to be a massive rise in qualified workforce.

FLOATING PRODUCTION SYSTEMS IN 5 YEARS
The US Energy Information Administration (EIA) predicts a 47 per cent increase in global energy demand between now and 2050.
As the world develops more dependable environmental solutions, the need for natural gas is anticipated to expand concurrently with the extreme rise in energy requirements.
Natural gas is frequently referred to as the 'transition fuel' since it is anticipated that usage would reach its peak by 2035, making room for cleaner alternatives.
In an analysis of future demand for FLNG, it is useful to consider the drivers of future demand for LNG from two completely different sectors: commercial and environmental, to gain a sense of the LNG market dimension.
According to energy producer BP, the primary driver of future demand for LNG is growth in energy demand from fast-growing developing economies, led by India and China.
Whereas the United Nations Framework Convention on Climate Change considers LNG as being a source of energy compliant with the climate goals outlined in the Paris Agreement.
Given these two opposing viewpoints, the likelihood that the 2020 Covid-19 epidemic will cause a global recession may temper the LNG forecast.
Despite this, natural gas, the cleanest burning hydrocarbon fuel, is an essential part of the transition to a sustainable energy future that offers the chance for the world to reduce greenhouse gas emissions.
Regarding the main source of natural gas, more than 60 per cent of all proved gas reserves are located offshore in subsea marginal gas and oil-associated gas fields, and over 45 per cent of these are in deep-sea regions where FLNG will be needed.
Therefore, there is reason to be optimistic that demand for FLNG may expand given predictions of future LNG demand as a source of energy and the fact that many confirmed sources are offshore.

* David Hartell, Director – Developments, Operations and Productions Stellae Energy; Varun Chitnavis, Senior Commercial Manager Mitsui OSK Lines; Kenneth Montgomery, LNG Marine & Technical Management, Angola LNG; and Audun Martinsen, Partner & Head of Energy Service Research, Rystad Energy.