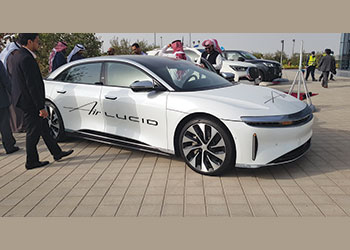 The Lucid EV on display at the iktva 2023 forum outside the Dhahran Expo Centre
EV sales will top 14 million by 2023-end; 2.3 million already sold in Q1
Where a projected demand for electric vehicles (EVs) will have a positive impact on the environment, it will also have profound implications on the energy markets.
The forecasted EV growth is set to reduce the consumption of diesel and petrol globally by more than 5 million barrels per day (mbpd) by 2030, the International Energy Agency (IEA) said in its Global EV Outlook 2023 report.
Oil today accounts for over 90 per cent of total final consumption in the transport sector.
The report said EV sales will top 14 million by 2023-end — representing a 35 per cent year-on-year increase — compared to over 10 million sold in 2022. That will be a total of and 18 per cent of all new cars sold in 2023, up from 14 per cent in 2022 and less than 5 per cent in 2020.
Over 2.3 million EVs have already been sold in Q1 2023, about 25 per cent more than in the same period last year.
China was one of three markets that dominated global EV sales in 2022. It accounted for around 60 per cent of global market share. A distant second was Europe with 15 per cent and followed by the US reaching a sales share of 8 per cent.
A bright outlook for EV sales is driven by market trends and policy efforts in major car markets.
Under the IEA Stated Policies Scenario (STEPS), the global outlook for the share of electric car sales based on existing policies and firm objectives has increased to 35 per cent in 2030, up from less than 25 per cent in the previous outlook.
Investors have also maintained confidence in EVs, with the stocks of EV-related companies consistently outperforming traditional carmakers since 2019. Only 10 per cent of the spending can be attributed to government support, the remainder was from consumers.
Global spending on EVs exceeded $425 billion in 2022, up 50 per cent relative to 2021. As spending and competition increase, a growing number of more affordable models are coming to the market
Venture capital investments in start-up firms developing EV and battery technologies have also boomed, reaching nearly $2.1 billion in 2022, up 30 per cent relative to 2021, with investments increasing in batteries and critical minerals.
EVs have the potential to significantly reduce greenhouse gas emissions (GHG) that contribute to climate change.
In the STEPS, emissions of around 700 Mt CO2-equivalents will be avoided by the use of EVs in 2030.
As of March 2023, announcements on battery manufacturing capacity delivered by 2030 are more than sufficient to meet the demand implied by government pledges and would even be able to cover the demand for EVs Net Zero Emissions by 2050 Scenario.
The net GHG benefit of EVs increases over time as the electricity sector is decarbonised.
In terms of electricity consumption, about 110 TWh was consumed by global EV fleet in 2022, roughly equivalent to the current total electricity demand in the Netherlands.
This is projected to reach over 950 TWh in the STEPS. By 2030, electricity demand for EVs will account for less than 4 per cent of global final electricity consumption.
This is still relatively small compared to demand for industrial applications, appliances or cooling and heating.
By Abdulaziz Khattak