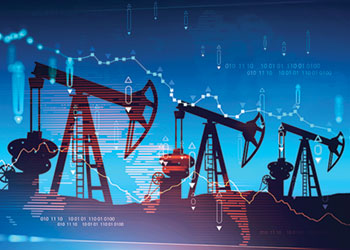 The significant growth of the oil and gas industry is leading to the digitalisation of many mature oilfields, while the utilisation of shale plays, horizontal drilling, and fracking techniques have led to a rise in the need for digital oilfield services, Koyel Ghosh of Allied Market Research tells OGN
In the past few years, there has been considerable development in the digital oilfield market, marked by significant technological advancements and a rising need for cost-efficient and effective production of oil and gas. This has led to a surge in mergers and acquisitions (M&A) activity, as companies look to expand their capabilities and gain a competitive edge.
One of the key trends driving the industry is the use of data analytics and machine learning (ML). With the soaring amount of data being generated by oil and gas operations, companies are turning to advanced analytics tools to gain insights and improve decision-making.
This has given way to the development of new software and services that can collect, store, and analyse data in real-time, providing operators with a better understanding of their operations and enabling them to optimise performance.
Another trend is the use of automation and robotics to increase efficiency and safety. This includes the use of drones and autonomous vehicles for inspection and maintenance, as well as the deployment of automated drilling rigs and well-completion systems.
These technologies not only reduce costs and improve productivity but also help to minimise the risk of accidents and injuries.
Keeping in tab with a recent report published by Allied Market Research, the global digital oilfield market is anticipated to showcase a notable CAGR from 2021 to 2030.
One of the key strategies adopted by the key players in the industry is the development of advanced technologies. These technologies include big data analytics, cloud computing, and the Internet of Things (IoT), among others. The players are investing heavily in research and development to create innovative solutions that can help oilfield operators increase efficiency, reduce costs, and improve safety.
Another strategy being adopted by the frontrunners in the market is partnerships and collaborations.
This allows the players to combine their expertise and resources to develop and market digital oilfield solutions.
For example, in 2018, Schlumberger and IBM announced a collaboration to develop a cognitive solution for the oil and gas industry.
The solution, known as the asset performance management (APM) solution, uses IBM's Watson IoT technology and Schlumberger's expertise in the oil and gas industry to improve production efficiency and reduce downtime.
In terms of M&A activity, the industry has seen a number of notable deals in recent years. For example, in 2020, Schlumberger acquired a majority stake in Rockwell Automation's Sensia joint venture, which provides digital solutions for the oil and gas industry.
Similarly, Halliburton acquired digital solutions provider Artesia in 2021, further strengthening its capabilities in this area.
Simultaneously, Halliburton's subsidiary, Landmark, has announced that Petrobras, a Brazilian oil and gas company, has selected its iEnergy digital platform to manage subsurface issues.
As part of the agreement, Petrobras will have access to Halliburton's entire Landmark DecisionSpace 365 Geoscience Suite, which includes advanced technologies for hydrocarbon extraction and production.
The adoption of DecisionSpace 365 is a step toward modernising operations and improving functional efficiency for Petrobras.
Halliburton's iEnergy digital platform provides cutting-edge solutions for various aspects of the upstream industry, including high-performance processing and machine learning.
Through the use of advanced data analytics, artificial intelligence (AI), and machine learning (ML), Halliburton's digital solutions will assist Petrobras in making informed, real-time decisions, improving operational efficiency, and reducing downtime.
Eserv, a company specialising in 3D technology based in the UK, has been chosen by Neptune to create digital versions of two offshore platforms, D15-A and K12-C, following the successful digitisation of 12 other platforms in the UK and Dutch sectors.
With the help of these digital twins, Neptune teams can perform routine inspections and planning activities virtually, eliminating the need to travel to the offshore platforms.
This has resulted in thousands of hours of work being completed from office-based locations.
As per Stephane Lacote, the Director of Operations at Neptune Energy: "3D technologies such as digital twins have significantly reduced operational costs and enabled offshore activities to be completed quickly and efficiently.
Neptune Energy's goal of enhancing asset integrity and providing employees with technologies that facilitate collaboration with colleagues worldwide is certainly a milestone.
Adnoc's asset portfolio boasts a prized possession in the form of the Upper Zakum Oil Field, which proudly holds the titles of the world's fourth-largest oil field and the second-largest offshore oil field.
Adnoc has embarked on an ambitious mission to augment its field capacity to a staggering 1 million barrels per day by 2024.
The company plans to achieve this monumental feat through a mega-expansion initiative, which has been estimated to cost $29.9 billion. This project is a crucial part of Adnoc's 2030 smart growth strategy, which aims to increase the UAE's production capacity to 5 million barrels per day by 2027.
To execute this project, Adnoc is currently in the process of selecting contractors to award a sizable contract.
The project involves building four artificial islands in shallow water capable of accommodating 450 wells, 90 platforms, and various drilling rigs, processing facilities, and infrastructure.
Adnoc has pioneered the use of artificial islands to minimise the environmental impact of expansion projects, as they allow for the use of cost-effective land-drilling rigs rather than high-cost offshore jack-up drilling equipment. This approach optimises costs, increases operational efficiency, and reduces the project's environmental footprint.
The significant growth of the oil and gas industry across the world is leading to the digitalisation of many mature oilfields in the upcoming years. This development is expected to have a positive impact on the global digital oilfield industry.
To support this growth, the US federal government took off an auction in 2021, leasing more than 80.9 million acres for oil and gas production.
The utilisation of shale plays, horizontal drilling, and fracking techniques has led to a significant rise in the requirement for digital oilfield services.
As a result of these developments, offshore exploration and production activities are expected to rise, further driving the demand for digital oilfield solutions in the future.
Additionally, compliance with health and safety regulations and the rising offshore field development activities in the Gulf of Mexico are projected to boost the digital oilfield services market altogether.