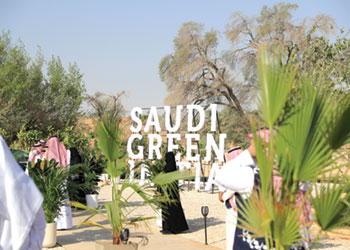 The SGI was launched in 2021 to create a greener future for all
The SGI Forum will bring together global leaders and climate experts to share their insights and discuss what more can be done to address the climate challenges faced globally
The third edition of the Saudi Green Initiative (SGI) Forum will be held at COP28 on December 4 at Expo City in Dubai, reinforcing Saudi Arabia's support of the global climate agenda, and the Kingdom's commitment to overcoming environmental challenges through measurable action.
Now in its third year, the SGI Forum will build on both 2021's inaugural event in Riyadh when Saudi Arabia unveiled its 2060 net-zero goals, and on last year's forum held in Egypt, in tandem with COP27, revealing major climate action projects, including the launch of a circular carbon economy knowledge hub, and the establishment of a regional centre for advancing emissions reduction with UNESCWA.
This year's SGI Forum will bring together influential figures, thought leaders and climate experts from the global climate ecosystem to share their insights and discuss what more can be done to address the climate challenges faced globally.
In the year of the global stocktake, the SGI Forum 2023 will be an important platform to help propel the global effort to address climate challenges forward.
SGI was launched by His Royal Highness Crown Prince Mohammed bin Salman bin Abdulaziz in 2021, as a whole-of-society initiative to enhance Saudi Arabia's environmental action, in line with the Kingdom's Vision 2030, and create a greener future for all.
The initiative demonstrates Saudi's dedication to addressing environmental challenges facing the country, including high temperatures, low rainfall, dust storms, and desertification.
Under SGI, the Kingdom will plant 10 billion trees across the country in the coming decades and designate 30 per cent of the country's land and sea territories as protected areas by 2030. In addition, Saudi Arabia has committed to reducing carbon emissions by 278 million tons annually by 2030.
These national goals contribute to achieving ambitious regional targets set out under the Middle East Green Initiative (MGI).
Also announced in 2021, MGI's targets focus on eliminating 670 million tons of carbon dioxide equivalent (CO2e) and planting 50 billion trees across the region.
At the MGI Summit, the Crown Prince said: 'If we are to achieve the desired objectives of the ambitious Middle East Green Initiative, continued regional cooperation and active contributions by member countries are needed to achieve global climate goals and accelerate the implementation commitments as part of international agreements.'
The Crown Prince also announced the deployment of one of the largest carbon capture, usage and storage (CCUS) hubs in the world. This will capture 44 million tons of CO2e, equivalent to 15 per cent of the Kingdom's current nationally determined contributions (NDCs), by 2035.
Saudi Arabia has scaled up its NDC, committing to reduce 278 mtpa of CO2e by 2030 as part of its national emission reduction targets, and the implementation of the Circular carbon economy approach.
Planting 50 billion trees will combat desertification, reduce dust storms and protect against the environmental and socioeconomic impacts of land degradation, something that countries across West, Central and South Asia, North Africa and Sub-Saharan Africa are especially vulnerable to.
This ambitious project will rehabilitate 200 million hectares of degraded land, helping reduce emissions by 2.5 per cent of current global levels.
The Kingdom is spearheading regional cooperation to achieve the target, with the initial governance framework agreed by founding member countries during a ministerial meeting in Riyadh in October 2022.
The Crown Prince also announced that Saudi Arabia's Public Investment Fund (PIF) will aim to reach net-zero by 2050, making it the first sovereign wealth fund in the Middle East and one of the first globally to do so.
In October 2022, Saudi Arabia's Voluntary Carbon Market Initiative (VCMI), the first of its kind in the Mena region, saw the largest carbon credit auction in the world.
About 1.4 million tons of carbon credit offset certificates were sold to 15 Saudi and regional entities. Additionally, the first ever green bond by a sovereign wealth fund and also the first century green bond in history was issued.


By Abdulaziz Khattak