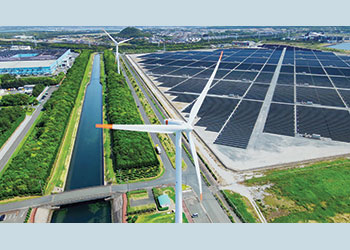 Renewables will contribute 80 per cent of new power generation capacity by 2030
With the major shifts underway now, the world will see a considerably different energy system by the end of this decade with demand for coal, oil and natural gas likely peak in this decade, according to the IEA's World Energy Outlook 2023.
The phenomenal rise of clean energy technologies such as solar, wind, electric cars and heat pumps is reshaping how we power everything from factories and vehicles to home appliances and heating systems, says the latest edition of the World Energy Outlook (WEO), an authoritative global source of energy analysis and projections.
Clean technologies will play a significantly greater role than today in the energy system in 2030, says the report.
This includes almost 10 times as many electric cars on the road worldwide; solar PV generating more electricity than the entire US power system does currently; renewables' share of the global electricity mix nearing 50 per cent, up from around 30 per cent today; heat pumps and other electric heating systems outselling fossil fuel boilers globally; and three times as much investment going into new offshore wind projects than into new coal- and gas-fired power plants.
All of those increases are based only on the current policy settings of governments around the world, the report said.
It also said that the combination of growing momentum behind clean energy technologies and structural economic shifts around the world has major implications for fossil fuels, with peaks in global demand for coal, oil and natural gas all visible this decade – the first time this has happened in a WEO scenario based on today's policy settings.
In this scenario, the share of fossil fuels in global energy supply, which has been stuck for decades at around 80 per cent, declines to 73 per cent by 2030, with global energy-related carbon dioxide (CO2) emissions peaking by 2025.
"The transition to clean energy is happening worldwide and it's unstoppable. It's not a question of 'if', it's just a matter of 'how soon' – and the sooner the better for all of us," said IEA Executive Director Fatih Birol.
The WEO-2023 proposes a global strategy for getting the world on track by 2030 that consists of five key pillars, which can also provide the basis for a successful COP28 climate change conference.
They are: tripling global renewable capacity; doubling the rate of energy efficiency improvements; slashing methane emissions from fossil fuel operations by 75 per cent; innovative, large-scale financing mechanisms to triple clean energy investments in emerging and developing economies; and measures to ensure an orderly decline in the use of fossil fuels, including an end to new approvals of unabated coal-fired power plants.
"Every country needs to find its own pathway, but international cooperation is crucial for accelerating clean energy transitions," Dr Birol said.
The WEO-2023 says an unprecedented surge in new liquefied natural gas (LNG) projects coming online from 2025 is set to add more than 250 billion cu m per year of new capacity by 2030, equivalent to around 45 per cent of today's total global LNG supply.
This year's WEO also explores the potential for stronger growth of solar PV this decade. Renewables are set to contribute 80 per cent of new power generation capacity to 2030 under current policy settings, with solar alone accounting for more than half of this expansion.
By the end of the decade, the world is set to have manufacturing capacity for more than 1,200 gigawatts (GW) of solar panels per year.