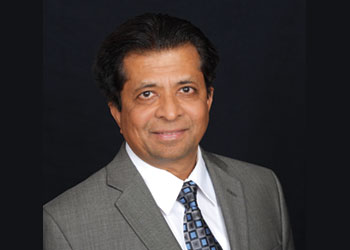 Mody ... driving innovation through AI
The company's predictive analytics software releases are purpose-built for oil and gas, power, chemicals, mining and minerals, and manufacturing, and will help improve sustainability and increase workforce productivity, Rashesh Mody from Aveva, tells OGN
Aveva, a global leader in engineering and industrial software, is one of a few companies of its kind that has efficiently used technology, including artificial intelligence (AI), to help customers become improve sustainability.
The company exhibited at this year's Adipec in Abu Dhabi, generating a lot of interest in its portfolio of solutions, evident from the footfall at its stand.
Through use cases and exhibits, Aveva successfully showcased its capabilities of enabling customers to address sustainability, helping them increase production, improve efficiency, and providing them solutions for connected and empowered workers.
After strengthening their position in oil and gas, and metals and mining, Aveva is marking a presence infrastructure, including smart cities, water, transportation, etc, and other areas.
In an exclusive interview, Rashesh Mody, EVP, Business Strategy and Realisation, Aveva, spoke to Abdulaziz Khattak of OGN energy magazine, and said theirs was an important role in today's changing energy landscape.
Below are excerpts from the interview:
What kind of company is Aveva at its core?
Aveva's industrial metaverse demo spot at Adipec 2023
Simply put, Aveva is a software company that provides industrial software to improve the industry lifecycle. But our goal is to offer better ways to solve the problems of the industry, including oil and gas, metals and mining, food and beverage, infrastructure, pharmacy, and others.
What's important for us is succeeding in our aim of helping our customers use their resources better, and helping them improve efficiency across their industry lifecycle, in four key areas: design, build, operate and optimise (the plants).
Aveva plays an important role in all these areas from the software perspective, by providing technology to the customers.
We give customers the required tools and offer them key solutions to ultimately help them scale their reach in improving their business objectives, which could be sustainability, efficiency, productivity, quality or compliance.

What are some Aveva few solutions that have helped customers attain their objectives?
We have several offerings in the design, operation and optimisation side of things.
From the design perspective, our Unified Engineering software–a data-centric environment for real-time engineering data–allows global teams stationed in different parts of the world to collaborate on a project.
It leverages our industrial cloud platform, AVEVA Connect, and pans the conceptual design, front-end engineering and design (FEED), and detailed design phases of your project's lifecycle.
On the building side, our modules help customers improve their margins and forecast during asset construction. We can approach various aspects of a project, such as capex, EPC 4.0, etc.
On the operation side, we offer a rich portfolio, such as the Edge that helps customers manage and improve their operations.
This could be for running a pump, a packaging line, or all the way to running a midstream pipeline system from Alaska to Houston, for instance.
While our software help customers with issues such as quality and compliance, they are more about people, and helping improve their skillset and knowledge base. We ultimately want all our customers to reach their objectives better, faster and efficiently.
For optimisation, our large area of offering includes solution like PI, an industry-leading data management solution built specifically to overcome the challenges of industrial environments.
Through PI, we provide data infrastructure for plants; we become the custodians of data (real-time, time series, etc), and process different data types, including events, alarms, MES, engineering, etc.
We have now gone a step further, and we are introducing a collection of our design, build, operate and optimise solutions.
We have created a platform, which provides full access to all the data. Using visualisation, customers can experience a full unified operation centre, where collaboration can be done remotely to solve problems.
Thus, Aveva offers a very compelling value proposition for the customer because when you have multiple sites and operating companies, there will more than one version of the truth. Through ours solutions, we provide a single version of the truth and remove any ambiguity.
Another important point to consider is providing the right information to the right person in the right context.
So imagine Panorama–Adnoc's digital command centre–providing information to three or five thousand people, who are making decisions on a daily basis.
There are many other use case scenarios where Aveva solutions have helped customers solve pain points.
For examples, We Energies, which runs over 300 wind turbines, wanted to reduce their downtime.
Using our technology, they were able to predict well in advance if a turbine would be operating well or not.
Another customer, GSC, a major chemical company, runs thousands of Aveva modules for numerous assets to improve their asset performance.
We have been able to help these companies save millions of dollars.

How does Aveva deal with interoperability?
Our principle is that we work with the existing systems of customers without the need to replace them.
We augment our systems on top of the systems already in place, because we have all the IT/OT connectors.

And how is artificial intelligence (AI) and machine learning (ML) driving Aveva's solutions?
In the past, AI could only be run on big computers or in government and large facilities. With significant improvement in technology in the last few years, we can now run it on the cloud or in hybrid format.
Furthermore, we are seeing AI in a number of use cases, to improve sustainability, productivity, efficiency and throughput, and compliance.
We at Aveva offer five types of analytics.
• Predictive analytics allows you to predict problems. This helps to reduce downtime.
• Performance analytics allows you to improve performance.
• Prescriptive analytics offers a solution to a problem.
• Prognostic analytics offers prognostic options for solving a problem to reduce the downtime.
• Perceptive analytics applies various mediums–audio, video and text–to find a better way to solve sustainability and deficiency issues.
Furthermore, we also use augmented reality (AR) and virtual reality (VR) and are strong in digital twin technology.

How do Aveva systems help customers make sense of the large amounts of data generated by plants and assets?
Our aim is to have an ecosystem of people using the data. By democratising data, we are telling customers that they already have an open data platform, where our ecosystems partners can build subject matter application. And this platform can be used by everyone.
This a unique value proposition compared to our peers.

Tell us about Aveva's growth in the region?
This is a very important region for us and we are growing very well. We have a sizeable team here and additionally have the support from all our global teams.
We have grown here in strength, project wise, and value proposition wise.
Aveva used to be only oil and gas. Now we are in the water, food, mining and other sectors.
By Abdulaziz Khattak