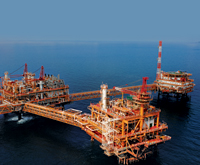 North Field ... bone of contention between Iran and Qatar
RECENT leadership changes in Iran and Qatar could have major implications for the world's largest non-associated gas field, North Field/South Pars, which straddles the two countries' maritime boundary.
For decades, rival developments either side of the median line have proceeded without incident or indeed much coordination, analysts say.
But by 2015, new Qatari Emir Tamim bin Hamad Al Thani and Iran's new moderate president, Hassan Rouhani, could face some tough choices.
That's when Doha's moratorium on new North Field projects, in place since 2005, comes up for review. By then, the combined field could be pumping as much as 50 billion cubic feet per day (bcfd), up from around 30 bcfd at present – 20 bcfd from the North Field, and 10 bcfd from South Pars.
Al Thani, who was handed power in June, plans to continue efforts to streamline state Qatar Petroleum, but looks unlikely to approve new North Field developments until after 2015. Rouhani, in contrast, is under pressure to seriously overhaul Iran's oil and gas sector, bringing in technocrats sidelined by his predecessor Mahmoud Ahmedinejad.
That could help accelerate Iran's lagging efforts to keep pace at South Pars, but a bigger boost would come from the admittedly less likely prospect of Rouhani's diplomacy helping ease sanctions that block equipment imports and foreign upstream participation. Even if neither happens, Tehran still thinks it can increase South Pars production to 17 bcfd next year, with vaguer talk of reaching 27 bcfd by 2015.
If production does reach 50 bcfd, Qatar's commitment to its oft-extended North Field moratorium would have to be seriously examined. Politics played their part in Doha's decision to halt new projects, an acknowledgement of both Tehran's plodding progress on South Pars and its accusations that Qatar's international oil company-driven North Field developments were siphoning off Iranian gas.
If Iran finally catches up, however, Doha would no longer have any political need to hold back. Doha's official reason for extending the moratorium was that its Barzan project kept being delayed, and that it wanted to be able to monitor the impact of producing 22 bcfd from the North Field before green-lighting more projects.
That attitude could change if South Pars, which contains only a third of the combined field's 1,200 trillion cubic feet of reserves, starts outproducing the North Field. Fearful that its neighbours are sucking out its resources while sanctions stall its plans, Iran's cash-strapped government has prioritised the development of cross-border fields. As he seeks to restore Iran's dented image as an energy leader, Rouhani is likely to stick with that approach. Even if Iran does boost South Pars output to 20 bcfd, there are important reasons why Al Thani may not usher in a new wave of Qatari gas projects.
South Pars is an important part of Iran's vast hydrocarbon arsenal, but the North Field, which also produces 700,000 barrels per day of condensate, is practically all Qatar has, and Doha consequently takes a conservative view of reservoir management. The international market for new LNG schemes, in addition, is starting to look very crowded.
Doha's internal view is that the North Field must be able to produce for 100 years without requiring significant additional investment.
Such a long-term production profile requires ultraconservative policies, and selling LNG at prices linked to $100 oil provides little urgency to push the field harder than necessary, despite most experts agreeing that the massive shared structure should comfortably be able to produce more than 50 bcfd.
There are reasons for caution, however, as dry or under-performing wells have been drilled on both sides of the border, Qatari and Iranian sources say. The North American shale boom and sluggish demand in Europe means incremental LNG demand growth looks significant only in Asia, which is already being courted by Australian, US and East African suitors.