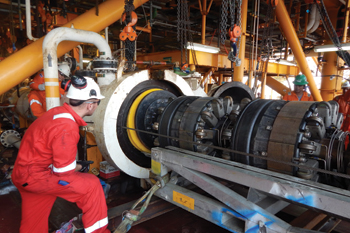 TDW isolated pipeline pressure to create a safe working environment while repairs took place
RESPONSIBLE for providing Thailand with 20 per cent of its annual natural gas supply, PTT Exploration and Production Public Company Limited (PTTEP) works hard to make certain that natural gas production from the Bongkot and Erawan production platforms, located in the Gulf of Thailand, flow with little disruption. PTTEP is vigilant for safety and efficiency, continually inspecting its pipeline network to ensure that repairs are made in a timely manner.
PTTEP's challenge is to repair its lines quickly and safely, with minimal disruption to production.
Since replacing valves is a routine function in pipeline maintenance, the PTTEP team responded rapidly when it identified three topside valves in need of replacement on the gas export riser attached to the Bongkot platform. The Bongkot platform is connected to a major export line that extends to the Erawan production platform, a primary hub of gas production in Thailand, through which millions of cubic feet of natural gas are transported daily to the onshore processing plant in Rayong, Thailand.
To ensure efficient replacement of the valves, PTTEP partnered with global pipeline service provider TD Williamson (TDW) to isolate pressure in the pipeline from the work zone and depressurise the affected section. By doing so, a safe working environment would be created in which the pipeline repair contractor could replace the defective valves. PTTEP had opted for the isolation method to prepare for repair work so as to avoid the downtime, expense and disruption of bleeding the entire line. The objective was to keep interruption to gas production to a minimum: no more than 10 days.
Following months of pre-engineering work and preparation carried out in close cooperation with the PTTEP project team, the TDW team deployed a triple module 32-inch SmartPlug pressure isolation tool. The triple module configuration features two modules for isolating the pipeline inventory during the valve replacement works, and a third plug module to act as barrier for post-repair hydrostatic testing.
The system would be used to achieve a double-block isolation against gas pressure in the pipeline. The SmartPlug system is characterised as double-block because the two plug modules act independently from one another, thereby satisfying the requirement for double isolation, as required by Det Norske Veritas (DNV) and other regulatory bodies.
Working from the Bongkot platform, TDW launched the SmartPlug tool into the line, pigging it in potable water for approximately 40 metres past the hanger flange and into the vertical set location in the riser. As it traveled through the line, TDW tracked the tool's progress with its remotely operated SmartTrack tracking and monitoring system, which uses extremely low frequency.
(ELF) signals. The system also monitors pressure between the two plug modules to ensure that it remains at a safe operating level throughout the isolation operation. Tracking and monitoring are achieved by the system's two-way, through-wall, electromagnetic communication capability between an external transponder and the receiver in the tool. Upon setting the isolation tool at the pre-determined destination, it was sealed against a safe operating pressure of approximately 100 bar (1450 psi) for 10 days.
Secure in the knowledge that the line was safely isolated, the two valves were replaced during the isolation period. Following replacement of the valves, TDW carried out a hydrotest to a pressure of 132 bar (1930 psi) against the tool's third plug module to verify the integrity of the repair work. With the hydrotest successfully completed and integrity of the repair work verified, PTTEP was satisfied that the valves had been repaired, signalling the successful completion of the operation. The pressure over the SmartPlug tool was then equalised, the plug modules unset, and the tool pigged back to the launcher using the gas pressure from the pipeline. Finally, the pressure was bled at the launcher side.
"When we completed the 32-inch Bongkot valve replacement and riser wrapping project in late April 2014, gas export had already resumed," says a division manager for PTT. "This could not have happened without the dedication and great cooperation among all parties. On behalf of PTT, I would like to thank everyone directly and indirectly involved in the 32-inch Bongkot project, including Bongkot JV, PTTEP project team, PTTEP platform team, PTT and PTTEP contractors, who gave full assistance and commitment to help a support the project so that it could be completed safely and effectively. Your kindness will always be remembered," he adds.
By employing the pipeline pressure isolation method for the Bongkot – Erawan pipeline repair programme, PTTEP realised a number of benefits. "This field-proven technology allows maintenance to be carried out without blowing down or depressurising the pipeline, each of which is a very complex, time-consuming and expensive process," says Rolf Gunnar Lie, regional business development manager – Far East Asia Pacific for TDW. "The fact that the downstream sections of the repair zone can be isolated, with just the repair zone depressurised, is extremely important because repair work can be completed safely, with minimal disruption to production.
Global pipeline service provider TD Williamson delivers a comprehensive portfolio of safe integrity pipeline system solutions for onshore and offshore applications, including hot tapping and plugging, pipeline cleaning, integrity inspection, pigging and non-tethered plugging technology for pressurised piping systems.
INLINE INSPECTION MILESTONE
The advanced science of inline inspection (ILI) is now more than 50 years old. And although the field is full of brilliant technologies, it came from humble beginnings. In the mid-1960s, Magnetic Flux Leakage (MFL) was one of the earliest inspection offerings, providing operators with previously unavailable corrosion detection. Even though its range was limited to inspection of just the bottom quarter of the line, operators began to realise the value of such developments and pushed for increased capabilities like the ability to assess pipeline bore.
In 1972, TD Williamson (TDW) began meeting those needs by inspecting its very first mile of pipeline using Kaliper technology to detect large bore reductions in newly constructed pipelines. At the time, Kaliper inspection – which revolutionised the industry by locating large dents before pipelines were placed in service – was on the cutting edge of inline inspection technology.
It's been a long journey since that day in the early '70s – and this summer marked another important milestone: In July, TDW announced that its technology had helped customers inspect 500,000 miles (805,000 km) of pipeline.
Along the way, customers around the globe have shared their challenges with TDW, helping the company to build upon its original pipeline inspection technology – and laying the groundwork for another 500,000 miles of service.
BETTER DATA, LESS RISK
Pipeline inspection is a complicated beast: In the early days before innovations like Kaliper technology, operators had to rely on methods like visual inspections, hydro-static testing and close interval surveys to detect defects in their pipelines, none of which offered the quantitative results of ILI.
But as more efficient inspections were developed, pipeline operators faced increasing challenges: While technology advancements were providing operators with more accurate pipeline information for safer operation, first-generation inspection tools were simply ill equipped to meet growing industry demand. An operator who needed to look for multiple pipeline integrity threats – such as ovalities, corrosion and cracking – had few options.
This risk became even more of a concern by the early 2000s, as operators faced aging infrastructure, expanding pipeline networks, and greater regulatory requirements. Operators needed greater accuracy in their ILI data.
In response, TDW invested in a series of integrity inspection technologies and new ILI methods that would increase safety and result in better-quality data for operators.
One of the first steps was to introduce an innovative line of specialised inspection vehicles that would ensure more accurate and specific data. In 1997, TDW began providing Magnetic Flux Leakage (MFL) technology, which was created for the sole purpose of detecting pipeline corrosion. After MFL came TDW's high-resolution deformation (DEF) technology, which was designed for enhanced detection and analysis of pipeline bore reductions and expansions.
Other innovations followed, such as low-field MFL (LFM), which measures mechanical stress and hard spots; XYZ Mapping technology, which assists operators in calculating bending strain, improving alignment sheets, and pinpoint accuracy of defect excavation sites; SpirALL MFL technology which assesses the longitudinal axis of the pipe for crack-like defects; and SpirALL Electromagnetic Acoustic Transducer (Emat) technology, for the detection of cracks.
But even with all the new technologies, inspection challenges were far from over: Originally, as new technology was introduced, operators would need to run a separate tool for each type of defect. Each tool required its own complex software and operating system, and piecing the separate data sets into a single, useful picture could be challenging.
Another challenge? Simple operational safety. A common growing desire amongst pipeline operators was to reduce the number of times personnel had to physically interact with the pipeline, meaning reductions in the number of times they had to open or close launchers and receivers, as well as handle multiple inspection tools.
So, in the last five years, TDW has helped the industry take a dramatic leap in ILI technology by developing the Multiple Dataset platform (MDS).
MULTIPLE INNOVATIONS
Instead of running the tools one at a time, with a Multiple Dataset inspection, operators could run multiple technologies through a pipeline at once. In a single inspection, operators are able to address most integrity threats, including characterization and sizing of corrosion, mechanical damage, crack-like defects, selective seam weld corrosion (SSWC), and hard spots. The MDS approach also provides the ability to categorise pipe joints by their "fingerprints."
The result? A safer ILI process and a "complete" data package that gives operators the most detailed pipeline information available, equipping them to efficiently prioritise their risk reduction and threat mitigation activities.
ILI has come a long way since the development of early MFL and Kaliper technologies – and more than 40 years and 500,000 miles later, operators now have a wide range of technologies to gather accurate data on their pipeline systems. TDW continues to look for innovative ways to improve the process and ensure that operators can conduct safe, accurate inspections for years – and miles – to come.