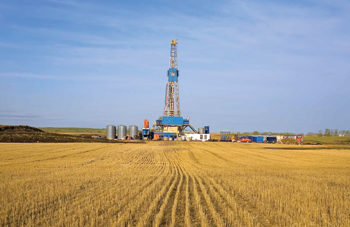 Global onshore drilling is set to decline
LEADING global energy industry analyst Douglas-Westwood (DW) is forecasting a 19 per cent fall in onshore wells drilled in 2015 due to current economic conditions, there is a more modest outlook for the land drilling rig market through to 2019.
DW says the forecast drop follows news from several operators of planned reductions in expenditure. This expected fall in drilling activity is likely to have a significant impact on rig demand, with the global operational and active rig populations forecast to decline by 11per cent and 12 per cent respectively in 2015.
The London-headquartered energy research company says that based on a scenario in which the oil price returns to pre-crisis levels of $70-80 per barrel in 2016, the number of operational rigs is expected to rise by 19 per cent over 2015-2019 as drilling activity recovers. Asia-Pacific is expected to see the largest regional increase in capable fleet size, with 230 units forecast to be added in 2015-2019.
Increased well depths and drilling complexity have resulted in rising demand for high horsepower (HP) rigs, with the global number of active rigs rated over 1,250 HP having risen by 33 per cent in 2010-2014.
DW says this trend is set to continue over the forecast period at a CAGR of 5 per cent. More complex well drilling requirements are also expected to drive an increase in expenditure on components such as top drives over the 2015-2019 period.
An increase in the number of rigs being converted to AC power, as well as the use of technologies such as pad drilling, is expected as operators seek to maximise the efficiency of drilling operations.
However, DW points out that the possibility of a further decline in oil price remains a potential downside risk to the forecast.
"Although the risk to conventional onshore drilling is lower, high Capex unconventional projects, including the use of Enhanced Oil Recovery (EOR) techniques could become uneconomic if the current economic conditions continue. In this event, demand for high HP rigs is likely to be impacted," DW says in its latest World Land Drilling Market Forecast.
"There have been significant movement in the oil price and we have updated our views for 2015. Inevitably, there remains downside risk if the oil price weakens further and also upside potential if the oil price recovers in the coming months.
Despite the fact that onshore drilling activity is comparatively lower-cost, high Capex offshore projects typically have much longer planning cycles and will usually be so exposed to oil price movements and particularly so once past FID and the major contract awards.
We anticipate that a reduction in the US rig count will, given the rapid decline rates of unconventional wells, be a key mechanism by which excess oil supply is eroded and should help bring upward momentum back to the oil price," the report concludes.
GLOBAL RESILIENCE
The research firm also says that oil price downturn will have significant impact on North American land rig market in 2015 with international market more resilient.
The recent oil price downturn is expected to have a significant impact on the global land rig market in 2015, as operators announce planned cuts to expenditure. Following a 24 per cent rise over the 2010-2014 period, the number of active drilling rigs is expected to fall 12 per cent in 2015.
High capex offshore projects typically are exposed to oil price movements
The North American market, which is particularly susceptible to fluctuations in commodity prices, is expected to see the largest impact, with the active drilling rig fleet forecast to decline by 29 per cent. Notably, Apache Corporation has announced plans to cut spending on its North American assets by 26 per cent in 2015. In comparison, the impact of the oil price downturn on the international market is expected to be less severe.
Opec's decision in November 2014 not to cut production indicates that drilling activity in the key Gulf producing states, and subsequently demand for land rigs, is unlikely to be affected in the near-term by the low oil price environment. In contrast, Russia's economy is heavily reliant on oil exports, and the recent economic sanctions imposed are expected to contribute to a further decline in drilling activity in 2015, causing the number of active drilling rigs to stagnate.
In Latin America, the oil price downturn has placed increased financial pressure on Brazil's Petrobras. Venezuela has a high breakeven price and has also been significantly impacted. Douglas-Westwood is forecasting a decline of 4 per cent in the Latin American active rig fleet in 2015.
Post-2015, the outlook for the market is more positive, with the global active rig fleet forecast to increase by 20 per cent over the next five years as drilling activity increases, reaching just under 6,100 units in 2019. However, there remains uncertainty within the market, and demand for high HP rigs is likely to be affected if high Capex unconventional projects become uneconomic.
FACING UNCERTAINTY
Companies in the deepwater drilling market have lost more than half of their value over the last year; Transocean, Seadrill, Ensco and Diamond are currently priced 56 per cent lower on average compared to January 2014 in line with the decrease in oil prices. While these sharp falls in share prices reflect similar trends across the oil and gas industry, the number of active ultra-deep water rigs have remained high with 171 units contracted versus 175 units last January.
Day rates have also increased slightly from an average of $470,000 to $485,465, though this is largely a result of contracts signed before the fall in oil prices.
Concerns about drilling contractors' backlogs and their ability to put their most expensive assets to use are well founded with operators announcing decreases in capital expenditure. However, based on Douglas-Westwood's offshore drilling forecast, there are still plenty of wells to be drilled if the 2015 oil prices average between $50-70 bbl.
Total wells drilled could be expected to increase by 17 per cent by 2020 with deepwater wells growing at 32 per cent, despite the current price environment.
A fundamental issue is not only a lack of demand, but one of the industry's own making. The recent build cycle has resulted in a sharp growth in supply that will need time to be absorbed by expected long-term growth in demand.
Like other subsectors of the offshore marine industry such as offshore vessels and production assets, supply not just demand will determine the future direction of the offshore drilling market.