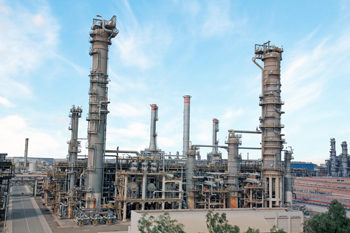 Takreer ... awarding gasoline and aromatics deals
The Abu Dhabi Oil Refining Company (Takreer), an Adnoc Group company, has announced the awarding of two major contracts for its Gasoline and Aromatics Project (Gap), that will significantly increase its gasoline production capacity.
As part of Adnoc's growth strategy, Takreer plans to expand production of gasoline to 9.4 million tonnes per annum (mtpa), by 2022, to maintain Abu Dhabi's self-sufficiency, with the new gasoline and aromatics project adding 4.2 mtpa of gasoline supply and 1.6 mtpa of aromatics, an Adnoc statement said.
This comes after two years of volatile fuel prices, which have affected the price at the pump for UAE motorists. Petrol and diesel are by-products of crude oil and are therefore linked to the prices of the commodity.
The Ministry of Energy began liberalising prices at the pump more than 17 months ago, when petrol prices were allowed to follow the fluctuations of the oil market. Prices are established by a committee, although the formula is not publicly known.
Motorists across the country will pay more at the pump as the price of Brent crude, the international benchmark, continues to move up.
The front-end engineering design (Feed) contract has been awarded to Amec International, based in Reading, UK. In addition, Takreer has awarded a contract for process licence technologies to Axens of France.
Abdulaziz Alhajri, Adnoc's refining and petrochemical director, said: "Our goal is to unlock the full potential of our assets. The Gasoline and Aromatics Project will enable us to meet the needs of the evolving and expanding market for refined products, as well as add value to each barrel processed."
The new contracts follow the appointment of Jacobs Engineering, in June, to provide project management consultancy (PMC) services for the Feed phase.
The Feed contract, which is scheduled to be completed by January 2018, will be followed by the tendering and implementation of engineering, procurement and construction (EPC) works, which will take four years to complete.
The contracts have been awarded to complete Takreer's integrated production complex, which will include light and heavy naphtha hydrotreaters units, light naphtha isomerisation units, two heavy naphtha reformer units, an aromatics extraction unit and paraxylene and benzene production units.
Under its five-year business plan and growth strategy, Adnoc is focused on delivering a more valuable and profitable refining business, through strategic, commercially viable and targeted investments aimed at building on the company's legacy of success and ensuring its continued growth, the company said.